Children in Need social media highlights
Children in Need raised £31m on Friday night, topping last year's total by £5m. The programme also proved popular on social media, with second-screen viewers tweeting and posting throughout the evening.  
With Cision Social Media, we can track the conversation using the hashtag #CiN over the course of the evening:


The official conversation peaked at 9pm before quickly tailing off after 11pm as most of the tweeting nation ended (or started) their Friday nights. But this is only half the story. Who, for example, won the battle of the boybands? And which presenter got the most Tweets?  
Battle of the Boybands
One Direction, JLS and recently formed McBusted – the ultimate line-up for excited fans everywhere. Unsurprisingly, there could only be one winner on social media: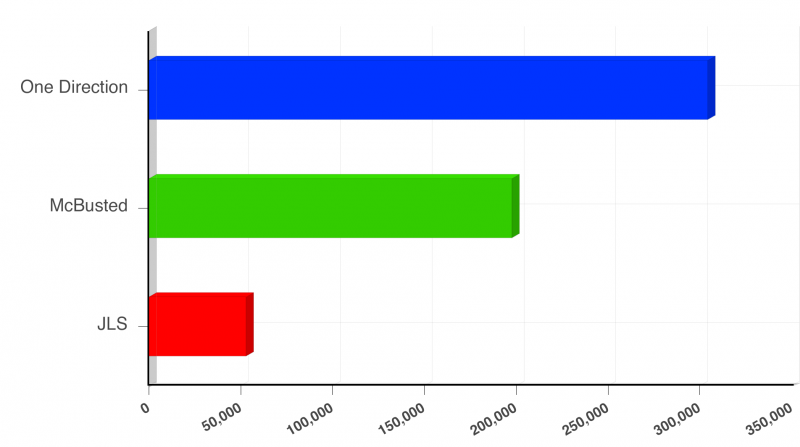 One Direction, whose success is often linked to their use of Twitter, clearly topped the discussion. However, One Direction always has a lot of mentions and a comparison with a Friday night two weeks before reveals they actually received nearly 200,000 fewer tweets. Perhaps that's why UK visits from the band are 'rare'.  It's a different story for McBusted, who were all but non-existent two weeks ago, and JLS who are expected to split up in December and receive relatively few mentions on a normal Friday.
Presenters
Say, 'Children in Need' and people think of Pudsey and Terry Wogan, and maybe not in that order. Once again there was a clear winner for the evening, Terry benefitting from being the only presenter on screen for a majority of the evening: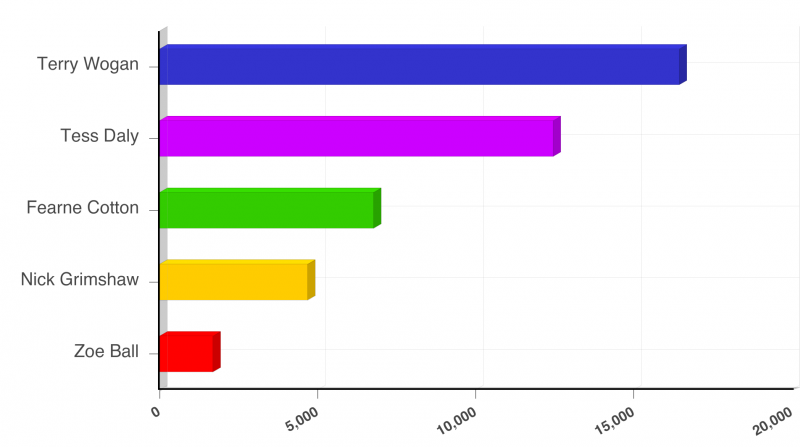 Tess Daly was the first presenter to join Terry, followed by Fearne Cotton, Zoe Ball and Nick Grimshaw. Nick Grimshaw has more appeal on Twitter than Zoe Ball reflected in the pair's followers – Grimshaw has 1.4m and Ball has 132,000.
Musicals
The West End was well represented on the night with songs from Matilda, Spamalot and The Commitments. Again the time they were on seems to affect their mentions: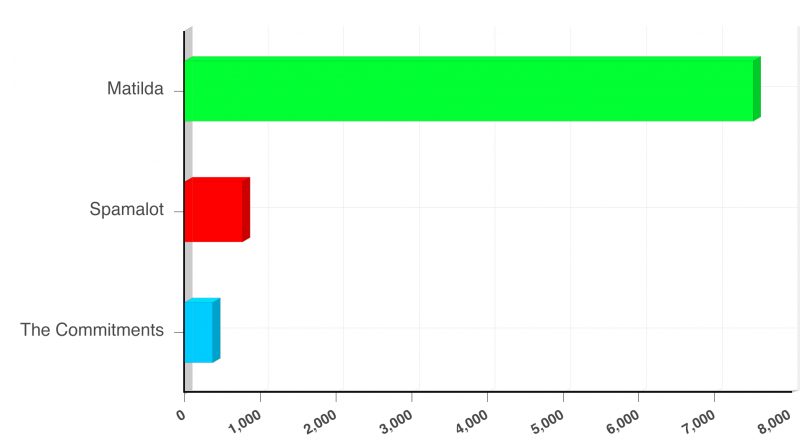 Matilda benefitted by opening the evening and had little competition from Spamalot or The Commitments which both performed towards the end of the show.
Television is undeniably a huge part of social media and with such a huge night for UK TV, social media could only ever respond in one way.
Graphs and charts made with Cision Social Media via CisionPoint.
Priyanka Dayal
https://www.vuelio.com/uk/wp-content/uploads/2019/09/vuelio-logo.png
Priyanka Dayal
2013-11-18 15:06:07
2013-11-18 15:06:07
Children in Need social media highlights