Cycling Blogger Spotlight: Brian Palmer, thewashingmachinepost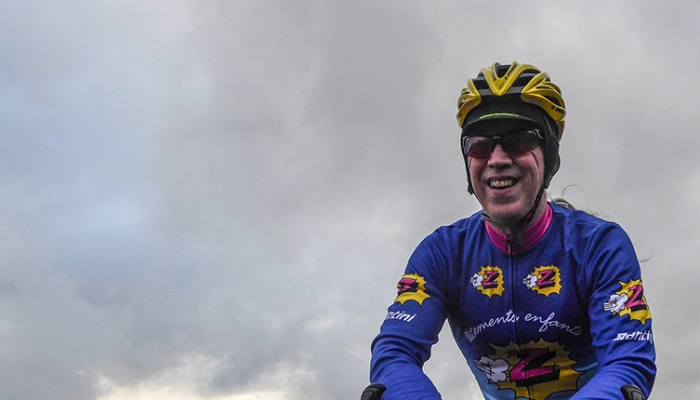 'I've heard it said that I can be quirky, though I don't really see it myself. I'd like to think that any brands with which I work are gaining value. I assume that this is actually the case, since most of them still speak to me…'
Following a bit of a false start with bigging-up biking in his local paper, Brian moved to blogging and has found success among those wanting an entertaining read alongside the cycling know-how. Read on for what makes it well worth dropping by thewashingmachinepost.
How did you originally get started with writing about cycling?
When I moved to Islay over thirty years ago, nobody on the island cycled (quite literally). So I wrote an article for the local newspaper promoting the benefits and economies that could result from owning and riding a bike, to which nobody paid any attention. I wrote a few follow-up articles and discovered that many were reading for the entertainment factor, irrespective of any interest in cycling.
What's your favourite thing to post about and why?
Rather contradictorily, I really like writing book reviews, despite being them being easily the hardest thing to do. I don't actually understand that, myself.
How have you had to change your approach to blogging during the COVID-19 crisis?
I've not really had to change anything. Because I live on an island with acres and acres of open spaces, I can still cycle as much as I ever did, and see no-one for hours. So, product reviews are still perfectly manageable, though there have been fewer of those, possibly due to manufacturers and distributors playing things a bit safer at present.
What kit/equipment would you recommend people put together and take with them when cycling while social-distancing?
That's a hard one. Taking into account my answer to the last question, I'm not sure I'm the right person to ask. However, I'd advise learning as much about the mechanical operation of your bike as possible. If you suffer a mechanical malfeasance en route, it's hard to get mechanical assistance and remain two-metres apart.
Do you think the Tour De France still be able to go ahead without any issues this year?
I doubt the race will be issue free, particularly since it will be the guinea-pig for the Giro and La Vuelta.
Can you remember your first ever bike?
I was just talking about that the other day. It was a blue, single-speed steel-framed machine with handlebars that curved backwards that my parents bought me when I was nine. I loved it. That was replaced by a green Raleigh Twenty shopping bike, which gives you some idea of how cool I wasn't as a teenager.
If you could cycle anywhere right now, where would it be?
I've always fancied riding through the Tuscan countryside, on a blue Bianchi, pretending to be Fausto Coppi. That still holds the same attraction as ever it did. One of these days…
How do you collaborate with brands and which kind of brands do you really like working with?
I like working with brands that understand they're not always likely to get a cut-and-dried, cookie cutter review. I've heard it said that I can be quirky, though I don't really see it myself. I'd like to think that any brands with which I work are gaining value from the collaboration, however brief. I must assume that this is actually the case, since most of them still speak to me.
For PRs looking to work with you and your blog/website, how would you prefer they approach you and with what kind of content?
What I don't want is pre-written content. I write thewashingmachinepost because I like writing thewashingmachinepost, and I'm assured I have a 'style' of doing so. Press releases are a means to an end, rather than an end in themselves. If it's a product, I really need to try it myself; I'm not going to review anything based on the manufacturer's opinion of their own stuff.
What other blogs do you check out regularly (whether cycling-related or not)?
I rarely ever read any other blogs, because then I start to second guess my own content, wondering if I ought to be more like the others. Everyone else's blogs always seem so much more concise, professional and well-informed, and that would keep me awake at night, or spoil the weekend bike rides. I do, however, start my day with Gary Larson's thefarside.com.
https://www.vuelio.com/uk/wp-content/uploads/2020/06/Brian-Palmer.jpg
430
760
Holly Hodges
https://www.vuelio.com/uk/wp-content/uploads/2019/09/vuelio-logo.png
Holly Hodges
2020-06-08 14:54:03
2020-06-08 14:54:03
Cycling Blogger Spotlight: Brian Palmer, thewashingmachinepost