Doing things differently – how to tackle the PR recruitment crisis by growing an agency from the ground up.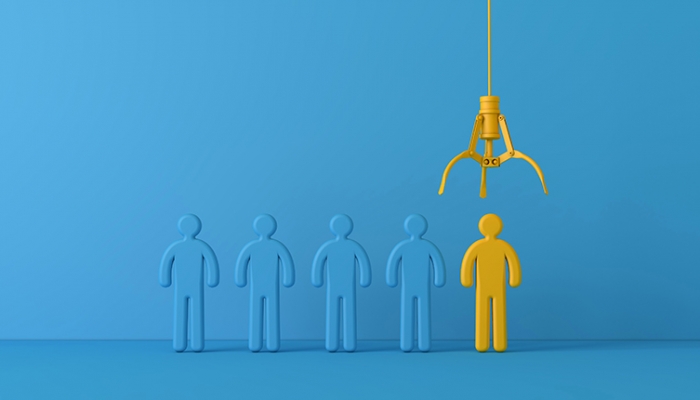 This is a guest post from Alex Blyth, managing partner of design agency PR specialist Red Setter.
'Hire people smarter than you,' is a truism of business management. Variously ascribed to everyone from Steve Jobs to David Ogilvy, Richard Branson, and… err… former Leeds FC manager Howard Wilkinson, it always seemed like sound advice to me, so I followed it for years.
In the early days of Red Setter I interpreted it to mean I should hire experienced PR professionals. So that's what I did. I hired people who'd been at the biggest agencies or who'd held senior in-house roles. However, with our tenth anniversary on the horizon, and our team of 20 now known globally as the go-to people in our brand design niche, I've realised I was wrong.
Like many people, I've done a lot of thinking during the pandemic. One conclusion I've come to is that we need to stop hiring senior people. We need to do things differently and grow our team from the ground up. In 2021 we've brought in four account executives, and one journalist in her first PR role.
It's transforming our agency for the better, and has left us relatively insulated from the highs and lows of the recruitment market many agencies have struggled with this year. Here's the why and how of we're doing it.
Less gambling, more learning
In the early days, the allure of those senior hires is clear. You're buying in expertise, credibility and perhaps above all else confidence. And don't get me wrong, I've learnt a huge amount from many of those people. Our agency wouldn't be where it is today without them.
But it's not always the 'here's a job spec, client base, and large salary, now off you go' scenario that many might hope for. Especially in a highly-niched agency like Red Setter, there is a lot to learn – about the brand design sector, our clients, our media, and the very specific way of working we've developed over the years. We've learnt that we need to invest time in training joiners on all this, regardless of how much experience they've had.
Those earlier in their careers are typically very open to learning. They rightly demand it. They're in the habit of it. They come with a fresh perspective, unencumbered by what was hard-won expertise elsewhere, but which here can be limiting assumptions. You also tend to avoid high salaries, recruiter costs and organisational disruption by bringing in people earlier in their careers.
You then need to make sure you deliver the learning and development they expect. We've had to reshape our agency from one that was focussed solely on client delivery to build in space for workshops, on-the-job coaching, and ongoing conversations around progression. We're building a set of sessions and materials for joiners, we're growing education skills in the team (involvement, not lectures!), everyone from account manager up has development and coaching of colleagues in their KPIs, once a week we meet as a company to share expertise, team members have been on external courses ranging from a Guardian masterclass on what journalists want to a day workshop on vocal confidence. In our weekly catch-ups, each team shares not only a highlight but also something they've learnt. We do a lot but it's still very much a work in progress.
That's just the learning aspect – we've also had to find new sources of this raw talent. We've set up an annual internship programme with the University of Sussex. The first on it is now a valued member of our team, and recently gave a talk to this year's PR students about life in our very specific type of PR. We're doing more and more with the University and hope to expand the internship programme in 2022.
Right time, right approach
It's not easy, but we're discovering benefits far beyond our original intentions. A culture of learning is adding to our skills and knowledge at all levels. That makes us not only better able to deliver to our clients but also more inspired in the work we're doing together. And as the PR talent pool dried up throughout 2021 it was far less of a problem for us that it would have been.
I don't think this approach is right for everyone. Larger, more generalist agencies can bring in more transferable experience. When you're starting out, you probably need to hire expertise in key areas – we wouldn't be able to do this if we didn't have an experienced, talented, senior team already in place. But for us right now it feels like the right approach.
Does it mean we'll never employ at a senior level again? Never say never. And does it mean that Jobs, Branson and Ogilvy were all wrong? Of course not. The people we've hired this year might be less experienced than me, but I'm pretty certain they're also smarter than me. I'm looking forward to seeing that smartness grow into expertise over the coming years.
For more on the importance of mentoring and investing in PRs early in their career, catch up on our interviews with A Leader Like Me's Advita Patel and the Taylor Bennett Foundation's Melissa Lawrence. 
In need of a central hub to keep track of your internal and external stakeholder relationships? Find out more about Vuelio's Stakeholder Management solutions and book a demo here. 
https://www.vuelio.com/uk/wp-content/uploads/2021/12/PR-Recruitment-Crisis.jpg
430
760
Phoebe-Jane Boyd
https://www.vuelio.com/uk/wp-content/uploads/2023/09/vuelio-logo-200px.png
Phoebe-Jane Boyd
2021-12-09 11:49:57
2021-12-09 11:58:38
Doing things differently - how to tackle the PR recruitment crisis by growing an agency from the ground up.