Everything you need to know about The Online Influence Awards 2019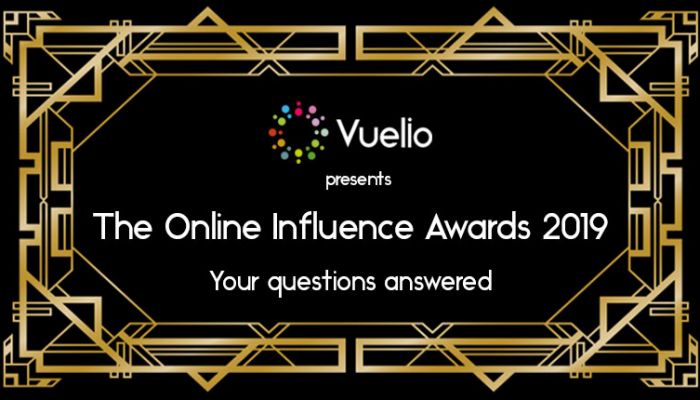 The Vuelio Blog Awards are changing, welcome to The Online Influence Awards.
We've unveiled our new look event to recognise the transformed role that influencers from bloggers, vloggers to podcasters and instagrammers have in the public debate. Our awards night will be the only UK event to celebrate the very best in online influence, insight and intelligence.
On Friday 22 November, join us at The Bloomsbury Ballroom for an exclusive awards evening of glitz and glamour.
Why have you changed the name?
We created the Vuelio Blog Awards back in 2015 to celebrate the best in the blogosphere but, we recognised that we needed to evolve as the world of online influence has transformed. This year, we're unveiling a new look event and awards programme designed to become the UK's first awards celebrating the very best in online influence from across bloggers, vloggers, instagrammers, podcasters together with campaigners from agencies and in-house teams.
How do I enter the awards?
The Online Influence Awards includes 25 categories that are divided between subject (such as Current Affairs, Fashion or Education) and 'Best of the Best' (such as Best Newcomer, Best Campaign). The category awards are shortlisted based on the Vuelio industry ranking methodology with winners selected by our Judging Panel (to be announced). They cannot be entered and this handy blog post gives more detail on how our methodology works. We do though encourage you to enter the 'Best of the Best' categories which will be open from August 2019. A shortlist will be produced from nominations then winner chosen by our Judging Panel.
Who will be on the judging panel?
Our Judging Panel will be made up of leading influencers, industry experts and agency leaders. The judging day will take place in October 2019 to identify our winners by each category.
When will the finalists be announced?
The shortlisted finalists will be announced from mid-September and shared on our website, social channels. We will also contact each person shortlisted. To make sure you are in the know, sign up to our newsletters here or follow @Vuelio on Twitter and Instagram.
How do I buy tickets to the Online Influence Awards?
Tickets for The Online Influence Awards are currently on sale at our Super Early Bird Price. We recommend booking your tickets soon. Prices will increase after 1 September 2019.
I run a blog/vlog/Instagram/podcast but it's not covered by any of the categories?
We've designed the Online Influence Awards to cover the most popular subjects covered by bloggers, vloggers, Instagrammers and podcasters but unfortunately, we can't have a category for them all. If your subject isn't covered by one of our awards, we recommend you enter for one of our 'Best of the Best' categories. We also review the award categories each year and if you'd like to suggest a category for next year, we'd love to hear from you.
Still got a question about The Online Influence Awards? No problem, email Rebecca Potts and she'll be able to help with your query!
https://www.vuelio.com/uk/wp-content/uploads/2019/08/OI-Awards-FAQ-header.jpg
430
760
Rebecca Potts
https://www.vuelio.com/uk/wp-content/uploads/2019/09/vuelio-logo.png
Rebecca Potts
2019-08-01 15:30:13
2019-08-01 15:47:01
Everything you need to know about The Online Influence Awards 2019