Fashion Blogger Spotlight with Lorna Burford, Raindrops of Sapphire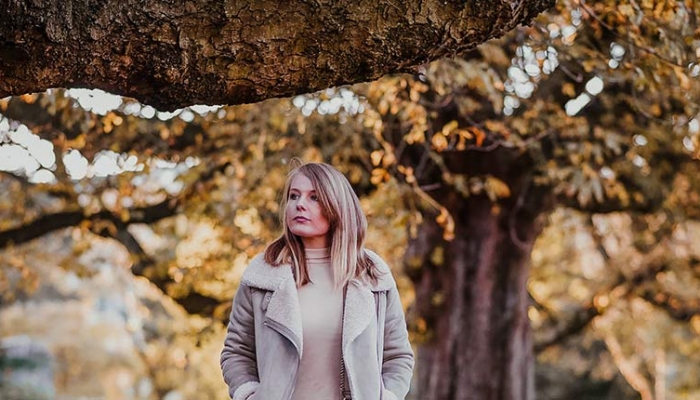 Get some style tips in our catch-up with Raindrops of Sapphire's Lorna Burford, who recommends a good pair of jeans (she previously edited the DenimBlog), loves Dior and sees a fashionable future in blogging despite some of her fellow stylistas moving over to social media.
As well as getting some notes on what to wear this winter, read about some of Lorna's favourite collaborations and how you can work with her (jeans optional).
How do you describe what you do to other people?
I usually say it's a mixture of modelling, writing and photography if they don't know what blogging means. I find it depends who you're speaking to as 'blogger' is still a relatively new career term.
How much of a community is there around fashion bloggers?
I would say there's quite a large one. All the girls I have met or spoken to are usually lovely and there's a lot of support from followers, too.
What's the best thing about being a professional blogger (if that's how you refer to yourself)?
I do refer to myself as that, or self-employed; either one. I would say the best thing is the freedom you have. You make your own hours, everything is on your terms (usually, unless there's some specific collabs) and you generally just get to be creative how you see fit, so it's very rewarding. However, it does always come with a downside of having next to no breaks or shut-off time.
What does the future of blogging look like?
I was worried for a while that everyone is going in the direction of social media instead, and I know a lot of blogs have dropped and been given up on because of this, but I would hope blogging still remains a popular and huge thing.
How do you describe your style?
It depends purely on the season and my mood, but I would say currently it's got a little bit of a country mix in it, and I have been wearing a lot of black lately. Mostly it's classic, though – wearable, with an element of statement here and there in the form of a bag or boots.
Which designer(s) should we keep an eye on?
Dior are having their moment right now and I'm also feeling Saint Laurent lately!
What one fashion item or accessory could you not live without?
That would be a pair of jeans, probably. Good-fitting jeans are everything! However, I am always in need of a pair of amazing boots!
What's the best collaboration you've worked on with an agency or brand?
I'm going to say Clarks Village! I did a collaboration with them in the summer and it was fantastic! Not only were the ladies handling this campaign incredibly friendly and nice, and a joy to get on with, the village is great and I had such a fun experience with it all at the same time!
What advice would you give PRs looking to get in touch?
I would say try and make your emails personal. I receive a high amount of cold/spam emails every single day, so if you really want to work with a blogger or form some kind of relationship, please be personal and friendly in the email. Mention things they have recently been up to or take an interest in their blog first, before reaching out. I'm pretty certain you will get a reply then as the blogger knows you're serious and won't just delete the email in among the mass amounts of others.
What other blogs do you read?
I mostly read Cupcakes & Cashmere and Brooklyn Blonde. Love those two ladies!
https://www.vuelio.com/uk/wp-content/uploads/2019/12/Raindrops-of-Sapphire.jpg
430
760
Holly Hodges
https://www.vuelio.com/uk/wp-content/uploads/2019/09/vuelio-logo.png
Holly Hodges
2019-12-03 12:29:24
2019-12-03 12:29:24
Fashion Blogger Spotlight with Lorna Burford, Raindrops of Sapphire