James Blunt emails everyone
Recently unretired musician James Blunt came to the media's attention yesterday when his new single 'Bonfire Heart' was emailed to a large number of people. Trending on Twitter, it appears half the discussion came from people complaining about the unsolicited email and the other half complaining they had not received it.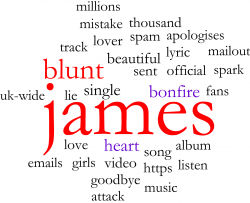 The 'clerical error' may yet prove to be a marketing coup as the conversation around the new track has been greatly amplified. Not only was 'James Blunt' trending in the UK, but the conversation seems to have been fairly positive. Using Cision Social Media, we can create a Conversation Cloud around the subject and see that 'James Blunt' and 'Bonfire Heart' are the most connected phrases.
They say there's no such thing as bad publicity and the conversation was made up of terms relating to the main points of the news story. Negative words didn't manage a consistent presence.
Popular tweets from the day include Mikey Guitar, who was RT by James Blunt himself, and Paramore's Hayley Williams.
If you receive an email with a link to the new James Blunt single, don't click on it. It's a link to the new James Blunt single!

— Mikey Guitar (@MikeyMutineer) July 29, 2013
Don't lie to me James Blunt, I know you sent this to like a thousand other girls.… http://t.co/XBwSDzRJd3

— hayley from Paramore (@yelyahwilliams) July 29, 2013
The conversation continued in the blogosphere. Scaryduck was one of the recipients of the email, which he took a screenshot of, and then explained his displeasure.  
Digital Spy curated a variety of tweets on the subjects including James Blunt's own: 'Oops… Just emailed the whole of the UK by mistake! Ha!' The website also reported that the musician's new album 'Moon Landing' is due out on 21 October. Good coverage indeed.
Entertainment Focus didn't mention the mailout, focusing instead on the new single. They even included the line, 'We reckon it's going to be a big hit for him'. In light of all the publicity, this could well be true.
All the graphs were made with Cision Social Media via CisionPoint. All the bloggers are listed are available in the Media Database and were found through Cision's free Influencer Search.
https://www.vuelio.com/uk/wp-content/uploads/2019/09/vuelio-logo.png
0
0
Priyanka Dayal
https://www.vuelio.com/uk/wp-content/uploads/2019/09/vuelio-logo.png
Priyanka Dayal
2013-07-30 12:22:54
2013-07-30 12:22:54
James Blunt emails everyone