Journalist Spotlight: Fiona Bugler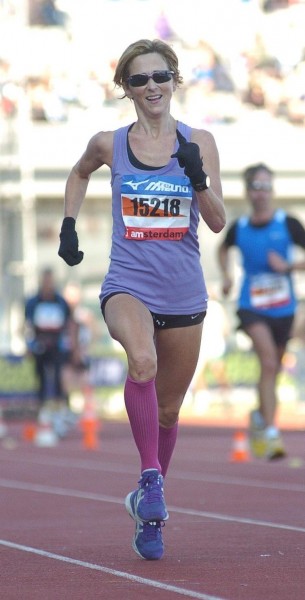 Fiona Bugler is the editor of The Running Bug and a freelance fitness writer. After completing a politics degree and post graduate diploma in journalism, she worked on teen magazines and had 12 years in staff jobs. Since the digital boom in 2000, Fiona's been freelancing and recently edited Running Free magazine. We spoke to Fiona about her blog relaunch, career and fitness lifestyle.
Why are you relaunching She Runs She Writes?
I used to own a hotel called the Running Inn where I ran courses and trained runners. I sold the hotel and decided to rebrand myself so I am going back to She Runs She Writes, which is effectively what I do. I write for freelance publications and brands about running so the blog will talk about what I am doing in terms of my writing but also talk about products I'm reviewing and news in the running world. It will be a hub for the running community and complement what I do with other people. It will be like an online portfolio.
Is there an issue of exclusivity/stealing traffic?
No, I link back to the Running Bug. On The Running Bug all our bloggers are able to write for their own blog as well as us. The whole point of blogging and tweeting is to create an endless conversation; it's all about community. The Running Bug has a lot of unique features so we don't compete: it has bug miles where you log the mileage you do, and the reviews I do are very detailed so it's a different thing really.
What's the Fitness Writers' Association?
Along with Cheryl Hersey from Action PR, I set it up in July this year. We've had three events and it's going really well. I'm a member of the guild of health writers and I realised that fitness is very specialist. People who write about fitness are often training people as well and they're experts in different ways to health writers. There are lots of us who know how to write workouts, know who to talk to in the industry, go to fitness conventions and practise what we preach.
We've had speakers like Sally Gunnell; David Stalker, CEO of The Fitness Industry which is now called UK Active; and Peta Bee, who is a really well-known fitness writer. Lots of writers who work for the nationals have joined us and it's a shared experience. We all do the same kind of thing and we're helping each other.
So it's growing fitness journalism together?
Yes, exactly. The other thing we're doing is giving guidance to personal trainers because, and editors who use personal trainers' articles will know this, a lot of personal trainers can't write but they want to learn more about the skills we have as journalists. Similarly there are a lot of writers who need to learn about fitness because they're covering it. We've got associate memberships for personal trainers as well as offers for courses to become a personal trainer and courses to help personal trainers to write.
PRs can sign up and join as well; we have a special membership for them. They're in touch with key people writing about fitness so it makes sense for them to sign up.
How do you work with PRs?
I review products for the Running Bug. We have a team of expert reviewers who test the products. I prefer to email PRs because of the time element, for example I did an advent competition and I had to contact 30 PRs and coordinate 24 replies – if I was on the phone it wouldn't have worked. I think it's really important for journalists to meet PRs so if I go to London I'll try to arrange to meet them because face-to-face really makes all the difference.
I also work on the other side and have recently set up a small social media agency, providing Brands with a team of well connected bloggers and co-ordinating their social media campaigns.
What's your favourite pair of trainers?
I like Brooks Pure Project range, Saucony Kinvara and Mizuno Evos. These are all in the minimalist/low profile cateogry. Tailor-made products to cater for individual needs are becoming more available, and there's so much choice.
How many pairs of trainers do you have?
I own around 40, as I test them and then don't want to throw them away! I'm the Imelda Marcos of trainers.
How many marathons have you run?
I've done 14 marathons in the last 10 years. I didn't start running till I was 34 and I've knocked an hour off my time. I tend to do one a year. I used to be a smoker and everything so it's a bit of a change. Mid-thirties isn't too late to give up smoking, turn it around and become a good runner.
Take Five
Where would you like to run a Marathon?
I like to travel so anywhere that will include a holiday. I'd like to try China. They have a marathon over the Great Wall of China.
Have you ever done a Paula Radcliffe?
Obviously as a runner I've been in a situation where I've felt the urge, but luckily not in a race. I have been caught short up on the Downs when nobody's around!
Do you have any surprising hobbies or interests?
I suppose going out socialising quite a lot and partying is quite surprising – I don't sit in drinking carrot juice. If you're fit you can drink more, but I am 45 so I don't know how long I can get away with that philosophy.
What would your super power be?
I've got lots of energy but would prefer to have more, so if I could survive without sleeping that would be good!
So your super hero name would be…
The Awake Woman! She who never closes her eyes.
Who would play you in a film?
Woody Allen.
What's the one thing you can't live without?
My children – and work and running!
If you could only eat one thing for the rest of your life what would it be?
Marmite on granary toast.
Editorial information on Fiona Bugler, her blog, The Running Bug and thousands of other media contacts, can be found in the CisionPoint media database.
https://www.vuelio.com/uk/wp-content/uploads/2019/09/vuelio-logo.png
0
0
Priyanka Dayal
https://www.vuelio.com/uk/wp-content/uploads/2019/09/vuelio-logo.png
Priyanka Dayal
2013-01-03 11:20:15
2021-12-21 15:05:46
Journalist Spotlight: Fiona Bugler