Political Headlines – Boris' Brexit, Raab and Barnier, May's Tour and Margaret Hodge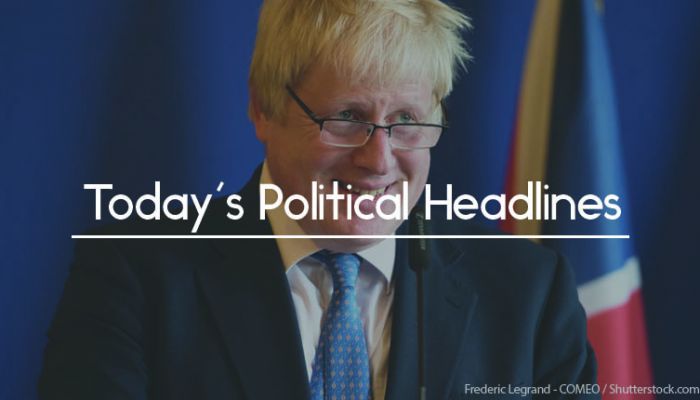 Today's Political Headlines includes BoJo's claim that it's not too late to save Brexit, Raab's first meeting with Barnier, May's tour of Britain and Labour's conflict over whether to take action against Margaret Hodge. 
Johnson claims it is 'not too late to save Brexit'
The Daily Telegraph reports that Boris Johnson used his resignation speech to claim that it was 'not too late to save Brexit' and described Theresa May's Chequers plan as a 'miserable, permanent limbo'. He criticised the Government for 'a fog of self-doubt' and for allowing Northern Ireland to 'dominate the debate', and called for a return to the approach set out by Theresa May at Lancaster House. The Sun suggests that Johnson had prepared a 'much more damning version of the speech' but was persuaded not to deliver it by allies.
Raab prepares for first meeting with Barnier amid 'no deal' warnings
As the BBC reports, Brexit Secretary Dominic Raab is to hold his first meeting with the EU's chief Brexit negotiator Michel Barnier today. It has also seen a draft European Commission paper warning of the impact of a 'no deal' Brexit on European businesses and citizens. The BBC adds that the National Audit Office has warned that millions of International Driving Permits may need to be issued in less than a year if the two parties don't agree on mutual recognition of driving licences. The Financial Times claims that Raab is to publish 70 documents explaining how a 'no deal' Brexit would affect a range of sectors.
May plans tour of grassroots Conservatives
According to The Times, Theresa May is planning to go on a tour of grassroots Conservatives this summer in a bid to convince them to back her Brexit policy. Earlier this week, party chairman held a meeting with heads of local associations, described as 'tense' and 'emotionally charged'. The Guardian adds that May struggled to explain her plan for post-Brexit customs when giving evidence to the Commons Liaison Committee yesterday.
Labour to take action against Margaret Hodge
According to The Guardian, the Labour Party is in 'open conflict' over a decision to take disciplinary action against Margaret Hodge after she called Jeremy Corbyn an antisemite. Separately, John Woodcock resigned from the party, claiming that an ongoing disciplinary process against him had been rigged.
Soldiers compensated for higher taxes in Scotland
The BBC reports that the Government is to give compensation to about 8,000 soldiers who face having to pay more income tax because they live in Scotland. The total cost will come to around £4m this year and the payments will be reviewed annually. Defence Secretary Gavin Williamson criticised what he described as an 'unfair raid' on troops' pay.
Schools to give lessons on mental health
The Times says that the Government plans to add lessons on mental health to new compulsory lessons on sex and relationships in all schools from autumn 2020. The proposals would also cover physical health, exercise and healthy eating. Education Secretary Damian Hinds said the policy would ensure 'young people are ready for the adult world'.
Proposed rule change would grant anonymity to MPs accused of cheating expenses
The Daily Telegraph says the Government is attempting to quietly push through a change which would grant MPs accused of breaking expenses rules anonymity. As the paper notes, the news comes as DUP MP Ian Paisley Jr is given a 30-day suspension from the Commons for a breach of the rules.
Parliamentary committee warns of legal aid 'deserts'
The Guardian carries details of a new report by the Joint Committee on Human Rights, which warns that legal aid 'deserts' have emerged as a result of changes to the law in 2012. The report calls for an urgent review of how people can enforce their rights, changes to Legal Aid Agency's funding scheme and more legal support for families at inquests.
Is Brexit crowding out the stories that matter to you? Vuelio Political Services offer bespoke reports on any political topic. 
https://www.vuelio.com/uk/wp-content/uploads/2018/07/Boris-grin.jpg
430
760
Thomas Stevenson
https://www.vuelio.com/uk/wp-content/uploads/2019/09/vuelio-logo.png
Thomas Stevenson
2018-07-19 09:47:20
2018-07-19 09:47:20
Political Headlines - Boris' Brexit, Raab and Barnier, May's Tour and Margaret Hodge