Political Headlines – May denies link between knife crime and police cuts and schools reliant on parental donations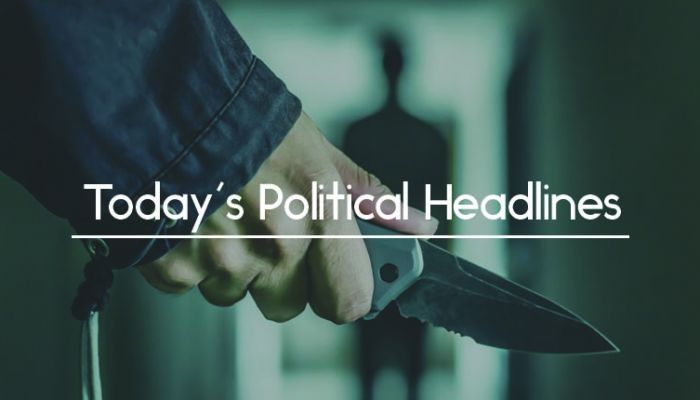 Today's political headlines include May's denial that knife crime is linked to police cuts, schools increasingly reliant on parental donations, Rudd to end repeat assessments for disable pensioners and Brexiteers warn against deal ambush. 
May denies link between knife crime and police cuts
The Guardian says that a political row has erupted after Theresa May claimed that there was 'no direct correlation between certain crimes and police numbers', after a recent spate of stabbings. However, Mark Burns-Williamson of the Association of Police and Crime Commissioners warned that cuts to police and youth services had created a 'toxic mix'.
Schools increasingly reliant on parental donations
In an exclusive, The Times reports on schools' increasing use of contributions from parents to fund salaries, textbooks and equipment, and building repairs. MPs debated school funding yesterday after a petition started by headteachers got over 100,000 signatures. 700 schools responded to a freedom of information request, with over 200 saying that they had requested parental donations in the last year.
Rudd to end repeat assessments for disabled pensioners
The Daily Telegraph reports that Work and Pensions Secretary Amber Rudd is to say that disabled pensioners will no longer have to undergo repeat benefit assessments, in a speech drawing on her own father's blindness. She will set out an ambition to 'significantly improve' her department's treatment of disabled people, with the benefits system as their 'ally'.
Brexiteers warn against deal ambush
The Times claims that Conservative Brexiteers have warned Theresa May that she cannot ambush the with a legal agreement on the Irish backstop just before next week's vote on Theresa May's deal and expect to gain their support. Leaders of the European Research Group warned that they would need 'good time' to conduct 'a proper analysis'.
Government delays vote over fears of defeat
The Financial Times reports that the Government chose to delay a vote on a financial services bill it needs to pass before Brexit yesterday after it faced defeat over a cross-party amendment which would have forced the crown dependencies of Jersey, Guernsey and the Isle of Man to introduce public registers of company ownership.
Cox denies he's given up on backstop changes
The Daily Mail says that Attorney General Geoffrey Cox is returning to Brussels for further Brexit negotiations today and has rejected claims yesterday that he had abandoned his previous negotiating objectives, claiming that was a case of 'misunderstood fag ends dressed up as facts'. He said that reports that he had given up plans to time-limit or secure a unilateral exit from the Irish backstop were mostly inaccurate.
Formby criticised over Labour antisemitism
The Guardian says that Jennie Formby, Labour's General Secretary, has come under further criticism for her handling of antisemitism in the party following a meeting of the Parliamentary Labour Party yesterday. MP Louise Ellman said that she was 'angry' with Formby's responses.
Grayling accused of 'running scared'
The Daily Mirror reports that Labour has accused Transport Secretary Chris Grayling of running scared aft Health and Social Care Secretary Matt Hancock answered an urgent questions on the payment of £33m to Eurotunnel over no-deal Brexit ferry contracts instead of him. Downing Street justified the decision on the grounds that the contracts were for the transport of 'crucial medicines'.
Which ever policy you're interested in, find out how Vuelio Political Services can cover it for you.
https://www.vuelio.com/uk/wp-content/uploads/2018/11/Knife-crime.jpg
430
760
Thomas Stevenson
https://www.vuelio.com/uk/wp-content/uploads/2019/09/vuelio-logo.png
Thomas Stevenson
2019-03-05 10:29:02
2019-03-05 10:29:02
Political Headlines - May denies link between knife crime and police cuts and schools reliant on parental donations