Political Headlines – May secures 'improved Brexit deal'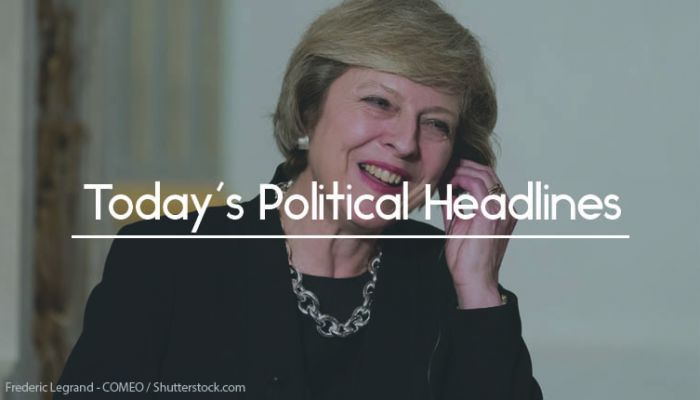 Today's political headlines include May securing an improved Brexit deal, Watson's Future Britain Group holding its first meeting, the ICO using its powers to prevent a second Molly Russell and Begum's mother pleads with Home Office. 
May secures 'improved Brexit deal'
The Times says that Theresa May has claimed 'victory' in the Brexit negotiations after travelling to Strasbourg yesterday, having secured what she called an 'improved Brexit deal' ahead of a vote today, made up of three parts: a legal document giving more weight to guarantees that the backstop won't be permanent, alterations to the political declaration committing negotiators to work to find alternatives to the backstop, and a unilateral statement explaining why the Government doesn't expect the UK to be trapped in the backstop. The paper adds that the EU is preparing for a Brexit delay of at least a year.
Watson's Future Britain Group holds first meeting
The BBC reports that Labour Deputy Leader Tom Watson's new Future Britain Group, established in the wake of the defections to The Independent Group, held its first meeting last night, which was attended by around 130 Labour politicians, including Lord Mandelson, Lord Kinnock and Yvette Cooper. Kinnock called for 'democratic socialist values' and 'achievable, possible and affordable policies'.
Information Commissioner would use new powers to prevent a 'second Molly Russell'
Interviewed by The Daily Telegraph, Elizabeth Denham, the Information Commissioner, has said that she would use new powers and block 'addictive' technology to 'break' the 'cycle' of children being exposed to 'ever more provocative content'. She vowed to prevent a 'second Molly Russell', a 14-year-old girl for whose suicide Instagram has been accused of contributing towards.
Begum's mother pleads for Home Office to reconsider its decision
The Guardian reports that the mother of Shamima Begum has written to the Home Office, requesting it to reconsider its decision to stop the 19-year-old who joined Isis of her British citizenship as an 'act of mercy'. Yesterday, Home Secretary Sajid Javid rejected suggestions that he was responsible for the death of her baby.
Officials accused of trying to cover up costs of Johnson's trip
The Daily Mirror claims that officials have been blamed for trying to cover up the cost of a trip made by Boris Johnson, then Foreign Secretary, to Afghanistan to avoid a vote on expanding Heathrow. The Foreign Office gave details to a member of the public while delaying journalists' freedom of information requests, blaming an 'IT issue' for this, the details of which cannot be revealed owing to 'national security' concerns, and has now admitted breaking rules by internally identifying journalists' requests.
Raab pitches for leadership in speech
The Times says that former Brexit Secretary Dominic Raab 'made his pitch for the Tory leadership' in a speech yesterday. He called for a 'second-chance society', arguing that his life had taught him that 'no one-off meritocratic process will ever be perfect' and that young people need 'a genuine opportunity to fulfil their potential'.
Grayling accused of keeping residents 'in the dark' over Heathrow noise pollution
The Daily Telegraph claims that lawyers for five London councils, Mayor of London Sadiq Khan and Greenpeace are to tell the High Court today that Transport Secretary Chris Grayling understated the impact of an expanded Heathrow Airport on residents in order to keep them 'in the dark' about the effect of noise pollution on them.
Stronger auditing regulator to be introduced
The Financial Times reports that Business, Energy and Industrial Strategy Secretary Greg Clark has announced that the audit regulator the Financial Reporting Council is to be replaced by a new Audit, Reporting and Governance Authority with greater powers, following the conclusions of a review by Sir John Kingman into the FRC.
The Brexit vote is tonight – keep up with breaking political news that matters to you with Vuelio Political Services.
https://www.vuelio.com/uk/wp-content/uploads/2018/10/Theresa-May-happy.jpg
430
760
Thomas Stevenson
https://www.vuelio.com/uk/wp-content/uploads/2019/09/vuelio-logo.png
Thomas Stevenson
2019-03-12 10:18:32
2019-03-12 10:18:32
Political Headlines - May secures 'improved Brexit deal'