Political Headlines – millions wait for GP appointments and Brexit latest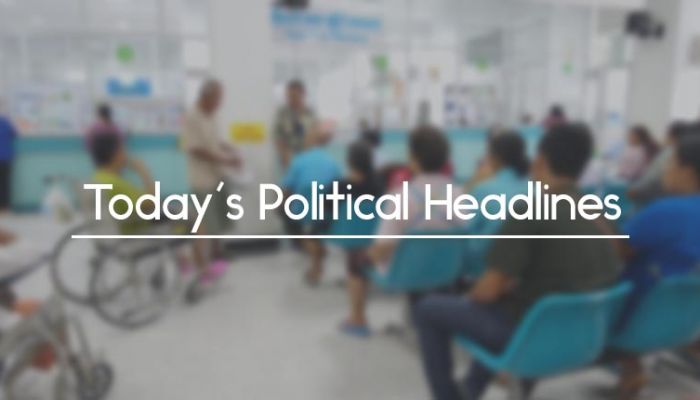 Today's political headlines include millions of patients waiting for more than three weeks for a GP appointment, gambling firms agree whistle-to-whistle ad ban, ITV pulls out of hosting the Brexit debate, and no-deal could mean gridlock for Kent. 
Millions of patients waiting more than three weeks for a GP appointment
The Times reports that five million patients a month are waiting more than three weeks for a GP appointment, according to data released by the NHS for the first time. The figures will pile further pressure on health chiefs to deal with the chronic shortage of GPs. Simon Stevens, head of NHS England, has acknowledged that if the GP system fails the whole NHS will fail as hospitals are pushed beyond capacity.
Gambling firms agree 'whistle-to-whistle' television advertising ban
The BBC reports that the Remote Gambling Association (RGA), which includes Bet365, Ladbrokes and Paddy Power, has struck a deal to stop adverts during live sports broadcasts. The ban will include any game that starts prior to the 9pm watershed but ends after that time. Tom Watson MP, Labour's Shadow Secretary of State for Digital, Culture, Media and Sport said he was 'delighted' by the move as the number of adverts during live sports had 'clearly reached crisis levels'.
ITV pull out of hosting TV debate between May and Corbyn
Sky reports that ITV has withdrawn its proposal to hold a Brexit debate between Theresa May and Jeremy Corbyn. This comes after disagreement between the Conservatives and the Labour Party disagreeing on whether to take up the offer of a debate. The debate proposed by ITV was favoured by Labour, whereas the option put forward by the BBC was favoured by the Conservatives. It is rumoured that the Prime Minister did not want to miss Strictly Come Dancing hence why she was against the ITV proposal. It is also alleged that Jeremy Corbyn was worried about the debate clashing with I'm A Celebrity…Get Me Out of Here!
No-deal Brexit could mean gridlock for Kent
The Guardian gives details of a report by Kent County Council. The report says that a no-deal Brexit would cause chaos across Kent, with gridlock on the roads, no rubbish collected, and children unable to take exams.  It is expected Kent would face some of the harshest consequences of a no-deal due to the Dover-Calais trade route. The council has also said that if this was the outcome then all who would be impacted would be informed.
Rail review could recommend nationalisation
The BBC report on remarks made by Keith Williams, the man conducting a review into the UK railways where he has said that nationalisation is a possible recommendation. Williams said he is independent, so he will consider all options and his job is to come up with the best recommendations. The review will be published in a white paper in the autumn of 2019 and reform will begin in 2020. Williams said what he sees in the "rail system is a loss of public confidence".
Leave campaigners preparing for second referendum
The Financial Times are reporting that key figures in the Leave campaign are making preparations for a second Brexit vote. In an exclusive, the paper claims Eurosceptic MPs are working with Australian political strategist Lynton Crosby to plan their approach, reflecting the belief that a parliamentary deadlock could lead to a second referendum.
Corbyn calls for support over Brexit
In an article for The Guardian, Labour leader Jeremy Corbyn has urged MPs to reject Theresa May's Brexit deal in the Commons vote next week, and get behind Labour's alternative plan. Corbyn again suggested a second referendum may be a possibility, saying that "all options must be on the table" if a general election cannot be forced.
Don't wait for your political intelligence – get Vuelio Political Services.
https://www.vuelio.com/uk/wp-content/uploads/2018/12/Waiting-room.jpg
430
760
Thomas Stevenson
https://www.vuelio.com/uk/wp-content/uploads/2019/09/vuelio-logo.png
Thomas Stevenson
2018-12-07 13:25:27
2018-12-07 13:25:27
Political Headlines - millions wait for GP appointments and Brexit latest