Political Headlines – no-deal Brexit, legal advice, Lord suspension and Babcock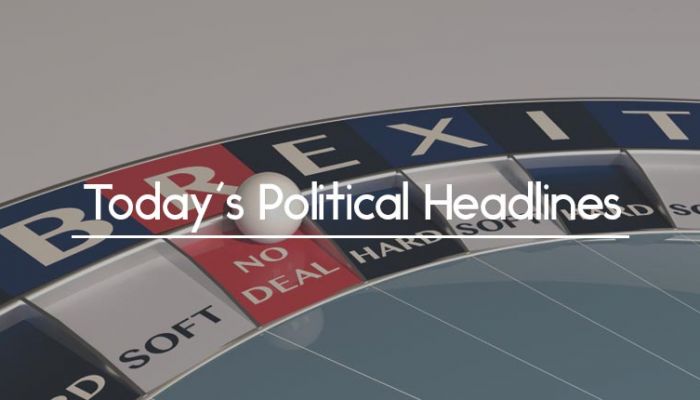 Today's political headlines include more Brexit news, with ministers telling May no-deal is preferable to accepting EU demands and Labour and Tory rebels trying to force the Government to publish Brexit legal advice, as well as Lord Lester facing a record suspension for sexual harassment and Babcock under extra scrutiny. 
Ministers to tell May no-deal is preferable to accepting EU demands
The Daily Telegraph reports that Eurosceptic ministers including Dominic Raab, Andrea Leadsom and Liam Fox are to use a Cabinet meeting today to warn the Prime Minister that a no-deal Brexit would be preferable to giving into the EU's demands. According to the paper, the latest round of negotiations broke down at 3am on Monday morning. Speaking at the Lord Mayor's Banquet, Theresa May said that she would not reach 'an agreement at any cost' and that negotiations were 'now in the end game'.
Labour and Tory rebels in bid to force Government to publish Brexit legal advice
The Guardian says that Labour is to use a parliamentary procedure today to try to force the Government to publish its legal advice on the Irish backstop plan. The Sun adds that an amendment to Labour's motion has been tabled by the European Research Group of Brexiteer Tory MPs, which is confident it has the support of over 40 backbenchers.
Peer recommended for record suspension from the Lord for sexual harassment
The Times has spoken to the women's rights campaigner Jasvinder Sanghera following the publication of a report recommending that Lord Lester of Herne Hill be suspended from the Lords until 2022 for sexually harassing her. She said that she hoped that 'by speaking out, victims were creating a climate in which people were more willing to listen'.
Defence contractor under extra scrutiny
The Financial Times says that Babcock, the UK's second-largest defence supplier, has been placed under extra scrutiny, relating to a contract covering maintenance of the UK's Vanguard submarines which carry the country's nuclear deterrent. Officials told the paper that the department had 'real concern' and that relations were 'strained'.
Johnson backs calls to offer Asia Bibi asylum in UK
The Daily Mail reports that former Foreign Secretary Boris Johnson is backing calls for the Pakistani woman Asia Bibi, cleared of blasphemy last month but at risk of attack from extremists, to be offered asylum in the UK. He has written to Home Secretary Sajid Javid to say that threats of violence against UK missions in the country should not 'deter us from doing the right thing'.
Hundreds of civil servants complain about harassment and bullying
An investigation by The Guardian has found that while hundreds of civil servants have made complaints about bullying or sexual harassment by colleagues, just a fraction of those accused were subject to disciplinary action. Not all departments and bodies provided data as a result of the paper's request and some of those that did failed to provide exact figures.
Government faces 'almost certain' defeat over betting machine stake cut
The Times claims that the Government is 'almost certain' to be defeated over its plan to delay the cut in the maximum stake for fixed-odds betting terminals after 21 Conservative MPs signed amendments designed to bring forward the cut, including Boris Johnson, David Davis, Priti Patel and Justine Greening. Labour has also said that it will back the amendments, laid by Labour MP Carolyn Harris, former Conservative leader Iain Duncan Smith and SNP MP Ronnie Cowan.
No-deal Brexit to cost NHS £2.3bn
The Financial Times carries details of a report by the Nuffield Trust which warns that a no-deal Brexit would result in a £2.3bn 'cost shock' for the NHS in England, owing to an increase in red tape and trade barriers. This would take up all the funding available to improve patient care in the next two years.
Deal or no deal? Keep up with all the latest development with Vuelio Political Services.
https://www.vuelio.com/uk/wp-content/uploads/2018/11/Brexit-roulette.jpg
430
760
Thomas Stevenson
https://www.vuelio.com/uk/wp-content/uploads/2019/09/vuelio-logo.png
Thomas Stevenson
2018-11-13 10:57:08
2018-11-13 10:57:08
Political Headlines - no-deal Brexit, legal advice, Lord suspension and Babcock