Political Headlines on original Brexit day – MPs vote on half of May's deal and EU prepares year-long extension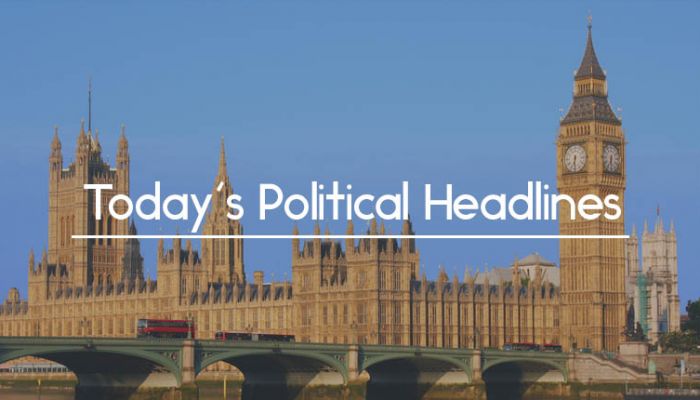 Today's political headlines includes MPs voting on half of May's Brexit deal, EU leaders preparing to offer UK year-long extension, Tory leadership contenders jostle for position and soft brexit backers working on compromise. 
MPs to vote on half of May's Brexit deal
As the BBC reports, yesterday the Government announced that MPs will vote on the Withdrawal Agreement half of Theresa May's Brexit deal today. However, Labour has confirmed that it was oppose the Government, accusing it of trying to push through a 'blindfold Brexit', while the DUP are also opposed, suggesting that the Government is likely to be defeated.
EU leaders prepare to offer UK year-long extension
According to The Times, if MPs fail to back the Withdrawal Agreement today, EU leaders are preparing for a special summit on April 10 at which the UK will be offered a choice of an extension of up to a year, forcing it to hold European elections in May, or a no-deal Brexit. The paper adds that preparations for the European elections are being increased, with returning officers being placed on standby.
Tory leadership contenders jostle for position
The Daily Telegraph reports on emerging contenders for the Conservative leadership, claiming that Jeremy Hunt has told colleagues that he has the definite backing of 75 MPs and the possible support of a further 25, while Sajid Javid has been trying to persuade Michael Gove to support his leadership bid. The paper adds that Dominic Raab has 'set out his stall as the "no-deal Brexit candidate"'. The Sun claims that Liz Truss has hinted that she will also stand, announcing that she backs a Canada-style free trade deal with the EU, while a party source claimed that up to 30 MPs were considering standing.
Soft Brexit backers working on compromise options
The Guardian says that MPs who back a softer Brexit are working on compromise options to be voted on by the Commons in Monday's round of indicative votes, including discussions with the Labour frontbench. One senior MP told the paper that they were trying to combine Labour's alternative Brexit, Ken Clarke's customs union proposal, and the 'common market 2.0' option. The Times adds that supporters of the 'common market 2.0' plan have been holding talks with the DUP and the SNP.
British Chambers of Commerce say that MPs have let businesses down
The Financial Times reports that Adam Marshall, the director-general of the British Chambers, told the organisation's annual conference yesterday that MPs had 'let British businesses down', complaining about Brexit uncertainty and saying that politicians' 'tactics' and 'soundbites' had left businesses in despair.
Efforts to deselect Grieve led by former UKIP candidate
The Times says that attempts by local Conservative members to deselect Dominic Grieve are being led by a man, Jon Conway, who stood against him for UKIP two years ago. He is to face a vote of no confidence today as a result of his support for a second Brexit referendum.
Former Labour members arrested as part of investigation into antisemitism dossier
The Sun reports that the police have arrested three former Labour members, including a former council candidate, on suspicion of publishing or producing 'race hate material', as part of an investigation into a leaked dossier of antisemitic social media posts handed to Metropolitan Police chief constable Cressida Dick during an interview on LBC.
Lord Winston demands licence plates for cyclists
The Times says that Labour peer and IVF pioneer Lord Winston is calling for cyclists to be made to carry licence plates, after he was kicked and had his phone thrown to the ground by a woman he criticised for cycling on the pavement. He told the paper that he was considering introducing a private member's bill on the proposal.
The UK is not exiting the EU today, so when will it? Find out with Vuelio Political Services. 
https://www.vuelio.com/uk/wp-content/uploads/2018/12/Parliament.jpg
430
760
Thomas Stevenson
https://www.vuelio.com/uk/wp-content/uploads/2019/09/vuelio-logo.png
Thomas Stevenson
2019-03-29 10:48:38
2019-03-29 10:48:38
Political Headlines on original Brexit day - MPs vote on half of May's deal and EU prepares year-long extension