Political Headlines – one in three businesses planning to relocate because of Brexit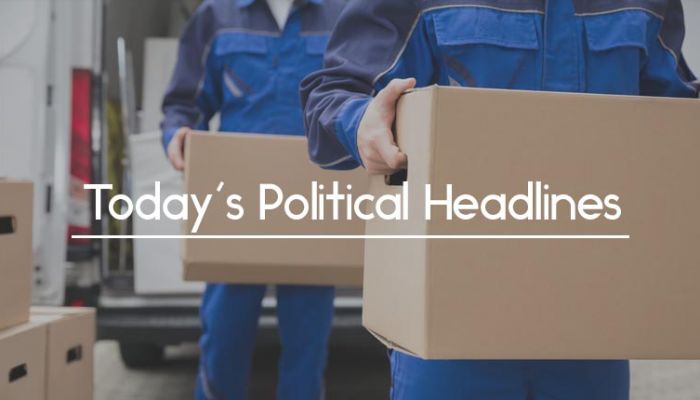 Today's political headlines include businesses planning to relocate because of Brexit, the Government's plans to fund deprived communities, Javid believes Brexit delay is likely and MPs tell MoD to scale back spending. 
One in three British businesses planning relocation because of Brexit
The Guardian carries the finding of a survey by the Institute of Directors which finds that almost one in three British businesses is planning to relocate some operations abroad in order to cope with a hard Brexit. 29% of firms said that they had either done so already or were planning to, mostly to the EU. Edwin Morgan, the IoD's Director General said 'we can no more ignore the real consequences of delay and confusion'.
Government plans fund for deprived communities in attempt to win Brexit support
The Sun reports that Theresa May is planning a 'National Renewal' fund to invest in deprived areas such as coastal resorts and former mining communities, as well as new legislation on workers' rights. The constituencies of a dozen Labour MPs who voted with the Government on Tuesday are set to benefit, with Labour MP David Lammy saying that colleagues who accepted the funding were 'cowards and facilitators' on whom 'history will be brutal'.
Javid believes Brexit delay is likely as MPs' February recess is cancelled
According to The Daily Telegraph, Home Secretary Sajid Javid has warned a Cabinet colleague that Brexit is likely to be delayed as there is not enough time to pass necessary legislation, with the paper claiming that up to nine Cabinet ministers believe this. As The Times reports, yesterday it was announced that Parliament's February recess was to be cancelled, although the Government chief whip said that MPs who had made plans could still take the week off, with permission. The Guardian adds that EU officials are worried that a no-deal Brexit may happen at the end of June because Theresa May won't ask for a long enough extension in an attempt to placate Brexiteers.
MPs tell MoD to 'scale back' spending
The Financial Times reports that the Commons Public Affairs Committee has called on the Ministry of Defence to 'stop, delay and scale back' parts of its plans in order to deal with a gap of up to £15bn in its equipment plan for the next decade. Despite promises made last year, a new report concludes that 'little progress' has been made.
Schools to lose background checks on EU teachers in no-deal Brexit
In an exclusive, The Sun says schools will lose access to an EU database of banned teachers in a no-deal Brexit scenario, with officials saying schools will receive guidance on what to do 'shortly'. Other issues include foreign qualifications no longer being recognised, with Commons Education Committee Chair Robert Halfon saying he was 'incredibly alarmed'.
Gauke defends legal aid for Jack Shepherd
The Daily Telegraph has been told by Justice Secretary David Gauke that denying Jack Shepherd, convicted of manslaughter over the death of Charlotte Brown during a trip on his speedboat on a date, legal aid for his appeal because he has fled the country might set a precedent which would lead to trials not being able to be held in absentia, leading to 'victims or the families of the victims' losing out.
Schools told to be 'flexible' about post-Brexit meals, while Unilever stockpiles Magnums
The Guardian reports that the Government has told schools to be 'flexible;' about school dinner standards in the event of post-Brexit food shortages. The Daily Mirror adds that Unilever has announced that it is stockpiling ice creams made in the EU, such as Magnums and Ben and Jerry's, in case of a no-deal Brexit.
Pressure to axe business rates intensifies
According to the Financial Times, the Government is being put under increased pressure from MPs to scrap the business rate system in an attempt to stop high streets from further declining. The Commons Treasury Committee has launched an inquiry on the effect of recent changes to the system and the benefits of alternative taxes, such as one on land value.
Don't leave your political intelligence to chance, get Vuelio Political Services.
https://www.vuelio.com/uk/wp-content/uploads/2019/02/Moving-businesses.jpg
430
760
Thomas Stevenson
https://www.vuelio.com/uk/wp-content/uploads/2019/09/vuelio-logo.png
Thomas Stevenson
2019-02-01 11:06:52
2019-02-01 11:06:52
Political Headlines - one in three businesses planning to relocate because of Brexit