Political Headlines – Rudd's resignation, better roads, debt trap and David Davis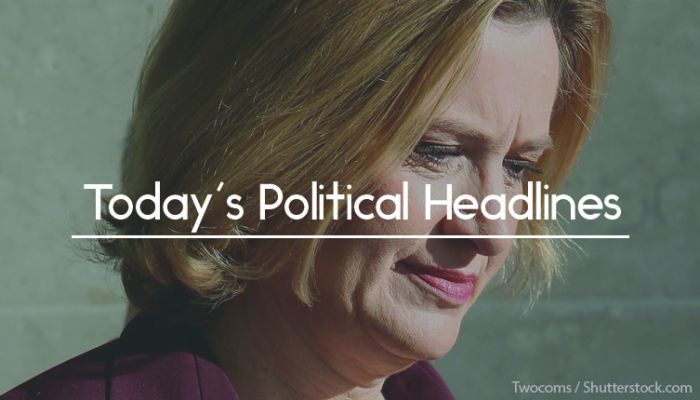 Today's Political Headlines include Rudd's resignation, utility companies avoiding roads, capping interest payments and David Davis backlash. 
Rudd resigns, having 'inadvertently misled' Parliament
Home Secretary Amber Rudd resigned last night, admitting that she 'inadvertently misled' MPs over targets for removing illegal immigrants, the BBC reports. The BBC expects her successor to be announced 'within hours'. Shadow Home Secretary Diane Abbott said that Amber Rudd had 'done the right thing', but that as 'architect of the crisis' Theresa May must come before the Commons to explain what she knew.
Government plans to order utility companies to avoid roads
The Times reveals that the Government intends to order utility companies to put new pipes or cables under pavements and verges under plans to cut congestion and reduce potholes. The paper has conducted an investigation into British roads, which also finds that they are 27th for quality in the world, the use of variable speed limits will be cut and that local councils are using bureaucratic measures to avoid repairing potholes.
Labour announces plans to cap interest payments and overdraft fees
The Financial Times reports that Labour is to announce plans to cap the total amount that can be paid in overdraft fees or interest payments in order to help those caught in a 'debt trap'. The party proposes that the cap on charges by payday lenders should be extended by the Financial Conduct Authority to cover the cost of overdraft borrowing.
Davis faces backlash after urging Prime Minister to ignore top Brexit civil servant
According to The Daily Telegraph, Brexit Secretary David Davis is facing a backlash over claims he told the Prime Minister to ignore a customs partnership plan backed by Oliver Robbins, her top Brexit civil servant. Writing in The Sun, Davis warns that a bid by the House of Lords to let Parliament control the negotiations would lead to a major constitutional crisis. The paper also claims that a senior cabinet minister has told it that May's favoured customs plan 'would be a disaster'. DUP leader Arlene Foster has told the BBC that Michel Barnier, the EU's chief negotiator, does not understand the unionist stance on Brexit.
McDonnell dismisses Russian Twitter bot claims
According to The Guardian, John McDonnell has said that claims made by The Sunday Times that Labour was supported by Russian Twitter bots during the general election are similar to smears against Neil Kinnock before the 1992 election. He dismissed the assertion that 6,500 suspect accounts published pro-Corbyn, anti-Conservative messages as 'ludicrous'.
£15 congestion charge may be imposed at Heathrow
The Daily Telegraph reports that Heathrow may impose a £15 congestion charge on 82 miles of road surrounding the airport in a bid to meet emissions targets. The airport is consulting on the plans, which it views as a 'last resort', but according to 'Whitehall sources' Transport Secretary Chris Grayling believes they are the only realistic way to meet emissions targets.
Hancock to hold talks with FA over Wembley sale
In an exclusive, The Sun reveals that Culture Secretary Matt Hancock is to hold talks with the Football Association to ensure that Wembley remains England's base 'for generations to come'. The paper claims that ministers are 'furious' that the FA did not give the Government a warning about how advanced talks to sell the stadium were.
Politicians call for Sainsbury's-ASDA deal to be investigated
As the BBC reports, senior politicians have called for an investigation into the deal between Sainsbury's and Walmart-owned ASDA. Liberal Democrat leader Sir Vince Cable warned that local monopolies would be created, while Shadow Business Secretary Rebecca Long-Bailey expressed concern about the impact on suppliers.
Vuelio political services create these headlines and are available to support your political needs.  
https://www.vuelio.com/uk/wp-content/uploads/2018/04/Amber-Rudd-resignation.jpg
430
760
Thomas Stevenson
https://www.vuelio.com/uk/wp-content/uploads/2019/09/vuelio-logo.png
Thomas Stevenson
2018-04-30 08:22:27
2018-04-30 08:22:27
Political Headlines - Rudd's resignation, better roads, debt trap and David Davis