PRCA UK National Conference 2020: solving the PR industry's 'R word' problem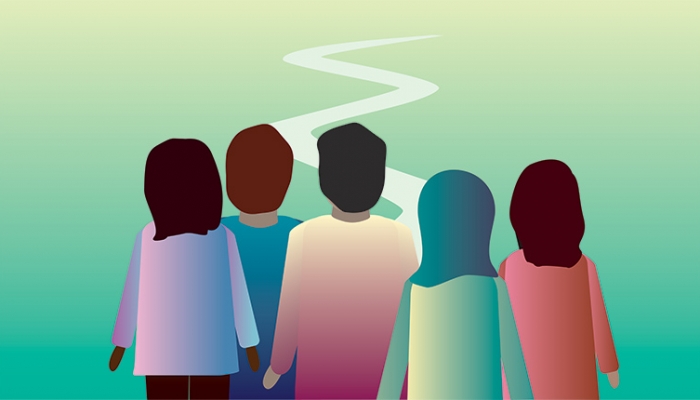 This year's PRCA UK National Conference took place last Thursday as a virtual event and explored topics including Ethnic Equality and Inclusion, Brands Doing Good, and Thrive and Survive – all part of its PR as a Force for Positive Change theme.
PR's history (and continuing issues) with inequality when it comes to who gets to the top of agency hierarchies, and who makes up the majority of its workforce, was the focus of the panel 'The "R" Word. Finally, time to tackle racism in PR and Communications'. Chaired by PRCA Race & Ethnicity Equity Chair and Director of Brownstone Communications' Barbara Phillips, the discussion featured advice for best practice from ENGINE's Ete Davies, Kantar's Mandy Rico, John Doe's Magin Trewhella and BAME Recruitment's Cynthia Davis. Recent Board of Directors' appointee Rax Lakhani also followed the panel with a brief update from the PRCA Diversity Network.
'We know that we can't tackle the whole thing with one panel. But we can break it down,' is how Barbara opened the discussion, with data highlighted as a starting point for pinpointing problems and creating benchmarks.
Ete Davies shared how data is only the start of the journey to true inclusion: 'In truth, we're still on a journey to be representative within ENGINE. The last seven months, particularly after the exposure the media gave to the systemic issues that ethnic minorities are experiencing, highlighted for us that the data we had wasn't doing enough. I think there's a lot more work to do – actually using the data to inform decisions. Driving actions, rather than just monitoring.'
On making meaningful change, Magin Trewhella explained the catalyst for inclusion commitments being made at John Doe: 'I've been frustrated by a lack of diversity for a long time, practically my whole career, so one of the drivers has been to build an agency truly representative of the city where it's based.
'We put out a number of commitments, on recruitment, supply chains and representation in campaigns, with numbers behind them so we're actually accountable to something. That led to us auditing everything we did. It's provoked cultural change within the business, and that's the work that needs to be done for something genuinely proactive and sustainable.'
'It's going beyond performative allyship,' agreed Ete. 'It's holding yourself publicly accountable. What are you doing about your supply chain, for example? We need more of that.'
'There's always a challenge you have as a minority in a position of leadership, an implicit impression people can have that you got the role because of your identity, a diversity agenda, instead of your achievements,' continued Ete regarding his role and responsibility as CEO of ENGINE.
'There can be an impression that when you're trying to drive change, that agenda is tied very much to your identity. Which it is, but in our industry, if we don't have representation in our companies, we can't do our jobs, we can't service our clients or understand our audiences and the communities that we're supposed to be engaging with. It's not a political choice, it's not even a personal choice – it's a business decision that CEOs should be leaning into. Everyone needs to be onboard with it; it's a strategic priority.'
BAME Recruitment's Cynthia Davis was upfront about why she decided to start her own recruitment business: 'I was so fed up of hearing that excuse, that "we can't find black talent" or "there aren't qualified people from ethnic minority backgrounds". In this day and age, that's lazy, and an easy excuse to not hold yourself accountable for driving change.
'For me, the question is "why?" We have to look at the processes and systems that are in place. When people don't see themselves represented in certain sectors or certain roles, they see it as unattainable and don't even bother. It's not a level playing field. This has to go further than targets and to accountability. If you're bringing talent in, what are you doing to promote them and move them up?'
'The "pipeline challenge" argument is one I always smile at,' added Ete. 'Recruiters are specifically paid to solve recruitment challenges, for businesses. This is the brief that's given to you; it's not good enough to come back and say, "we can't find the people". Look harder, or don't claim to have the expertise. If it's business-critical, you'll find a way to solve it.'
On tackling systematic racism in hiring, retaining and developing talent, Ete advocated for 'putting well-established best practice processes on recruitment and benchmarking in place. Setting representation targets that the leadership team are held accountable on. And modelling and demonstrating your values – from meetings, ways of working, and how we recognise and reward each other.'
Barbara finished the panel with a question for the PR industry: 'Everything we've discussed today is valuable, but for me, the one core theme is desire – whether or not organisations want to take the step to be inclusive. You have to have a moment of introspection and think "what's stopping me from making this work?".'
Catch up with more from this year's PRCA UK National Conference on the PRCA website.
https://www.vuelio.com/uk/wp-content/uploads/2020/09/The-R-Word.jpg
430
760
Phoebe-Jane Boyd
https://www.vuelio.com/uk/wp-content/uploads/2019/09/vuelio-logo.png
Phoebe-Jane Boyd
2020-09-29 14:58:03
2020-09-29 15:46:15
PRCA UK National Conference 2020: solving the PR industry's 'R word' problem