Speedy Spotlight: Adora Mehitabel
Adora Mehitabel will be featured in the Media Updates. Here Adora discusses style, working with PR and being yourself.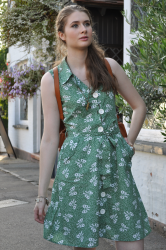 Why should people read your blog?
I blog to inspire. It's a way of sharing my ideas and thoughts. I fill posts with my sense of style, vintage, thrifty finds, adventures, wishes, creativity and photography. The blog is my little online, unique diary.
The most important issue in your blogosphere is… To have fun in everything you do! And enjoy all the success that comes your way. I feel some people get too caught up comparing theirs to others; just be yourself and it will shine through.
What's your favourite blog and why?
This is such a hard question! I follow so many blogs but if I had to just pick one favourite blog I would say the Briar Rose blog because it's so down to earth. Megan has such a beautiful/intricate style and vintage flair – she always leaves me in awe.
How often do you aim to post?
I aim to post at least three times a week.
How do you feel about guest posts?
I would be totally fine with guest posts on my blog as long as they are something I like, reflect well with my blog and are interesting to my readers.
How does a good PR work with you?
I like it when PR work with me on a personal level. Being very helpful and good at communicating with me, and getting me involved in all the blogging things going on.
What do PRs do that's bad?
Bombarding with emails of high res image requests every day from the same company – that's super frustrating and just spams up my inbox. When they don't refer to your name. Also when they send over emails with bunches of other bloggers' emails attached – that makes it less personal.
Editorial information on Adora Mehitabel, her blog and thousands of other media outlets and contacts can be found in the CisionPoint Media Database.
Priyanka Dayal
https://www.vuelio.com/uk/wp-content/uploads/2019/09/vuelio-logo.png
Priyanka Dayal
2013-08-22 09:03:54
2013-08-22 09:03:54
Speedy Spotlight: Adora Mehitabel