The right blend: how 'chameleon' brands do it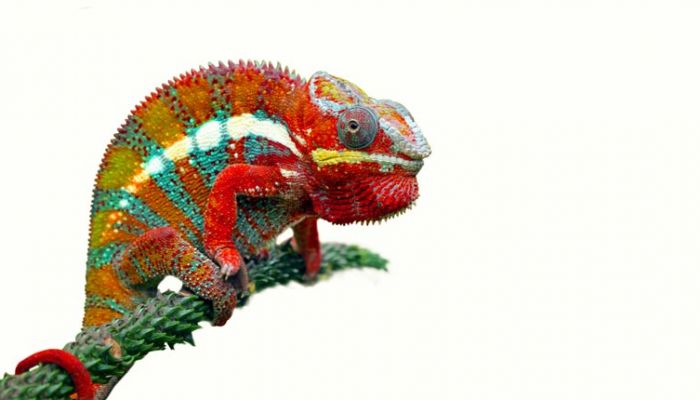 This a guest post by Katy Bloomfield, comms director at TopLine Comms.
Nineteen years ago, an Admap editorial defined 'chameleon brands' as organisations with a strong, consistent core that can nevertheless be adapted to different target audiences, different needs, and different media. They retain their 'shapes', but the 'colours' of what they offer tend to vary; they're usually multi-product, multi-variant, and if they're particularly successful, they can even become part of everyday life.
Microsoft started out as a developer of operating systems and grew into a multi-billion-dollar empire covering software, video games, cloud computing, VR and much more. WPP started out making wire baskets (Wire and Plastic Products) before it was acquired and became one of the biggest PR, advertising, and marketing companies globally.
These brands are defined by their ability to change. Preferences, fads and demographics come and go, but these companies endure – even in the wake of controversy and tumultuous market changes.
What makes a 'chameleonic' brand?
Chameleon culture
Disney is a classic example. In 1928, it was a humble animation studio experimenting with radical techniques such as synchronized sound.
In 2019, it's an entertainment juggernaut that plays host to the Marvel Cinematic Universe and the Star Wars Saga; a number of theme parks; a chain of stores; a major American television network (ABC) and a range of cable networks; a streaming service set to launch later this year; and yes, its own animation studios (as well as those it has acquired, like Pixar). And all that's before you count all the properties acquired since purchasing 21st century Fox in March.
Disney's succeeded because it ventured out of its general ballpark – animation and children's movies – while staying roughly in the same neighbourhood of entertainment. Its scope has expanded, but it's stayed true to its founder's famous maxim: 'Whatever you do, do it well'. Disney's created a niche, a culture and a reputation for quality that bleeds into everything else.
Disney, of course, came to prominence when cinema was dominant, and television was not yet a fixture of every household. So how might a similar company rise to prominence in the digital-first era?
Chameleons in the age of digital disruption
Its most obvious digital heir is Netflix – a company at the cutting edge of everything new and interesting happening in the world of entertainment.
But 20 years ago, it was a mail-order DVD rental service. In an age where Blockbuster forced you to travel to its physical locations, adhere to its strict one-seven day rental terms, and which punished you with fines if you didn't, it was quietly revolutionary. But Netflix's owners realised that the business' true potential didn't lie in a waning DVD market – it was in creating its own content.
So mail-order DVD rentals went, the platform was built, and eventually, it invested in its own content, licensing series that weren't available elsewhere (Breaking Bad was a Netflix exclusive in the UK for its final seasons), launching its own in-house series such as House of Cards and BoJack Horseman, and reaching a point where it spent an estimated $12 billion on original series in 2018. The company's business model has changed, but the core understanding – that consumer preference is always paramount – has not. That's why the transition from mail-order DVDs to streaming behemoth makes sense; audiences come by content, the platform logs their preferences, and these preferences inform what they watch next and what gets commissioned.
Netflix and Disney have two very different stories, but they're successful for the same reasons: they're all things to all consumers. The former is producing romcoms, action films and thoughtful, Oscar-winning dramas, and the latter has Captain America for the kids and It's Always Sunny in Philadelphia for the grownups.
What's next for chameleon brands?
Facebook has achieved a similar status to Netflix and Disney – and the company's new direction may be no less dramatic than Netflix's transition to streaming or Disney's acquisition of pretty much everything. Following several data protection scandals, it's moving away from 'making connections' and towards a fundamental shift that puts private communications at the centre of everything.
As Mark Zuckerberg said, 'the future is private'. Small groups and encrypted one-to-one messaging have led to digital 'living rooms', rather than 'virtual town halls'. It's an acknowledgement that the way we use social media has changed, but it's also something else: an attempt to become chameleonic – to attune Facebook to the needs of its audience in a world where their preferences are evolving.
Facebook is likely not in any real danger of disappearing like Blockbuster, or receding into irrelevance like MySpace. But it's showing what it means to become a chameleon brand: to change what it was, while retaining its core appeal – to take part in a future that the audience wants, rather than attempting to create one that it doesn't.
It's a lesson all brands, big and small, could take to heart.
https://www.vuelio.com/uk/wp-content/uploads/2019/06/Chameleon-brands.jpg
430
760
Guest Contributor
https://www.vuelio.com/uk/wp-content/uploads/2019/09/vuelio-logo.png
Guest Contributor
2019-06-10 08:30:10
2019-06-10 10:54:09
The right blend: how 'chameleon' brands do it