These 5 supersectors can't afford to ignore influencer marketing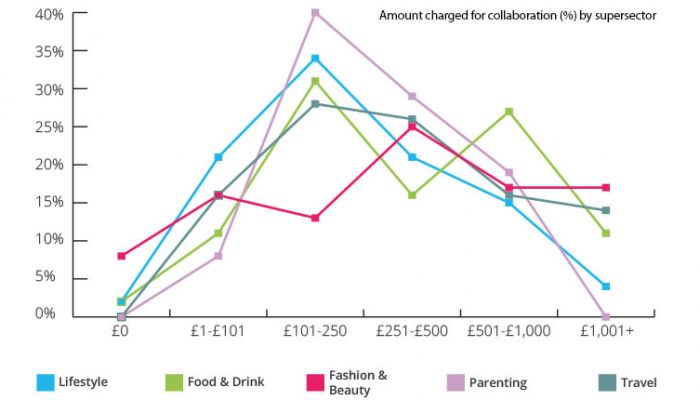 Influencer marketing is growing rapidly, with more professionals entering the industry and partnering with PRs and brands on collaborations. The Vuelio UK Bloggers Survey 2019 has revealed five supersectors that dominate influencer marketing both in terms of the number of influencers, and the number of PR pitches they're receiving every week.
Lifestyle, Fashion & Beauty, Parenting, Food & Drink and Travel account for around two-thirds of all blogs. While Fashion & Beauty is in decline, Parenting, Food & Drink and Travel have all seen increases since 2016 and cannot be ignored by businesses and organisations in those respective sectors.
Age groups
The Survey reveals that different age groups specialise in different categories. Those aged 18-24 typically focus on Lifestyle and Fashion & Beauty; 25-34 year-olds focus on Lifestyle and Parenting; 25-54 year-olds cover all categories, but Parenting is the most popular; 55-64 year-olds are most likely to cover Food & Drink and Travel; and over 65s are most likely to cover Food & Drink.
Reflecting the broader blogsphere, four of the five supersectors are dominated by women, with only Travel having an even male/female split.
Pay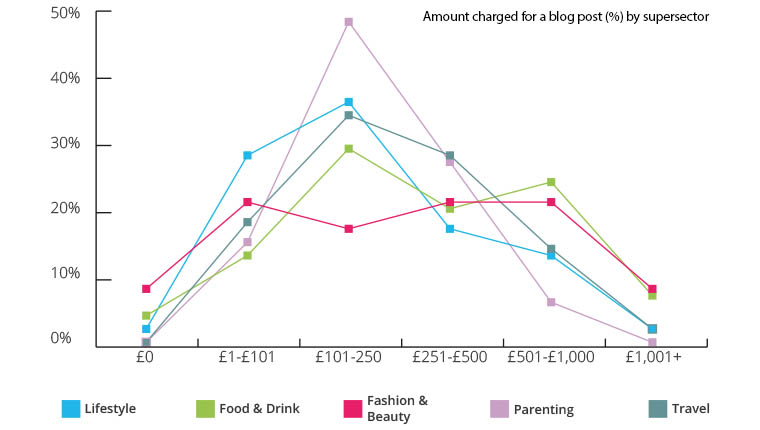 The Survey also contains information on pay across the supersectors, the first time this information has been reported on such a scale.
When it comes to individual blog posts, Fashion & Beauty and Food & Drink are mostly likely to command the top pay of over £1,000, while Parenting appears to be the most standardised supersector, as 48% charge between £101-£250 per post. This reflects the maturity of Parenting, which found its feet early on and has developed a strong influencer community.
When it comes to collaborations, Parenting is again the most standardised with 40% receiving between £100-£250. This reflects that many campaigns in the Parenting supersector are one-off single posts, which is why there isn't a great deal of discrepancy between pay for posts and pay for collaborations.
Fashion & Beauty and Travel, on the other hand, show a much higher percentage of those paid in the top bracket (over £1,000) for collaborations compared to single posts. For Travel, this is not surprising – it's very difficult to engage a travel influencer for a single post when trips typically take place across multiple days. These numbers also suggest Fashion & Beauty PRs and brands are reaping the benefits of long term collaborations.
Why does long term work?
While single posts can be effective, long-term multi-post collaborations makes influencers into ambassadors for your brand. It requires more work and typically more investment, but most influencers have loyal, regular audiences who are more likely to buy into your brand and messaging if exposed to it over a long period of time.
If you do want to work on long-term collaborations, building and maintaining the right relationships with the right people is the most important part of the process. Rather than blanket emailing a large number of individuals in the right sector, you need to carefully handpick the right people and understand why they're the perfect fit before you send the first email. Using the Vuelio Influencer Database – the most comprehensive source of influencers, which includes detailed profiles – gives you a head start and takes the work out of research.
Do you work in a supersector? What's your approach to influencer marketing? Let us know on Twitter @Vuelio. 
https://www.vuelio.com/uk/wp-content/uploads/2019/04/supersector-collaboration-pay.jpg
430
760
Jake O'Neill
https://www.vuelio.com/uk/wp-content/uploads/2019/09/vuelio-logo.png
Jake O'Neill
2019-04-08 10:54:49
2019-04-08 10:54:49
These 5 supersectors can't afford to ignore influencer marketing