Today's Political Headlines – 4 December 2017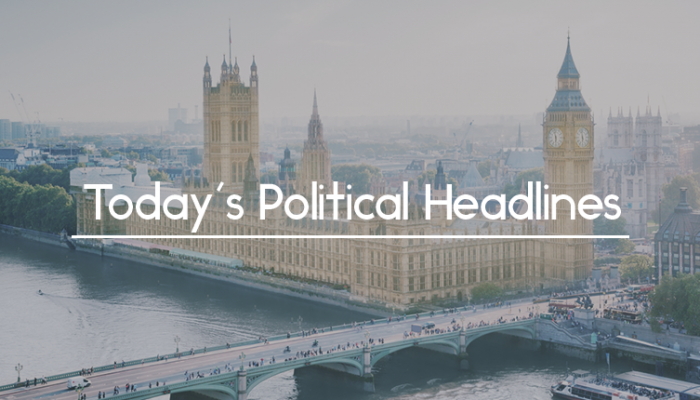 A round-up of the latest political headlines, including Brexit, child and pensioner poverty and the NHS. 
Theresa May in crunch Brexit meeting
Theresa May is in Brussels today to meet European Commission President Jean-Claude Juncker for crucial Brexit talks. The Irish cabinet will also meet this morning to discuss Brexit. The papers have varying assessments of May's likely success. The Times claims that a deal is '85-90 percent there', the Financial Times says the UK and the EU are on the 'brink' of a deal, but according to The Daily Telegraph the Government is 'highly pessimistic' about its chances of success and may might ask for an extension.
Increase in child and pensioner poverty
The Guardian reports research by the Joseph Rowntree Foundation, which found that almost 400,000 more children and 300,000 more pensioners in the UK were living in poverty than in 2012-13, in the first sustained increase in 20 years. The foundation blamed the increase on 'political choices, wage stagnation and economic uncertainty' and called for benefits to be unfreezed, training increased, and a more-ambitious house-building programme.
NHS to rule out more 'poor-value' treatments
The Times reports that the NHS is to rule out more poor-value treatments, as it comes under pressure to find more savings. The chief executive of NHS Clinical Commissioners told the paper that 'There are a range of interventions that we shouldn't be doing because they don't work, […] We are now starting a piece of work to bring that all together and we hope there will be significant savings.'
Syrian aid programme suspended after allegations that it funded jihadis
The Guardian reports that a foreign aid scheme funded by the Government has been suspended following allegations to be made in a BBC Panorama documentary this evening. The scheme, intended to fund a civilian police force through a programme run by Adam Smith International, allegedly saw money being channelled to jihadi groups.
Social Mobility Commission chair who resigned was due to be replaced
The Daily Mail says that Alan Milburn, who quit as chairman of the Social Mobility Commission because he had 'little hope' May could deliver change had already been told that May planned to replace him. A Whitehall source said 'Milburn was sacked and is now having a rant on his way out the door.'
Cabinet split over Damian Green's future
The Times has details of a cabinet split over the future of Damian Green, the First Secretary of State. Apparently, May's team of staff are also split, with her chief of staff Gavin Barwell wanting Green to resign, whilst her director of communications, Robbie Gibb thinks he should stay.
Funding for 'mini nuclear power stations' to be announced
The Government is expected to announce up to £100m of funding for small nuclear power stations this Thursday, says The Guardian. The competition to find the best value 'small modular reactor' has been delayed, leading to lobbying by firms.
Jeremy Hunt: social media sites should limit access by the young
The Daily Mail reports comments made by Health Secretary that social media sites should limit access by vulnerable youngsters. He said that sites should monitor whether young people are putting their mental health at risk by spending too much time online.
How can Vuelio political services can help you? 
https://www.vuelio.com/uk/wp-content/uploads/2017/11/Todays-Political-Headlines.png
430
760
Jake O'Neill
https://www.vuelio.com/uk/wp-content/uploads/2019/09/vuelio-logo.png
Jake O'Neill
2017-12-04 11:02:17
2017-12-04 11:02:17
Today's Political Headlines - 4 December 2017