When, how, and what to pitch when working with Gen Z journalists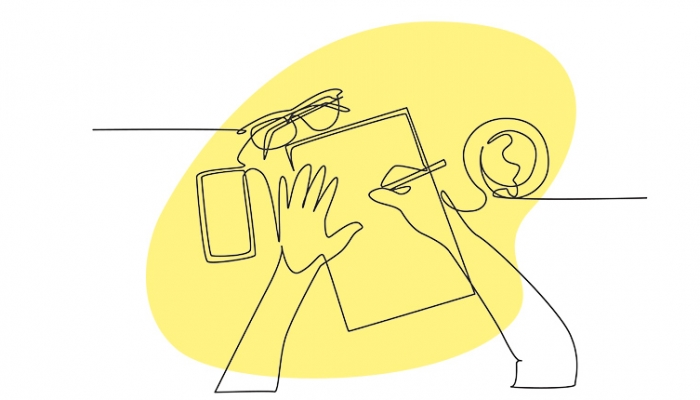 The first rule of PR is knowing how to engage with journalists. Knowing when to pitch, how to get in contact and what a journalist is looking for can help to build the foundations of a relationship. But what do the new generation of journalists like – and not like – when it comes to working with PRs?
We spoke to Livingetc news editor Lilith Hudson, Telegraph global health security desk journalist Lilia Sebouai, and woman&home senior fashion & beauty writer Amelia Yeomans to find out about working in the media industry as a Gen Zer, contact preferences, and the importance of social media.
Industry perceptions
Everyone has thoughts or ideas on what the workplace will be like before they start on their career path. Lilia's perception of journalism mainly came from film and TV and this wasn't the reality she was greeted with: 
'I didn't expect that I would be in an office everyday, I kind of expected to be out on different jobs in new areas each day, but this changed with the rise of social media.'
The importance of technology within journalism was picked up on by Lilth and Amelia. Amelia 'didn't realise how much of the industry would rely on things like SEO and e-comm, and how highly valued skills in those areas are.' 
Lilith backed this: 'Within lifestyle journalism and interiors as a whole, there's been a massive move towards digital' and that journalists therefore 'have to adapt to producing the content' as a result.
Getting in contact
All three journalists agreed that email is the best way to get in contact with them. For Amelia, it's useful having everything in one place so she can then search for something specific: 
'I look back through my emails all the time to search for experts or products, so an email with a clear subject line stating what's in the body of the email is always appreciated.' 
A lot of Lilith's work is with the US and therefore 'when it comes to commentary, it's usually email responses' that are the most beneficial.
The stereotype is that Gen Z don't like contact via phone, but neither Lilia or Lilith were against it. Lilia said that 'for articles with a deadline, it's often best to just have a quick call' as her work at the Telegraph is closely tied in with the news cycle. Lilith hasn't had a phone call from a PR but will call switchboards for big PR firms that she needs comment from as she's 'not afraid to pick up the phone.' 
However, for Amelia, phone calls are a definite no. 
'We're so pushed for time that I really don't have a free minute to answer the phone – much better to lay everything out in an email and I will always get in contact if it's relevant to what I'm working on.'
Relationship building
Establishing a good working relationship with PRs is as important to the new generation of journalists as it is to the current one. Amelia said that she will 'speak to PRs daily for things like product recommendations and expert quotes, so if there's someone I know well and know I can rely on that makes everything so much simpler.' 
Lilia also recognised the need for good communication with PRs. She said 'building PR relationships can be good for securing interviews with high-profile interviewees/guaranteeing us exclusive access to stories. I prefer face-to-face meetings for long-term projects like this.'
Lilith's work has changed now that she is working more for a US audience but still thinks it's 'really key to have a real rapport and real relationship' with PRs. She gave the example of how recently a few sources had not come back to her with commentary so she reached out to a PR that she had an excellent relationship with. She asked if they could get anything over to her within 24 hours and the PR did it within 12. 
'If it wasn't for the fact that she knew my name, and she knew to look out for me in her inbox, I don't think that would have happened.' 
This underlines the importance of building and maintaining a strong relationship with journalists, and showing that you are a reliable and helpful source when it matters.
Social media preferences
Most journalists, whether Gen Z or not, are on a variety of social media platforms. But should PRs be contacting them there? Amelia isn't really a fan:
'I really don't like PRs contacting me through them unless it's someone I already have an established relationship with. Once I know someone and have met them multiple times it's fine for them to drop me a message, but I'm not comfortable with being contacted by anyone I'm not friendly with as my social pages are personal and I want to keep my work separate.'
That separation between professional and personal social media is where the lines can be blurred. Lilith agreed that 'it's kind of a difficult line to toe in terms of whether it's a professional or personal account.' She also isn't keen on PRs reaching out to her on socials unless she is using X (formerly known as Twitter) for a quick comment with #Journorequest. Lilia will also use X for work, as well as Reddit and TikTok. However, again there is crossover as she will use TikTok for pleasure too, alongside Instagram. Generally, it's probably best to avoid contacting Gen Z journalists via socials.
Gen Z stereotypes and the future of work
Each generation comes with their own stereotypes and Lilia ran through the negative ones for her age group and the 'Gen Z' label: 'Gen Z are obsessed with their phones and unoriginal and lazy'. 
But she actually likes the term 'Gen Z', and rather than believing any negative connotations, everyone at the Telegraph 'expects me to be all over TikTok'. Amelia put a further positive spin on this saying that 'most people associate Gen Z with being in touch with current trends, which is good as a journalist'.
Lilith agreed that 'there's an expectation that you will be more clued on socials'. She also pointed out there's been a lot of talk around 'quiet quitting' being a Gen Z movement. However, Lilith feels that their generation 'just have very different expectations around their work life – 'we're not prepared to give up our entire lives for our work.' 
The future of work is in flux with the introduction of AI and concepts like the Metaverse. Gen Z are stereotypically pro technology and up to speed with new innovations. However, all three journalists were unsure of what impact it would have on journalism, with Amelia commenting that 'so much is unknown at the moment'. 
Whatever the future does hold, it's clear that Gen Z journalists are as keen as previous generations to work closely with PRs.
Want more on how to work with Gen Z? Download our Vuelio white paper 'The PR Guide to communicating with Gen Z'. 
To start getting enquiries and requests from journalists like this, straight to your inbox, check out the ResponseSource Journalist Enquiry Service. 
https://www.vuelio.com/uk/wp-content/uploads/2023/10/Gen-Z-journalists.jpg
430
760
Andrew Strutt
https://www.vuelio.com/uk/wp-content/uploads/2023/09/vuelio-logo-200px.png
Andrew Strutt
2023-10-03 09:29:26
2023-10-03 09:29:26
When, how, and what to pitch when working with Gen Z journalists