Why social media brand newsrooms are on the rise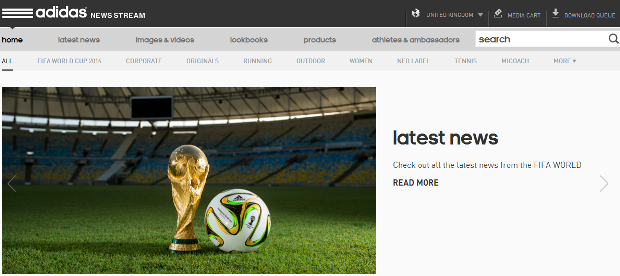 The screen shot you see above is one from the Adidas newsroom – where all the World Cup action is brought to you first hand from the official FIFA 2014 sponsor in one customised site. Whether it is a new record, an interesting stat or a first look at an ad campaign featuring German goalkeeper Manuel Neuer, the Adidas' newsroom has it covered.
The Adidas Group is part of the league of power brands including Nike, Puma, Redbull and Coca-Cola who have established newsrooms, and are currently actively contributing to the World Cup frenzy.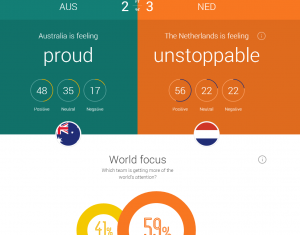 This here is Google's World Cup Trends Newsroom which breaks down the way the world consumes the games in colourful, easy to understand and easier to share illustrations. Live score cards to real-time viewer sentiments are all captured by a team of data scientists, designers, editors and translators, bringing together search data and turning them into infographics on the site.
The above brands are an example of how companies around the world are using digital newsrooms to get in with the buzz surrounding the biggest global sporting event, allowing them to be publishers and break the news as it happens, and on their own terms, as they spent millions acquiring the rights to.
However, digital newsrooms are by no means limited to sporting brands and tournaments. Cision's Social Media Newsroom is testimony to leading brands from various sectors, from H&M or Halfords that have embraced the platform to up their communications strategy.
The rise of digital newsrooms signify the change in the way content is now consumed. Social media is becoming integral to reporting and information-gathering, pushing companies to find an integrated approach to content assimilation and distribution across traditional and new platforms.
Newsrooms therefore allow marketers to create an environment which is easy for consumers, influencers and journalists to find and share their story, whether told via a press release, blog, vlog, whitepaper or video or any combination of these.
It is no wonder that the 2014 Online Newsroom Survey Report by TekGroup found that 97% of journalists interviewed think it is important for companies to have newsrooms, and 95% of journalists have visited newsrooms for product or company information.
Feedback from Cision clients highlights the convenience of the platform.
'The 'social' newsroom allows a company to feed in its YouTube videos, Flickr images and other social profiles such as Twitter staff links. This combined with the journalistic documents provides a comprehensive hub of information and company contact,' said Erin Simons of marketing agency, Caliber.
However even though brand newsrooms are on the rise, it is important to understand if they are for everyone?
An analysis by e-consultancy on digital newsrooms highlights: 'Very few organisation structures are equipped to deal with such a quantity of news and events as the newsroom.
'However, when brands get it right, it creates huge opportunities to increase their reach and engage those crucial audiences.'
https://www.vuelio.com/uk/wp-content/uploads/2014/06/adidas-hp4.png
276
620
Priyanka Dayal
https://www.vuelio.com/uk/wp-content/uploads/2023/09/vuelio-logo-200px.png
Priyanka Dayal
2014-06-20 10:01:26
2014-06-20 10:01:26
Why social media brand newsrooms are on the rise