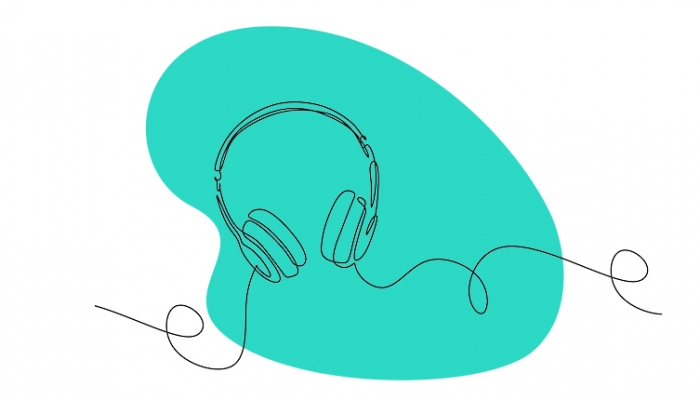 Last updated 11/01/2023
Vuelio uses a proprietary algorithm to create these rankings, based on topic-related content in blogs on its system – you can read more about the process here. Our research team actively seeks out new blogs and bloggers for inclusion, but if you think we've missed someone, please get in touch to let us know.
If you have a thirst for the latest news and updates from the urban pop culture scene, That Grape Juice is where to go to fill up on the good stuff. This London/Los Angeles-based team covers 'Urban news, music, entertainment, celebrity interviews, reviews and much more', but we are here for the music – read up on what is new from Anita Baker and Mario, how Beyoncé is making history, Soulja Boy's take on Tory Lanez and Shawn Mendes' new hairstyle (this blog really does have everything).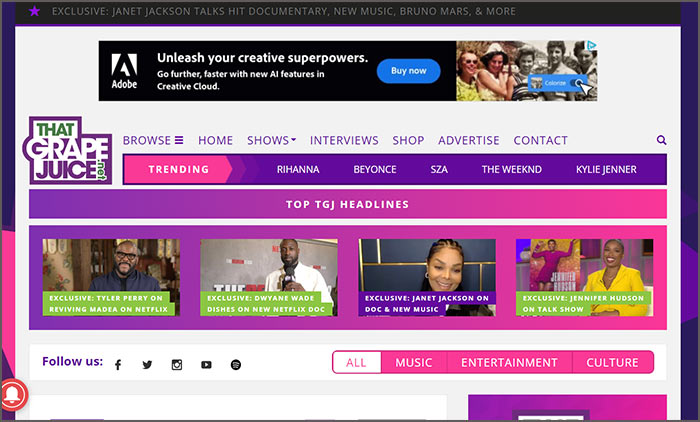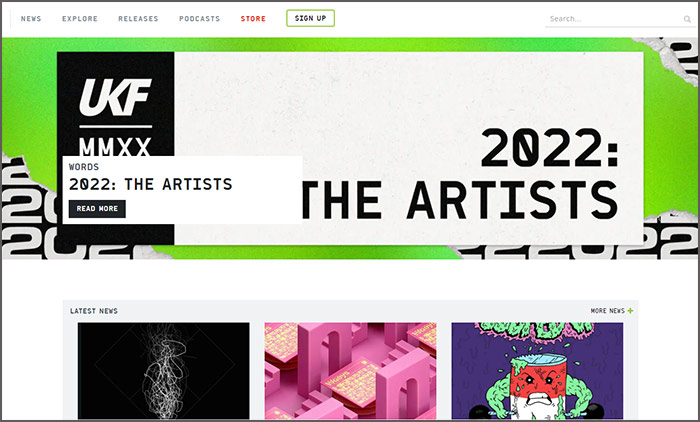 2. UKF
If Drum & Bass is your thing, check out UKF for news on upcoming releases and which playlists and live streams you need to be listening to. Explore content by Artists, Labels and Genres for new stuff and search through what you may have missed from 2022 with the blog's dedicated look into the best of last year when it comes to tracks, artists and albums. Particular favourites of the writing staff – offerings from Wardown, Bop x Subwave, SATL, Solar and Icicle.
3. A&R Factory
Moving up a spot in our ranking of UK music blogs this year is A&R Factory, pumping out recommendations from the independent music scene for fans, record labels, radio stations, broadcasters, music PRs and management companies looking for fresh talent. 'Discover new independent and unsigned music artists' here – check out the blog's Track of the Week, predictions for the industry in 2023 with a look at 2022 music industry data and, if you perform yourself, you can even submit your own music for consideration.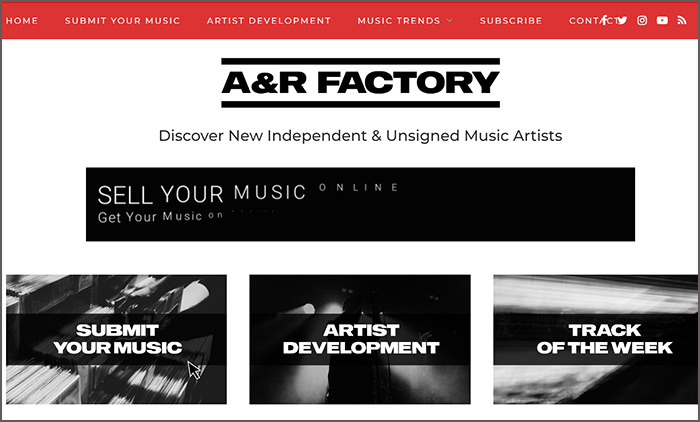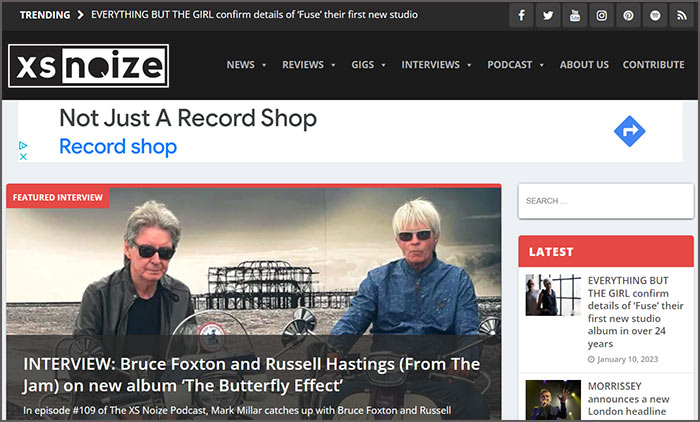 4. XS Noize
This 'independent consortium of opinionated music lovers' started sharing opinions alongside reviews, interviews and news in 2014 and has since grown an international following. In music releases, see what the team thought of the latest from IDLES, The Flaming Lips, NOFX and Seal, and find out what is on the way from Belle and Sebastian and even David Bowie. What performers are touring in 2023? Visit the Gigs section to find out and book tickets.
A strong promise from the We Plug Good Music team, but a genuine one – this blog shares 'new and emerging music from all over the world' across a variety of genres. For even more from 2022, WPGM has a countdown of 50 of the best releases to keep you busy (or relaxed, depending on the album, really) and reviews of the gigs you may have missed. For a deeper look into the creativity behind the music, click through into the Conversations section, featuring interviews with established and emerging artists.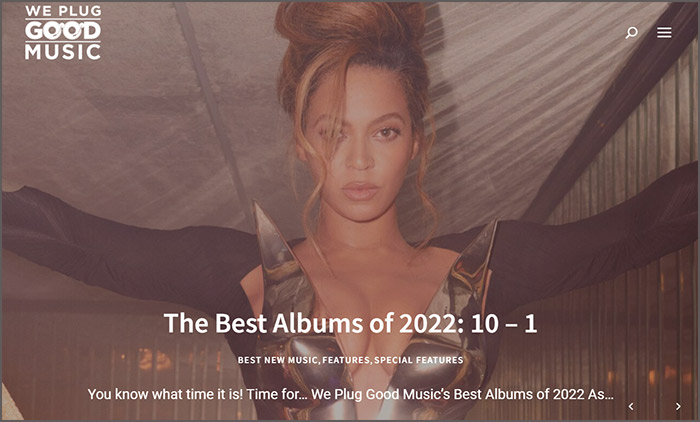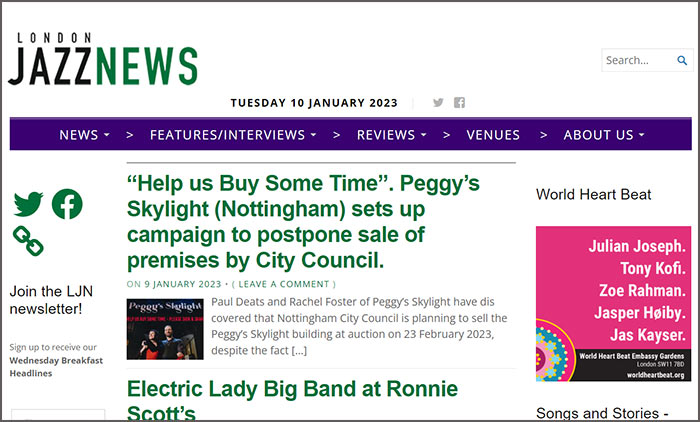 Our first new entry into the music ranking for this year is LondonJazz News, which was originally started by Sebastian Scotney back in 2009 and now has a full team covering daily news, previews, reviews and interviews. While primarily covering the scene from the city, the blog also reports on jazz and jazz-related news from 'way beyond London' too. Alongside albums and live gigs, reviews also extend to related books, exhibitions and films, so if you are a jazz fan, LondonJazz News probably has everything you need.
While the music industry is certainly a serious business, The Playground provides a place for fans and music pros to hang out online and play nice. Part of the GROUND Music Group that comprises international music PR, events, record label, agency and social music network services, The Playground features News, Reviews, Premieres, Interviews and Video content. Whether you are embedded in the industry itself, looking to get into it or are just a big fan, catch up with the teams' Track of the Day and Album of the Week for starters.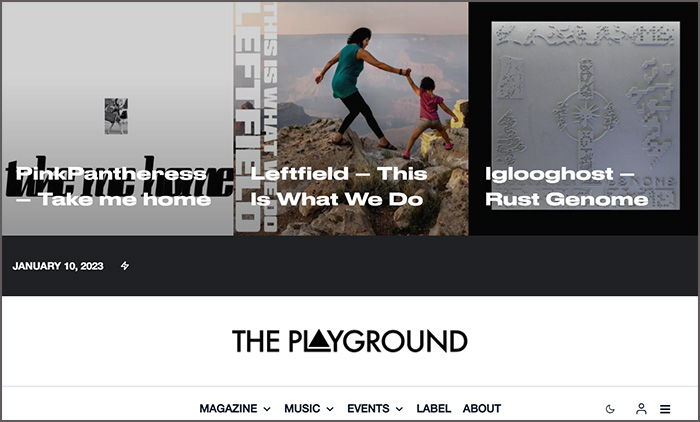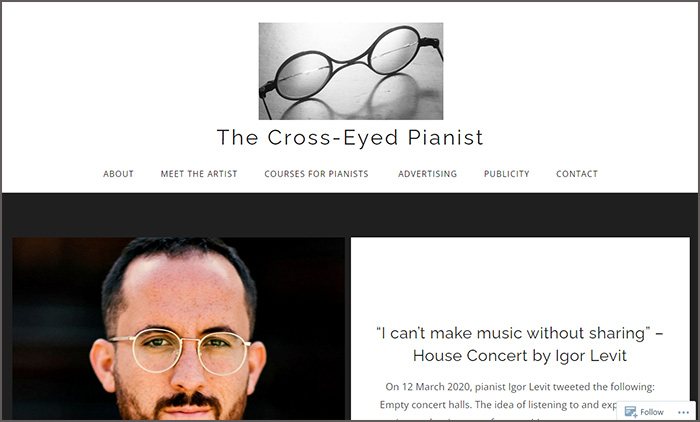 Pianist and writer Frances Wilson is the blogger behind The Cross-Eyed Pianist, which has been sharing classical music news and features since its launch in 2010. Dedicated to the perfection of the percussion instrument that is the piano, this blog has information on courses for beginners, amateurs and beyond as well as Meet The Artist features to provide inspiration for players and listeners – recent performers highlighted include Igor Levit and Milos.
9. STW
STW, aka Stamp The Wax, offers readers 'the in sounds from way out' all in one place – whatever type you like listening to, the team will likely have it listed in the 'Select Genre' drop down menu alongside general new music, mixes, features and lists. Originally founded as a student blog back in 2011, Stamp The Wax is now a respected source for global underground music, providing editorial, film, radio content and events for music fans all over.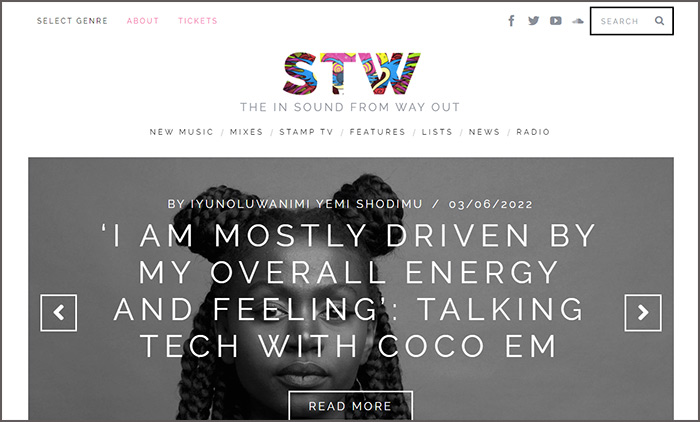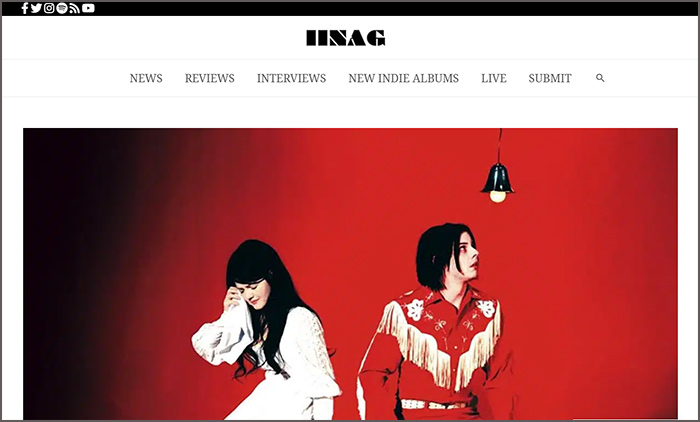 10. IINAG
Our second new entry for 2023 is IINAG, or 'Indie Is Not a Genre' to give it its full title. Here you can find News, Reviews, Interviews, New Indie Albums and Live content. 'Indie Is Not a Genre' was started for a purpose: to not trust the hype' says the mission statement behind the blog, which aims to 'support independent and DIY artists against the common notion that all "indie" means is skinny jeans and electro-pop'. Recent posts include the best of 2022 and a look back at the most influential albums of 2003 (a vintage year).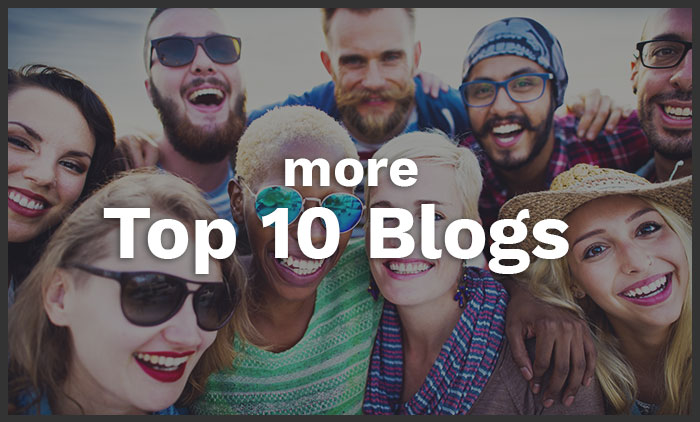 Collaborating with bloggers requires mutual respect and understanding: respect their schedules; take time to read their content to learn their interests; and only contact them if/when they want to be contacted. You can see more advice in our blogger spotlights. 
Profiles of these  blogs and their authors can be found in the Vuelio  Media Database.
https://www.vuelio.com/uk/wp-content/uploads/2023/01/Top-10-UK-Music-Blogs.jpg
430
760
Christina Pirilla
https://www.vuelio.com/uk/wp-content/uploads/2023/09/vuelio-logo-200px.png
Christina Pirilla
2023-01-11 09:20:20
2023-01-11 10:27:55
Top 10 UK Music Blogs