Blogging, homeschooling and me time: life as in influencer in lockdown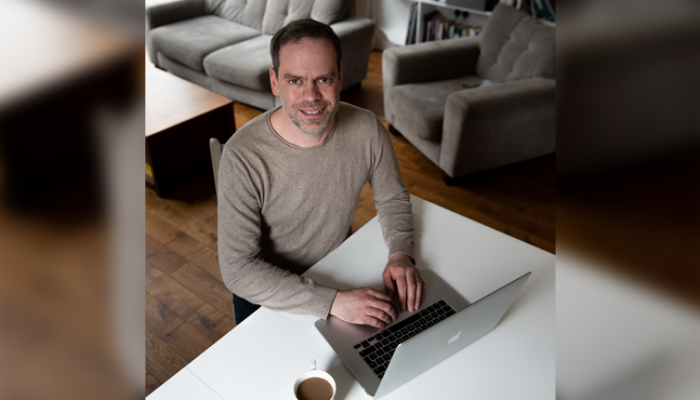 John Adams has been writing about parenting, fatherhood and family life at Dadbloguk.com since 2012. He's married to Gill and they have two daughters, Helen aged 11 and Izzy aged 7. John usually works at home; for the past fortnight Gill has also been working from home and he's had to homeschool the children because their school was closed.
In this guest post, he shares how he's getting on.
Picture the scene. My kids are sat opposite me at the dining room table, both of them supposedly doing online lessons set by their school. Instead, the two of them are squabbling.
'She started it,' said Izzy as she launched yet another minor invasion of her big sister's personal space.
Desperately needing peace and quiet so I could get on with some work, I responded by saying THE most stereotypically dad thing ever said in the history of fatherhood:
'Yeah, well I'm ending it.'
I cringed as those words came out of my mouth. Added to that, my intervention didn't work. I ended up having to put the kids in different rooms because they continued to distract each other.
My new reality
With the schools closed courtesy of COVID-19, this is likely to be my reality until September – the three of us sat at the dining table with me simultaneously overseeing Helen and Izzy's schooling and helping them while trying to do my own work.
As an influencer, I run my blogging business as a limited company. It's a small venture and I simply can't stop working. I have to try to balance homeschooling and working.
My wife is also working from home and has commandeered what I'd usually call 'my' office. As much as I'd love to split homeschooling responsibilities, her job is in management; she's spending almost every moment on the phone during office hours.
By the end of the first day of this homeschooling adventure, I told Mrs Adams I wasn't going to do any ironing until the kids were back at school. For a brief second I thought she was going to protest. I think she read the look on my face and realised this would be a bad idea.
Home am I handling this?
I'm very surprised at how quickly we've settled into the 'new normal.' I'm getting up at 5am and doing a couple of hours work. I then have to get the kids' breakfast and ready for #PEWithJoe at 9am.
If you're not familiar with the #PEWithJoe phenomena, it's the brainchild of personal trainer Joe Wickes. He does a daily, 30-minute workout live on YouTube for families at 9am. It's proven to be a massive hit, so much so I think Wickes has made himself a national treasure on a par with Dame Vera Lynn.
Between 9am and roughly 2pm, I am overseeing the kids while they work. For the most part, this means dealing with IT crisis after IT crisis because a kid forgets a password/the WiFi drops/a power cable can't be found etc. When Helen and Izzy are working, they're generally very focused but keeping the computers running is a job on its own!
Be warned, laptops are the new toilet roll. Over the past couple of weeks, I've spent an eye watering amount on laptops so the kids can do online lessons but they're increasingly difficult to get hold of. Employers are buying them for staff and parents are snapping them up for kids who are being homeschooled.
After 2pm, I get some 'me' time and get back to work. Not surprisingly, I'm getting a lot of requests to work unpaid promoting activities for kids or promote the most random selection of products. These requests come from everyone from make-up retailers and hook-up sites (yes, really) to watch and car manufacturers.
As you might expect, paid work is thinner on the ground right now. At the moment I'm updating my media kit and social media profiles etc. That said, I have some long-term projects to work on and smaller jobs have cropped up.
Looking to the future, I'm hopeful for when this COVID-19 craziness ends. Influencers like me have established, targeted audiences and we're lean and can move fast. Once marketing budgets are released again, we can move at speed to help brands promote their goods and services. It's tough at the moment, but I see opportunities in the future.
John won the Best Dad Blog at the Vuelio Online Influence Awards 2019 and 2016. Work with him with him through Dadbloguk.com.
Are you an influencer? Get in touch and let us know how you're getting on during the COVID-19 isolation.
https://www.vuelio.com/uk/wp-content/uploads/2020/04/John-Adams.png
430
760
Guest Contributor
https://www.vuelio.com/uk/wp-content/uploads/2019/09/vuelio-logo.png
Guest Contributor
2020-04-03 10:33:52
2020-04-03 10:33:52
Blogging, homeschooling and me time: life as in influencer in lockdown