Dad Blogger Ranking: John Adams, Dad Blog UK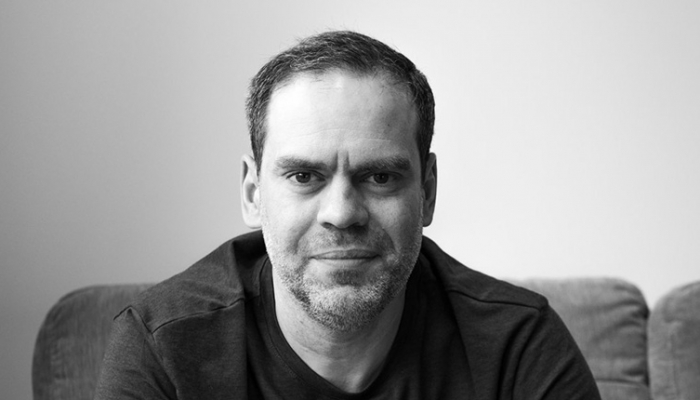 The 'number 1 dad' badge goes to Dad Blog UK's John Adams, our top dad blogger in the UK. Working for change when it comes to getting more men involved in childcare, John has been selected to work with LinkedIn as a Changemaker, and has been getting up at 5am every day since lockdown started to keep up with his childcare and blogging responsibilities.
John shares how he sees the longer-term impact of COVID-19 changing work and parental labour patterns and how else the pandemic has impacted his own schedule, beyond the early alarm calls.
How did you originally get started with writing about parenting?
When I started Dad Blog UK back in 2012, it was to highlight the casual sexism I faced as a man who had given up a career to concentrate on family and home. Unfortunately, I found myself having issues with some healthcare professionals and being accepted by mums was a challenge.
Over time I decided to broaden what I wrote about. Fatherhood and parenting are very much at the core of what I do, but I also write about motoring, men's grooming, do occasional recipe posts, days out and so on. As time goes on, I am increasingly producing video content as well.

What's your favourite thing to post about and why?
I really enjoy doing the Q&A series that I introduced last year. This is when I get someone with some interest in family or parenting to answer around ten questions on their specialist subject. A highlight of this series was when I interviewed Ziauddin Yousafzai, better known as 'Malala's dad'. He's such a nice man who has dedicated his life to improving educational outcomes for girls. It's no surprise he raised such a fearless daughter. Ziauddin even sent my daughter a special WhatsApp message when he discovered she was studying Malala's life at school.
I also like to write about issues that go under the radar. One of my best performing blog posts is one I wrote a couple of years ago about, I kid you not, male thrush. Inspired by this I recently did an interview with a sexual and reproductive health specialist about erectile dysfunction and that, too, has performed well.
How have you had to change your approach to blogging, or your content, during the COVID-19 crisis?
Oh, my word – I have had to change my approach hugely! Firstly, like many mums and dads I have been homeschooling my kids while also working. To fit in content creation, I am having to get up at about 5am every day. I don't mind admitting that we're now into month three of living like this and it has become tough.
Secondly, I would usually attend events or meet with people face to face to produce content. All those opportunities vanished overnight so I was left with some significant holes in my editorial schedule.
That said, with two school-aged children, COVID-19 has provided me with plenty of inspiration to write about issues such as schooling, how we have coped with lockdown and also our eldest child's return to school.
That said, I have noticed that people don't want to read a constant stream of COVID-related content. That's quite understandable; I think people want a break from it. One thing I did that's been enormously successful is to re-introduce a weekly photography blog post. I stopped doing this last year but while on my daily family walks, I would take my camera and post the resulting images to Instagram and my blog. I was reluctant to do this as it felt very retrograde but my visitor stats and feedback from my followers has been so positive the weekly photo post is here to stay for a while longer!
Will we see more men embracing being stay at home dads in the wake of necessary changes to co-parenting schedules during lockdown?
I do not believe we are going to see an increase in the number of stay at home dads because of the COVID-19 crisis. That said, we will almost certainly see a huge upswing in dads working from home and making a greater contribution to childcare and domestic chores. In a very short space of time, flexible and remote working has become normalised.
In addition to this, staff at all levels are having to homeschool and work from home. This has forced employers to wake up and accept the fact many of their employees have caring responsibilities away from the workplace.
We are probably not going to see people working from home five days a week forever. I suspect and hope most people will work from home two or three days a week or in some cases, the office may be a place they visit every fortnight or so. Tech enables us to work this way.
If we can cement these changes, it will hopefully lead to greater gender equality on the home front. The Fatherhood Institute is reporting the amount of childcare men do has rocketed up by almost 60% in just two months. That demonstrates how outdated and rigid our working culture was.
The great thing about being an influencer is that you can use your presence to effect change. I was recently selected to work with LinkedIn as a Changemaker. There are seven of us and we are all working to change the workforce for the better. There's a mental health Changemaker, diversity and inclusion Changemaker, disability Changemaker and so on.
The focus of my Changemaker campaign is to make flexible working available to all mums, dads and people with caring responsibilities. I'm really proud to be a part of this campaign and I hope it leads to change.
How would you recommend parents currently struggling with working from home with their family duties deal with the difficulties?
First things first – do not even bother trying to replicate what happens at school. You can't, especially if you are working as well.
As I said previously, I am feeling jaded after almost three months of this. If you need to just take a day off and go to the countryside with the kids for the day, do it.
There is also a point to be made here. This generation of kids are going through something no other generation has done. There's quite rightly been discussion about the negative mental health impact and their education suffering.
These are all valid points, but these kids are going to have picked up all manner of soft skills and relationship skills. Their formal education may suffer, but informally, they are having a unique and possibly amazing experience. It'll be interesting to see what the long-term impact is on them.
Best no-fuss stress-free family meal for busy times?
Erm, you'd be surprised how often my kids have been given super noodles for lunch on homeschool days. With fruit to make it balanced, obviously. Perhaps best move on to the next question…
How do you collaborate with brands and which kind of brands do you really like working with?
I collaborate with brands in many ways. I recently started producing content for flexible working website DaddyJobs.co.uk and carer community site FamilyCarersNet.
Sometimes I am asked to produce Instagram Story videos. Other times it may be a detailed blog post, although usually it's a package of blog post and social media promotion. I have previously acted as a media spokesperson, doing radio days.
As for who I like working with – wow, that's so hard to answer! As a parenting, family and lifestyle blogger I have broad interests from family tech and flexible working to grocery shopping and family cars. If it's relevant to me and my audience, I'm interested in it.
For PRs looking to work with you and your blog/website, how would you prefer they approach you and with what kind of content?
Either email me or my agents Leigh Rodda or Kaye Freeman.
So long as the content you want is suitable for a family audience or of interest to parents or carers, then please get in touch. I am very experienced producing written, photographic and video content.
What other blogs do you check out regularly (whether parenting-related or not)?
I hate answering this question! There are so many I want to list but I'm going to draw a line. These are the people whose content I looked at over the past couple of days.
I do enjoy reading fellow Vuelio Top 10 daddy blog Slouching Towards Thatcham, plus Daddy & Dad and Dad's Delicious Dinners. The Music Fatherhood Football guys are also doing amazing things. From the mums, Jo Middleton's Slummy Single Mummy is as good as ever.
Over on Instagram, I don't usually do inspirational stuff, but Adam Cam is brilliant. And TV presenter Nigel Clarke is doing interesting things with his weekly Dadvenger Instagram Lives.
https://www.vuelio.com/uk/wp-content/uploads/2020/07/Dad-Blog-UK-John-Adams.jpg
430
760
Holly Hodges
https://www.vuelio.com/uk/wp-content/uploads/2019/09/vuelio-logo.png
Holly Hodges
2020-07-01 15:36:59
2020-07-01 15:36:59
Dad Blogger Ranking: John Adams, Dad Blog UK