Five Things: Top 150, Millicent Fawcett, Facebook, Kanye and Daily Express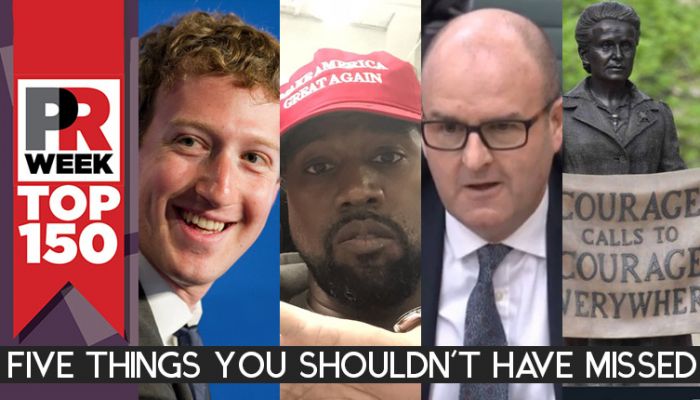 Much to Amber Rudd's delight there have been other news stories this week. But with Prince Louis, historic scenes in Korea and Trump's announced visit on Friday 13 July – you probably missed some of these…
1. PRWeek Top 150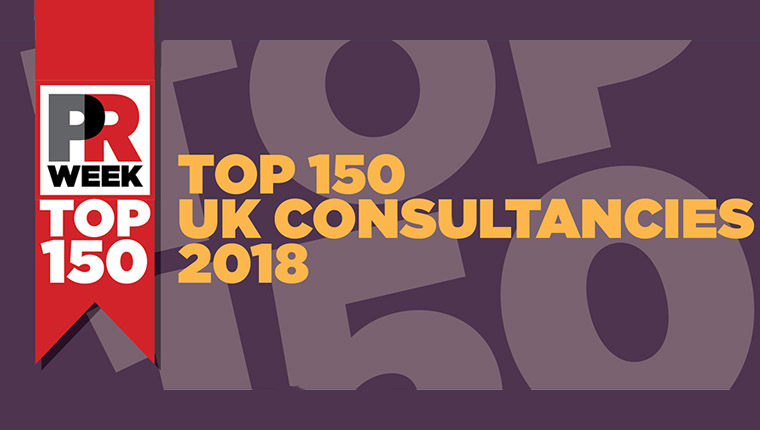 Okay, so if you're in it, it's very unlikely you missed it. PRWeek has released its Top 150 UK PR Consultancies, which once again sees Edelman sitting pretty above the rest. Though with only 0.9% revenue growth year on year, 2019 may see a new contender for the crown. The mostly likely choice? Weber Shandwick. The multi-discipline agency has seen a massive 19% year-on-year revenue growth, and it's now snapping at the heels of Edelman.
This ranking is the first without Bell Pottinger, which in 2017 ranked 13th. The top 20 in 2018 are no doubt benefitting from the redistribution of the fallen agency's £27m of revenue.
Other key stats from the 150:
23 saw a fall in revenue, two didn't change and the remaining 125 all grew – The Romans by 108%!
Only 27 agencies are based outside London, none of which make the top 20 (the biggest non-London agency is Pegasus in Brighton at 26 on the list)
Edelman has the most staff with 497 employees, and Steinreich Comms Group has the least with just nine
38 agencies shrunk, 21 remained the same and 89 took on more staff – Yellow Jersey growing from six staff in 2016 to 23 in 2017 (that's a rise of 283%)
Finsbury is the best performing agency in terms of revenue per employee, with each staff member accounting for £294,118
2. Millicent Fawcett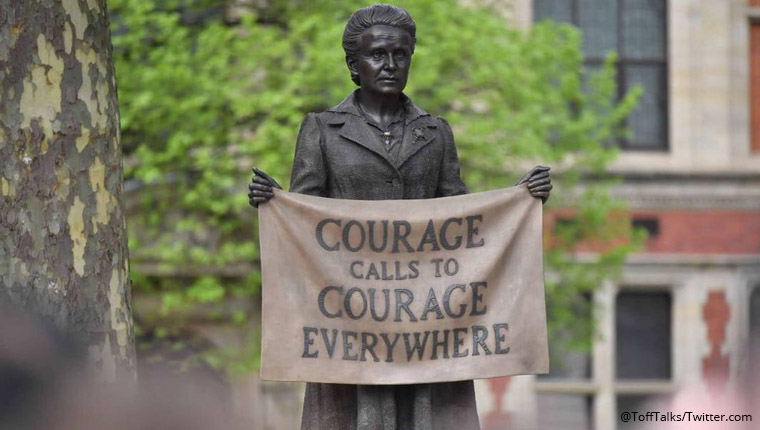 A statue of the suffragist Millicent Fawcett has been unveiled in Parliament Square. The statue, which shows Fawcett holding a banner that reads, 'Courage calls to courage everywhere' celebrates 100 years since the Representation of the People Act (when the first women were allowed to vote). The statue has proved controversial, with the Guardian collecting views that the words on the banner are a 'travesty', or the statue is of the wrong person; City A.M. suggests Fawcett would be 'outraged at today's feminism', as it is 'creating an unnecessary victimhood narrative, to which women are encouraged to subscribe'; and the Spectator calls the statue 'embarrassing' as it is 'timid, ponderous, confused'.
Fawcett's statue is now one of the few in the country that represent real, non-royal women, which can only be a good thing and hopefully a sign of change.
3. Facebook joy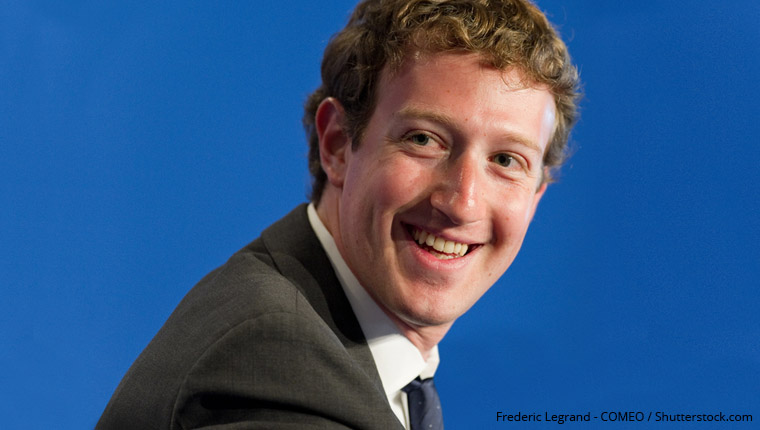 It wouldn't be Five Things without a Facebook story but it's rare that it's good news. The social giant has posted record revenues in the first quarter of the year, despite all the negative press (covered here, here and here). Beating analysts' expectations, the company brought in $11.97bn of revenue, which is up 49% from 2017. Twitter also benefitted from social media growth, posting a quarterly profit, with revenues up.
In further good news for the Zuck, the #DeleteFacebook campaign seems to have had no legs. Daily active users grew quarter-on-quarter by 48m to 1.45bn, and monthly active users are also up to 2.2bn. Both numbers are 13% up on the same quarter last year.
Repurposing the word 'important', Mark Zuckerberg said: 'Despite facing important challenges, our community and business are off to a strong start in 2018. We are taking a broader view of our responsibility and investing to make sure our services are used for good. But we also need to keep building new tools to help people connect, strengthen our communities, and bring the world closer together.'
All this good news has been offset (a tiny amount) by Ofcom's report that only 70% of British social media users consider Facebook to be their main platform, down from 80% last year. Of course, this means nothing when we see that Facebook is losing out to WhatsApp and Instagram, both of which it owns.
As a lot of noise around the Facebook scandal came at the end of March into April, we may yet see an impact from the deluge of negative news. So we'll see it in a Five Things story in about three months.
4. Not losing fans and influencing people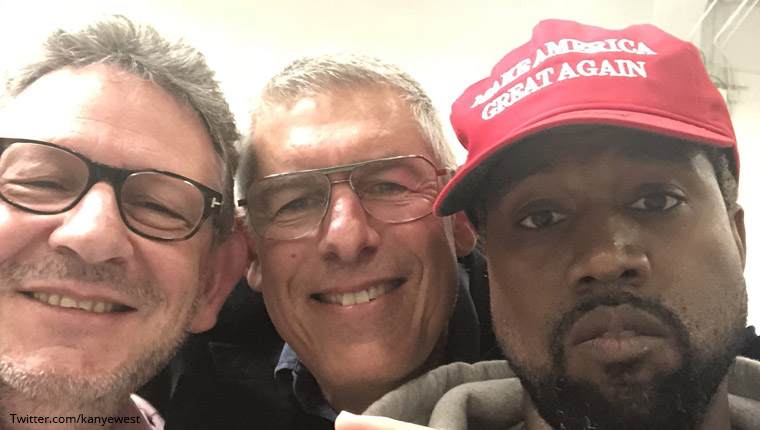 Kanye West has become a prolific tweeter in recent days as he gears up for his new album. Among his many, many words of wisdom – including: 'I don't believe in horizontal hierarchy. If you build a ladder too high it's actually most dangerous for the people at the top', and 'we have freedom of speech but not freedom of thought' – were his thoughts on Trump. In two tweets Kanye said:
You don't have to agree with trump but the mob can't make me not love him. We are both dragon energy. He is my brother. I love everyone. I don't agree with everything anyone does. That's what makes us individuals. And we have the right to independent thought.

— KANYE WEST (@kanyewest) April 25, 2018
If your friend jumps off the bridge you don't have to do the same. Ye being Ye is a fight for you to be you. For people In my life the idea of Trump is pretty much a 50 50 split but I don't tell a Hillary supporter not to support Hillary
I love Hillary too.

— KANYE WEST (@kanyewest) April 25, 2018
And, almost like a joyous child:
my MAGA hat is signed ?????????????????????????????? pic.twitter.com/DrDHJybS8V

— KANYE WEST (@kanyewest) April 25, 2018
Trump responded to Kanye, saying 'very cool!'
Rumours that Kanye lost millions of followers because of the MAGA hat tweet have been quashed by Twitter, who said any discrepancies in numbers are actually just 'inconsistencies'. But that didn't stop Kim Kardashian rushing in to Kanye's rescue:
my wife just called me and she wanted me to make this clear to everyone. I don't agree with everything Trump does. I don't agree 100% with anyone but myself.

— KANYE WEST (@kanyewest) April 25, 2018
We could obviously make this post go on and on, and surely books will one day be written on Kanye's musings. Except his musings are a book, which Kanye is writing in 'real time'. So maybe one day his musings will just be published, and all of us will have the Book of Kanye on our coffee tables. I look forward to chapter 26:
I'm nice at ping pong

— KANYE WEST (@kanyewest) April 25, 2018
5. Express concern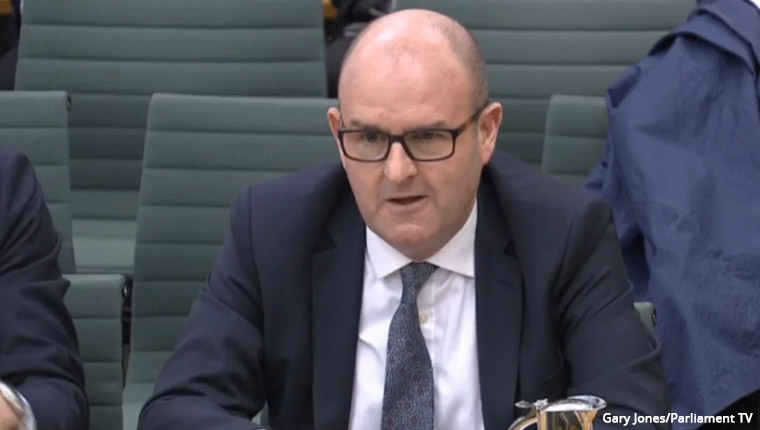 Trinity Mirror's takeover of the Daily Express hit further trouble this week as Matt Hancock (Yes, the one who is, is a founder of, and is on: Matt Hancock) suggested there might need to be a public interest intervention on the deal. The Competition and Markets Authority (CMA) is already deciding whether it needs to investigate the acquisition, so Trinity Mirror currently has to keep the Express and Star Newspapers as a separate entity until the CMA comes to a conclusion.
Though that didn't stop them installing new editors across the titles. Gary Jones, who was made editor of the Daily Express, told a Government committee that some previous Express front pages were 'downright offensive'. For some reason this was misconstrued by the British press as an 'admittance' of some sort of failure or guilt, rather than a new editor (from a left wing background) distancing himself from his paper's past (of a right wing persuasion).
Read more about Trinity Mirror's Express concerns here, including why the acquisition is very unlikely to be seen as a competition issue.
Did we miss anything? Let us know on Twitter @Vuelio.
https://www.vuelio.com/uk/wp-content/uploads/2018/04/Five-Things-27-April.jpg
430
760
Jake O'Neill
https://www.vuelio.com/uk/wp-content/uploads/2019/09/vuelio-logo.png
Jake O'Neill
2018-04-27 14:06:06
2018-05-04 12:28:05
Five Things: Top 150, Millicent Fawcett, Facebook, Kanye and Daily Express