Five Things You Shouldn't Have Missed – 16 March 2018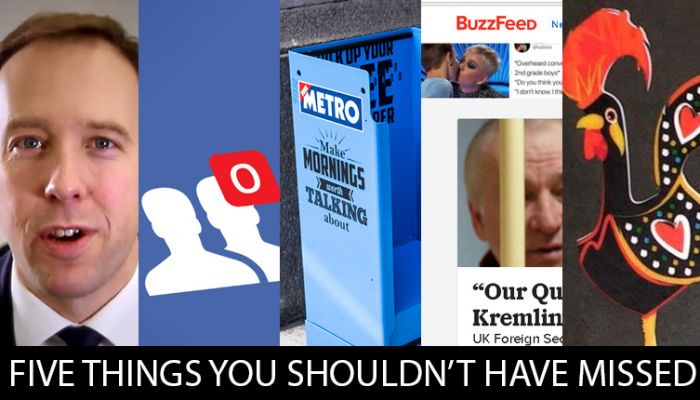 This week Five Things You Shouldn't Have Missed includes new social media laws, Facebook taking responsibility, the Metro's moment in the Sun, (Fer)Nando's and BuzzFeed's unlikely victory.
1. Matt Hancock to rewrite social media laws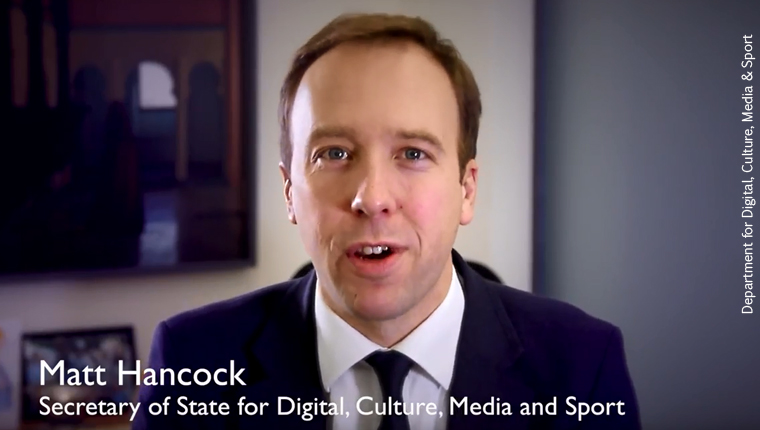 Not content with launching his own social media platform, Matt Hancock, the culture secretary, has now suggested the UK could write 'world-leading' regulations for technology companies, thanks to Brexit. No longer bound by EU rules, a post-Brexit Britain would be able to create 'forward-looking' legislation appropriate for the 21st century. Hancock said new laws would support 'the innovation and the freedom that these social media platforms bring but also ensures they mitigate better against harms'.
Areas Hancock has suggested the law could be changed include making a new legal status for social media companies between traditional platforms and publishers, changing competition laws and tackling fake news. Hancock doesn't actually want to make platform owners responsible for the content they publish as he is a platform owner himself. He said: 'I can't be liable for what they publish, otherwise I wouldn't be able to allow them to publish it, because I can only be liable for what I publish.'
Five Things is very excited to see what Matt Hancock's next plan is to make his time as culture secretary historic.
2. Facebook bans Britain First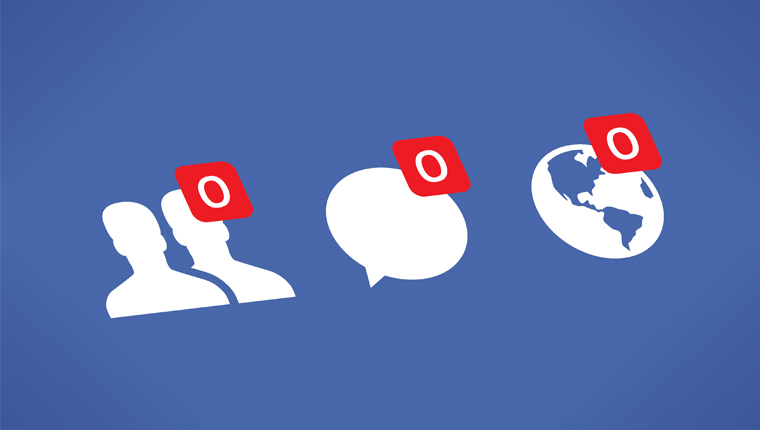 Talking of platform owners becoming responsible, Facebook has removed Britain First and its leaders from the platform. The removal was due to the far-right group 'repeatedly' violating community standards. The page had achieved over two million likes at the point of its removal.
In a detailed blog post, Facebook explained that people are allowed 'different views' and that they are 'very careful not to remove posts or Pages just because some people don't like them'. However, Facebook goes on to say: 'There are times though when legitimate political speech crosses the line and becomes hate speech designed to stir up hatred against groups in our society.'
Facebook gave the group a 'final written warning', which was ignored as the group continued to post content 'designed to incite animosity and hatred against minority groups'.
This decisive action is huge news, because the social media giant has taken a clear action against a page with millions of followers and published its reasoning. There is now little excuse for it not to take action against other, similar rule breakers.
3. Is The Sun setting?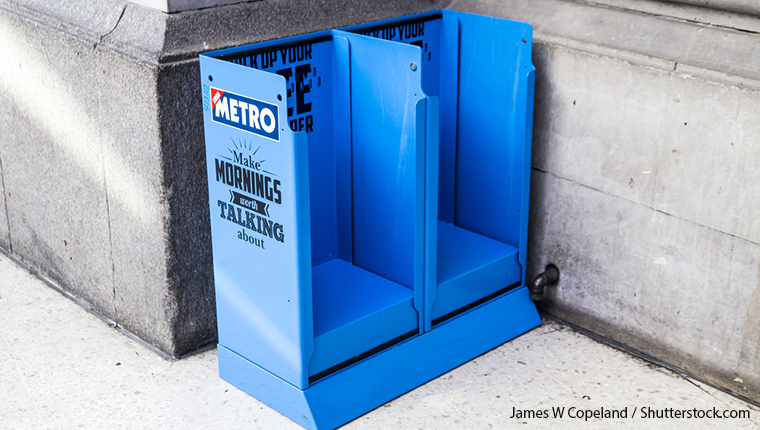 The Metro now has more printed copies in circulation than The Sun, though both have experienced year-on-year falls. The Press Gazette reports the latest ABC figures, which show the Metro's 1,472,437 copies in Feb, while down 0.25% on 2017, was greater than The Sun's 1,465,000 – down 8% on 2017. To make matters worse, The Sun's number includes its Saturday edition, whereas the Metro only prints Monday-Friday.
Ted Young, editor of the Metro, said: 'This is a massive Metro moment and one which demonstrates the demand for our trusted and loved product with a young, professional audience on their morning commute in every major city every weekday morning. As long as the appetite is there, we intend to remain the largest distributed newspaper in Britain.'
The Sun is still the UK's best-selling daily newspaper by some margin. Every priced national paper experienced a fall in circulation, the biggest being The Sunday Mirror (-20.18%), Daily Mirror (-19.04%), The Daily Telegraph (-18.06%) and the Sunday People (-17.93%).
4. Nando's and Fernando's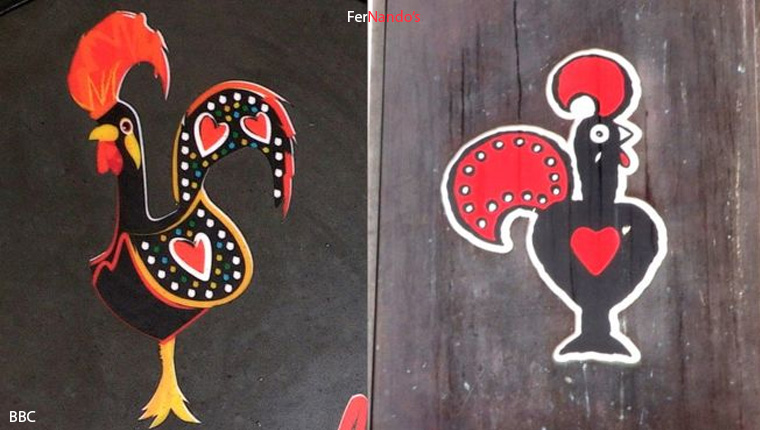 Within weeks of Nando's proving that a potentially reputation-damaging story (their chips coming from McCain) means nothing to loyal Nando's fans, its back in the news – now accused of attacking a small business. Due to what appears to be copyright infringement, an independent peri-peri restaurant called 'Fernando's', which has a cockerel logo among other similarities, has been asked by the chilli chicken phenomenon to cease and desist.
Fernando's struck out, claiming Nando's is 'threatened' by its success. Fernando's owner Asam Aziz, who claims the inspiration for the name is from TV's Take Me Out, said he is being bullied by Nando's (full legal name: Nando's ChickenLand Limited – which sounds like the best theme park ever!).
A Nando's spokesman tried to reduce the heat, by saying: 'We are really proud of our brand and we know it means a lot to our customers. That's why whenever we think there is trademark infringement we try to sort it out amicably', which seems balanced from a brand that is seemingly untouchable.
5. BuzzFeed wins News Website of the Year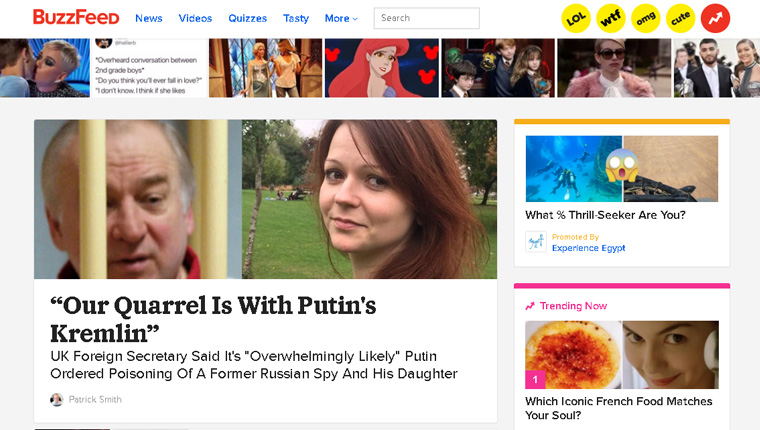 BuzzFeed (LMAO, ROFL, WOW), a viral site famous for listicles, scooped the biggest digital prize at the Press Awards this week winning News Website of the Year. The achievement is huge for a site that launched in 2013 and is more well known for its 'Which Friends character are you' type articles than serious journalism. But in recent years, the site has gained a reputation for 'proper' journalism particularly in government and politics – breaking a number of stories in the last 12 months and being an outlet for many leaks. Jim Waterson, outgoing political editor, may be disappointed that the Guardian, his next employer, was only awarded Highly Commended in the same category.
Other notable winners include the Financial Times scooping Newspaper of the Year and News Team of the Year (for The Europopulists); the Daily Mail winning Campaign of the Year for 'Turn the tide on plastic'; Tom Harper, Jon Ungoed-Thomas and Richard Kerbaj who won 'Scoop of the Year' for finding porn on Damian Green's computer; and Mark Townsend of the Observer, who won News Reporter of the Year.
Congratulations all.
https://www.vuelio.com/uk/wp-content/uploads/2018/03/16-March.jpg
430
760
Jake O'Neill
https://www.vuelio.com/uk/wp-content/uploads/2019/09/vuelio-logo.png
Jake O'Neill
2018-03-16 14:05:57
2018-03-16 14:05:57
Five Things You Shouldn't Have Missed – 16 March 2018