Preparing for Government or a Bournemouth echo chamber?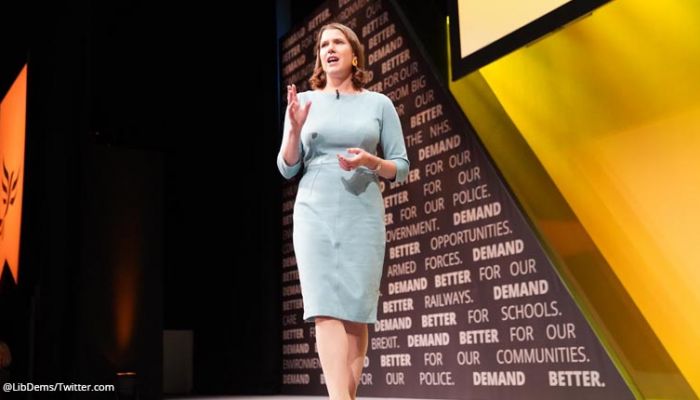 The Liberal Democrat conference in Bournemouth offered a warm and sunny start to the party conference season for journalists and public affairs folk. Lobby journalists were even spotted heading down to the beach in swimming shorts, while others took part in the traditional Glee Club sing song, which has to be seen to be believed.
For party activists it was brighter still. The party is in good heart with a general election looming, perhaps now only 12 weeks away. Conference was also attended by a record-breaking number of delegates (3,234) and Lib Dem membership now exceeds 120,000.
Jo Swinson, elected as the party's first ever female leader in July, is already making a serious impact on UK politics. She declared in her speech: 'There is no limit to my ambition for our party' and argued that 'People across Britain deserve a better choice than an entitled Etonian or a 1970s socialist'.
The recent string of MP defections to the party have largely been positively received. Chuka Umunna, Luciana Berger, Sarah Wollaston, Angela Smith and Philip Lee all attended conference and were welcomed by members and their new parliamentary colleagues alike. The widely trailed big name defection announced by Jo Swinson on Saturday at the conference rally was Sam Gyimah, a former minister, PPS to David Cameron and, in the early stages of the Conservative leadership race, a candidate for the highest office in the land.
The party also welcomed Welsh Lib Dem leader Jane Dodds to its House of Commons benches, the first by-election gain from the Conservatives for 19 years, regaining the former Lib Dem seat of Brecon and Radnorshire in August and putting the party on the political map in Wales, having been narrowly wiped off it in 2017.
Conference debates were uncontroversial apart from the main motion on Brexit with the section calling for a Lib Dem majority Government to revoke Article 50 on its first day in office the most unpalatable for some. While the motion passed successfully, several prominent critics, including former MPs Simon Hughes and Andrew George, called it 'controversial' and 'counterproductive and unworkable'. Andrew George is standing in St Ives in Cornwall where he seeks to overturn a Tory majority of 312 votes. He warned that the policy risked a Government run by Dominic Cummings portraying the Lib Dems as 'undemocratic and illiberal' and warned from past experience that the Conservatives were 'past masters at being able to turn things into slogans and throw them back at us'.
None the less, the party is clearly confident that an unequivocal revoke stance in the upcoming election will ensure a substantial number of MPs are elected. As well as former Lib Dem held seats like Cheltenham, Winchester, Yeovil and North Cornwall; the party is eyeing up constituencies it has never held before but where polling points to a strong chance such as: St Albans, Cities of London and Westminster, Wimbledon and Vauxhall. The party is also heavily promoting its London Mayoral candidate Siobhan Benita, who is a former civil servant and fought the 2012 Mayoral election as an independent. Together with Jo Swinson and a large number of female candidates in winnable or held seats at the election, this is very different to the party that as recently as 2016 numbered only eight white male MPs.
So, with 18 MPs in the House of Commons, a record 16 MEPs elected to the party in the European elections in June, 50 Liberal Democrat council leaders or co-leaders now running local authorities, the party may be right to be optimistic ahead of the general election. The leadership is presenting Jo Swinson as the party's candidate for Prime Minister and her conference speech was relatively light on policy announcements, but promised a wellbeing budget, additional spending for youthwork and mental health services. The only question remains, how a substantial number of Lib Dem MPs would seek to work with either larger party if called upon, given a coalition with either of them has effectively been ruled out already. Only time will tell.
https://www.vuelio.com/uk/wp-content/uploads/2019/09/Jo-Swinson-Lib-Dems.jpg
430
760
Vuelio UK
https://www.vuelio.com/uk/wp-content/uploads/2019/09/vuelio-logo.png
Vuelio UK
2019-09-20 16:03:38
2019-10-25 09:43:05
Preparing for Government or a Bournemouth echo chamber?