Reuters media predictions for 2019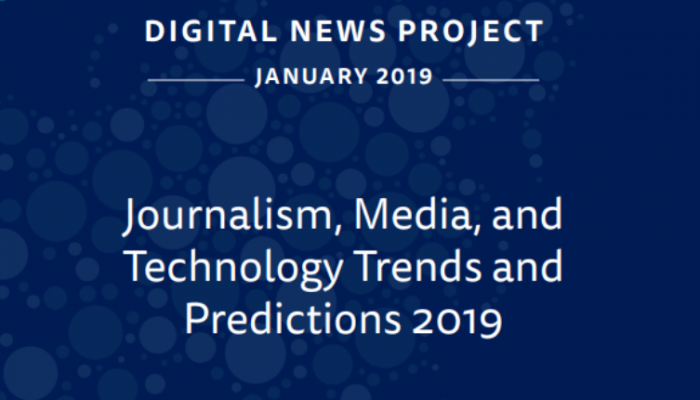 Reuters Institute has released its annual Journalism, Media, and Technology Trends and Predictions report for 2019.
It surveyed 200 editors, CEOs and digital leaders, one-third from the UK, the rest across 29 countries including Germany, USA and Australia.
The key findings from the report:
Over half (52%) of editors will focus on subscription and membership, expecting it to be the main revenue focus in 2019.
Almost two thirds (61%) are concerned or extremely concerned about staff burnout.
Over three-quarters (78%) think it is important to invest more in Artificial Intelligence (AI) to help secure the future of journalism – but not as an alternative to employing more editors.
For PRs, nothing above should seem too outrageous. The need to grow revenue to support publications, the worry of staff being overloaded in the 'constant news' society, and the hopes that AI can provide time-saving alternatives to basic tasks, are common across the media industry.
Other findings from the report include:
Less than half of respondents (43%) say Facebook is likely to be important or extremely important this year, a similar number to Apple News and YouTube – but far less than for Google (87%).
Over half of those surveyed (56%) are concerned about current newsroom diversity.
Platforms are increasing their focus on tackling misinformation and disinformation, however as this moves further towards dark social it becomes a harder task.
Trust indicators will be increased so readers have more information to decide who to trust.
With many publishers launching daily news podcasts, it's not surprising that the majority (75%) think audio will become a more important content type. A similar proportion (78%) think that voice-activated technologies, like Amazon Alexa and Google Assistant will have a significant impact on how audiences access content over the next few years.
With consumers increasingly conscious of the time they are wasting online, more people are likely to be leaving social networks, more tools will emerge for digital detox, and there will be a greater focus on 'meaningful' content.
With more platforms using paywalls, people are being shut out from quality news. Consumer irritation will build this year, leading to a combination of news avoidance and the increased use of 'paywall-blocking' software.
A key point from the report is how newsrooms are going to cope with tackling misinformation across dark social, battling paywall-blocking software, and how publications can grow their audiences when all focuses are on distribution across Google.
For PRs there's clearly an opportunity for meaningful, voice-assistant-friendly content and audio, as well as having valid credentials and ethical practices. Quality content is just one piece of the jigsaw though – PRs also need to rely on traditional strengths, like relationship building and media outreach, to ensure they're supporting these editors and their publications so that everyone's a winner.
https://www.vuelio.com/uk/wp-content/uploads/2019/01/Reuters-media-trends-report.png
430
760
Jake O'Neill
https://www.vuelio.com/uk/wp-content/uploads/2019/09/vuelio-logo.png
Jake O'Neill
2019-01-22 15:56:51
2019-01-23 12:33:50
Reuters media predictions for 2019