'Social Media is a valuable source for news' John Ward, Daily Star Sunday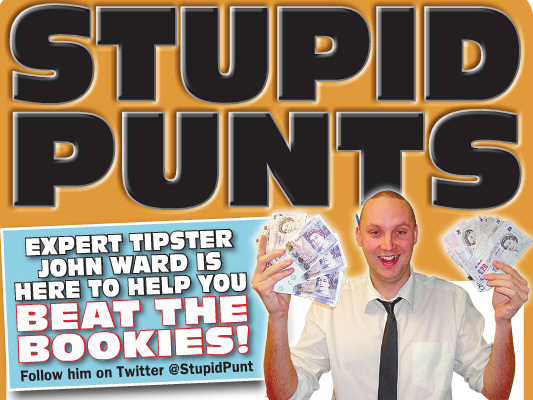 Our first journalist spotlight of the year is with John Ward, reporter and columnist at the Daily Star Sunday. John spoke to us about the stories that make every week on the job fun and interesting, the reality of being a "betting legend," working with PRs and the one super power he wished he had.
What topics do you cover as the general news reporter for Daily Star Sunday?
I get to write about all kinds of different topics, including showbiz, TV, crime, the armed forces, sport and real-life tales. Every week is different and fun. I cover breaking news as well as writing in-depth features. I have interviewed top celebs from the world of showbiz and sport and have got into a few hairy situations whilst investigating drug dealers and unsavoury far-right characters in the English Defence League. I've been embedded with the British Army in Afghanistan on four occasions – where I have gone out on patrol with Our Brave boys and girls in deepest Helmand Province. In doing so I was able to bring countless tales of bravery, heroism and anguish direct from the frontline to readers. I also get to do some daft things in the quest for stories, including tasting the world's hottest chilli, eating Britain's biggest burger, and driving the World's Fastest Milk Float.
Tell us more about your weekly betting column? Has that made you the "betting legend" you claim to be on your Twitter profile?
As well as reporting for the Daily Star Sunday I have a weekly betting column, dubbed Stupid Punts, for the Sunday Sport newspaper. It is a fun, tongue-in-cheek and light-hearted look at the week's big events with some betting advice and tips thrown in. I'm not the worst tipster in the world but I will have to admit the term "betting legend" may well be exaggerating reality somewhat.
What has been your biggest scoop?
That's a tricky one. I've been a journalist for 10 years and have sourced and investigated hundreds of exclusive tales for both the local press (I started at the Reading Evening Post) and the national newspapers. I am proud of a hell of a lot of them.
How do you engage with your audiences?
I engage with people who like to bet using Twitter via my @StupidPunt handle and through my blog.
Readers often contact me about stories I've written via my email address, which runs alongside my articles in the paper and online.
How do you use social media to source news? What are the limitations?
Social media is a valuable source for news. Facebook is great way to keep an eye on newsworthy virals or trends sweeping the world. I managed to get a story in about the "neknominate" craze before most other papers after seeing a post by one of my friends. Twitter is a place that generates stories when high profile users say or post things that are scandalous, controversial or funny. It is also a great place to keep an eye on what's going on in the world and can shine a light on a hell of a lot of good causes, campaigns and other issues that can lead to newspaper stories. The limitations are that a lot of what is on there cannot be backed up with facts. It is also increasingly manipulated by celebs and PRs in a bid to get things into the press.
Are PRs a good source for you? PRs are a great source for articles. A lot of stories that I have written have come from the involvement of PRs. A good PR who knows their product and has a news sense are great help to journalists.
What advice would you give PRs? Cater your content for different publications or journalists. Very often I have had to dig out a decent news angle from a press release or product launch so that would suit our paper. Getting in touch with the journalist to discuss possible different angles is always worthwhile. Being open and flexible to ideas is also helpful. For example, I was sent a press release about the Red Bull Air Race coming to Ascot which on its own wasn't likely to get in. But after bouncing a few ideas around with the PR I ended up flying in the front of one and that landed a full page article in the paper.
Also, don't be too pushy. I understand that PRs are under pressure to get results but it's not always that simple to get things into a national newspaper. The "we only will help you if you guarantee publication" isn't the way forward.
Take 5:
 What is the one interview questions you would love to ask a famous personality? I certainly have a few questions for Downtown Abbey's Hugh Bonneville.
Do you have any hobbies? My hobbies include finding new pubs to drink in around London and arguing with cab drivers. Often they go hand in hand.
What would your super power be and why? Invisibility. It would be very useful to be invisible as a reporter. And not in a shady phone hacking kind of way. But to be a fly on the wall in the corridors of power would undoubtedly uncover all kinds of corruption and scandal.
What are the three items you can't live without? I couldn't live without my phone, passport and credit card.
Who would play you in a film? That's a tough one. Probably Ross Kemp or Stephen Merchant.
https://www.vuelio.com/uk/wp-content/uploads/2015/01/stupid-punt-1.png
410
533
Priyanka Dayal
https://www.vuelio.com/uk/wp-content/uploads/2019/09/vuelio-logo.png
Priyanka Dayal
2015-01-06 12:47:56
2015-01-06 12:47:56
'Social Media is a valuable source for news' John Ward, Daily Star Sunday