The Antisocial General Election campaign?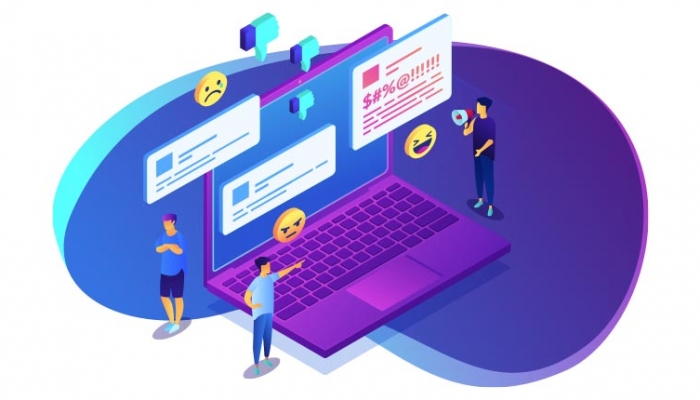 Vuelio's Sam Webber highlights how candidates of all parties are facing high levels of abuse in this election campaign and how many are using social media to highlight what his happening on the ground in different constituencies and to call it out. One challenge for the next government through the Online Harms White Paper will be to improve the online environment for users and to ensure it is regulated more effectively.
As votes are cast in today's General Election, parties and policies aside, one of the more damaging aspects of the campaign has been the abuse directed towards candidates and party activists. This is often intensified by or begins on digital platforms.
Social media has also offered candidates the opportunity to highlight what has been happening on the ground in different constituencies, which might not otherwise be picked up beyond local or regional press. While not exclusively, this abuse seems to be directed more heavily towards female candidates of all parties.
Labour candidate Natalie Fleet, defending the Labour seat of Ashfield, tweeted a photo of her Nottinghamshire campaign HQ with its windows smashed.
Tweeting out a photo of the damaged shop front, she said: 'This is the reason those that love me didn't want me to do it. It is hard, yet I can't stand by & see #Ashfield left behind.'
She spoke to the Guardian about the attack: 'It's deliberate, it's targeted and it's not very nice; and, unfortunately, in this climate it's also predictable.'
A Liberal Democrat candidate, Hannah Perkin, standing in Faversham and Mid Kent said last month: 'I have the police coming to my house tomorrow following personal threats to the safety of myself, my friends and my family. I am standing up for what I believe in. When did we lose the ability to do that? Honestly heartbroken.'
Luke Pollard, the Labour candidate for Plymouth Sutton and Devonport also reported a case of homophobic graffiti on his campaign office to the police. He said: 'There is no place for hate in our city and I will continue to call it out wherever and whenever I see it… There is no place for hate but with each attack more and more people stand up against it.'
Only this week, the Transport Minister Nusrat Ghani tweeted out a photo of racist hate mail she received and said: 'Today's post – so I'm the racist & being told to go back to where I come from?'
While the number of MPs standing down at the 2019 General Election at 74, is lower than the 1997 election where 117 MPs stood down and 2010 when 149 stood down, many have noted the number of MPs and primarily women who have stepped down citing the pressure of serving in the House of Commons since the EU Referendum and indeed citing social media abuse.
Among the 74 people are a significant number of female MPs who have served as cabinet ministers including Nicky Morgan who took the rare step as the serving Digital, Culture, Media and Sport Secretary to announce she would not be contesting the election as a Conservative candidate. Morgan said part of the reason for stepping down included the abuse she received for 'doing the job of a modern MP'. She added: 'I think the abuse, because of the platforms, because of how strongly people feel about the current political situation, that has changed enormously in the almost 10 years since I started'.
Justine Greening, Amber Rudd and Dame Caroline Spelman also stood down as well as prominent opposition MPs including Gloria De Piero, Heidi Allen, Labour deputy leader Tom Watson and former Conservative minister and brother of the Prime Minister, Jo Johnson.
As the campaign concludes this week, the National Police Chiefs' Council told the Press Association 198 reports around candidate safety had been made between November 15 and December 4 and that around half were serious enough to be treated as crimes. The majority of these were allegations of malicious communications online, but there were also reports of criminal damage and harassment.
Vuelio's recent White Paper, The Politics of Social Media, which was discussed in a fringe meeting at Conservative Conference attended by Nicky Morgan looked at the changing role of social media in British politics. The 2019 campaign has only highlighted the importance of online campaigning even more. The next stages of the Online Harms White Paper, which seeks to improve the online environment for users and tighten up regulation will be a major issue for the incoming Government whatever the result of today's election.
Sam Webber is External Relations Manager at Vuelio. He is a prospective parliamentary candidate in the general election, standing for the Liberal Democrats in Erith and Thamesmead.
https://www.vuelio.com/uk/wp-content/uploads/2019/12/Trolling.jpg
430
760
Sam Webber
https://www.vuelio.com/uk/wp-content/uploads/2019/09/vuelio-logo.png
Sam Webber
2019-12-12 15:20:14
2019-12-12 15:20:14
The Antisocial General Election campaign?