The number one in Luxury Travel: Paul Johnson, A Luxury Travel Blog
Dr Paul Johnson is the man behind the hugely popular A Luxury Travel Blog – which recently retained its top position in the Top 10 UK Luxury Travel Blogs. With a huge pool of travel writers providing quality content, A Luxury Travel Blog has become a valuable resource for all things luxe. After being named number one in the ranking, we spoke to Paul about the joy of South Africa, what PRs need to know about full-time bloggers and the word 'influencer'.
What makes your blog successful?
It was the very first blog of its kind and has amassed over 500 expert contributors since its inception. In the early days of travel blogging, focusing on the luxury side of travel was not something that others were doing so I'm sure I benefited from being an early adopter. That aside, our success comes down to the quality of the content and our strong online marketing focus.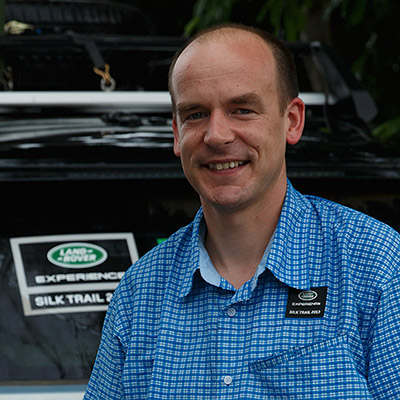 What makes luxury travel better than other types?
I wouldn't say any form of travel is better than another. It comes down to personal preference. But what sets true luxury travel apart from other forms of travel, I believe, is the staff and quality of service associated with your travel experience.
What destination would you suggest to first time travellers?
South Africa. It has such a great mix to offer, whether it is a city break in Cape Town, exploring the garden route, or taking a once-in-a-lifetime safari.
What about seasoned travellers?
For seasoned travellers, I would suggest destinations that are different to anywhere you've been before. By exploring new places and going outside of our comfort zones, we discover so much more about the world, different cultures and even ourselves.
Is there anywhere on your bucket list you've yet to visit?
I have yet to make it to Iceland and New Zealand – two places I would love to visit soon.
If you could only take three items with you when travelling, what would they be?
My wife and our two sons!
What should PRs know about you?
PRs should know that A Luxury Travel Blog is my full-time job and that I don't work for free.
What's the best PR/brand campaign you've worked on?
I worked on a fantastic campaign with Land Rover, where we spent 10 days driving right across Nepal and into India. It was part of a wider expedition and an official test of the capabilities of a new hybrid Range Rover that was about to go into production.
What do you call yourself (blogger/influencer/content creator)?
If people I meet ask what I do, I usually just tell them I'm a travel blogger. If they quiz me further, I might tell them that I specialise in luxury travel, but I usually 'play down' the size of its following and level of influence. I prefer to be modest about the site's success and, despite winning the award of 'Best Travel Influencer' from WIRED magazine, I don't tend to describe myself as an influencer – I think past clients should be the judge of whether you are influential or not, rather than it being a term that's self-proclaimed by the blogger. Plus, I think it's an over-used term – I come across lots of people who call themselves 'influencers' who are really just starting out.
What other blogs do you read?
In all honesty, I rarely read other blogs – I'm too busy running and managing my own!  It's a full-time job and so much more…
A Luxury Travel Blog is listed on the Vuelio Database, along with thousands of other bloggers, journalists, bloggers, MPs and SpAds.  
https://www.vuelio.com/uk/wp-content/uploads/2018/04/Paul-Johnson-A-Luxury-Travel-Blog.jpg
430
760
Holly Hodges
https://www.vuelio.com/uk/wp-content/uploads/2019/09/vuelio-logo.png
Holly Hodges
2018-04-12 14:36:03
2018-04-12 14:36:03
The number one in Luxury Travel: Paul Johnson, A Luxury Travel Blog