Think's Jackie Scully on Influence, her marathon wedding and five inspirational challenges

Jackie Scully is the deputy managing director of Think, the membership publishing agency behind CIPR's Influence magazine. Known for pushing boundaries, Influence has won a heap of industry awards and is often recognised for its cutting-edge approach to the medium of print.
Jackie is not only known for being a driving force professionally at Think but also using that infectious energy to push personal boundaries, defeating cancer and achieving incredible feats of endurance at the same time.
We spoke to Jackie about her work with Influence as well as her extraordinary personal story and using her platform to raise money for charities, including her five challenges to mark five years clear of cancer.
Anyone wishing to donate to Jackie can do so here.
How does Influence fit in with your other magazines, and how does it stand out?
Influence is unlike any other magazine I've ever worked on. This is a membership magazine that isn't afraid to push the boundaries – to the point that even editorial planning meetings are challenging. This is a magazine that swears and puts a picture of marijuana on the cover (I drew the line at scratch and sniff for obvious reasons), manipulates its magazine tagline (a sacred constant) to get its point across, gave column inches to (whisper it) Katie Hopkins and is the proud owner of its very own signature theme tune (linked to a piece around the power of sonic branding). I have genuinely lost more sleep over this magazine than any other project (for all the right reasons). But, when you take risks, you reap the rewards (in terms of reader engagement and awards). You should see the awards shelf!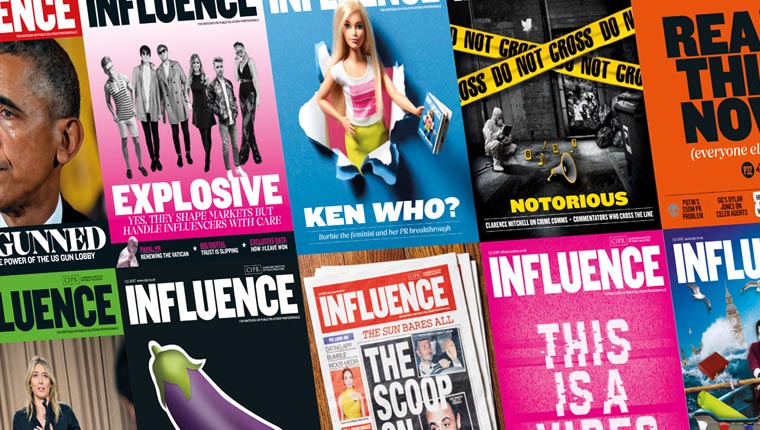 What's the importance of Influence to the PR industry?
Influence is a daring, intelligent and playful magazine with a serious point (or points) to make. PR professionals need new skills to futureproof themselves, for example, so we don't just talk about the future, we actually roll up our sleeves and test it out (the world's first-ever video cover for a membership magazine is a good example of this). More importantly, after working hard in the early years to establish the brand, we are now in a position to open doors few can – and tell brilliant stories that give the industry profile.
Who did George Osborne speak to for his first interview as editor of the Evening Standard? Influence (and it got a mention on the Today programme). Who was allowed to do a photo shoot with a Barbie and a mini magazine, getting behind the scenes at a famously-secretive company in the process? Influence. This credibility meant that when we launched a mental health campaign this year (in light of statistics revealing a growing concern in this area for PR professionals), included a blank spread in the magazine, a near-blank cover and encouraged people to take ten minutes out of their day to join our #influencetakesten initiative, we had a reach of more than 1.3m.
What's your role with the magazine?
The buck ultimately stops with me as publisher of the title, which means that when an illustration about rebranding Saudi Arabia hits my desk, for example, I don't just think 'that's bright and colourful', I think 'lose the weapons'. With a magazine that makes a point of going further than everyone else, I do have to spend a lot of time holding my nerve – while also organising and pushing the team, managing deadlines, budgets and paper orders and ensuring revenue targets are hit, all while  thinking strategically about the future. The best part of my role is challenging the team to think bigger in every planning session. It has led to some really creative thinking and I am proud to play a small part in making that possible.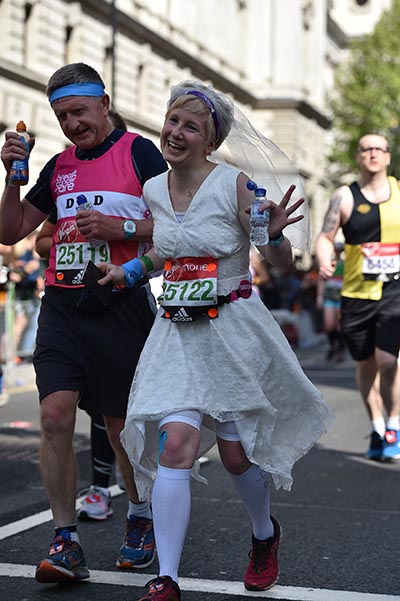 You're an incredibly inspirational person, if you don't mind me saying. Can you tell us about your wedding?
Well, I am not sure about that, but thank you for saying so. I guess, the way I see it, any inspiration I provide is purely accidental. My wedding (in my head) was supposed to be an edible affair (think edible invites, centrepieces, favours etc) to support the fact there is a lot of baking in our house. But, after waiting 13 years for a proposal and then getting diagnosed with breast cancer just three weeks later (at the age of 32), everything changed. I started running through treatment (with a hip full of metal following completely-unrelated surgery in my 20s) to prove to my body I was done with it throwing major health obstacles in my path. I ended up doing my first-ever 10k for charity just a week before my last chemo.
So, when my treatment finished and my boyfriend hinted at the wedding plans, I said there was only one way to do it – and that involved running and fundraising. So, on 23 April 2017, my husband and I became the first couple in the world to get married on the Cutty Sark before the London Marathon, run the marathon and then trek the Great Wall of China for honeymoon. It was an incredible moment in our lives (David Seaman's wife Frankie – of Dancing on Ice fame – even made my wedding dress).
And now you're doing five challenges, and are already on number five?
Yep, to celebrate being five years clear of cancer, I decided not to go down the pub, but instead attempt five massive endurance events to try and raise £5k for five amazing charities (all the fives!) that supported me through treatment and are doing amazing things every day for those facing serious illness. So far, I've walked 66 miles round the Isle of Wight (it took 28 hours and was brutal), completed a 70.3 ironman in 8hrs 50m, climbed Ben Nevis and ran a 34-mile ultramarathon up and down the cliffs of the south coast. Now all that stands between me and that ultimate finish line is a 137-mile Coast to Coast cycle across the UK.
I am so grateful (and proud) that my body is still in one piece with just one challenge to go. It has been tough. I think I might even be the first woman in the world to have run an ultramarathon with my rather colourful health history. How cool is that? (or maybe stupid depending on your appetite for long-distance anything).

What's going through your mind when you're doing these incredible endurance events?
When it gets really tough, I remind myself of those who are less fortunate. I have lost so many friends to cancer (under 40). I know people who struggle to walk up the stairs (and having had to learn to walk again in my 20s, I know how demoralising that can be). I know that pushing myself and moving forward helps other people move forward. So, I just keep going. I also try not to think about the distance or the time (thanks to the guy on the microphone at one event, who pointed out loudly that in finishing a 21k stage walking, we only had another 85k to go)! And, most importantly, I think about all the food I can eat at the end without even the smallest hint of guilt.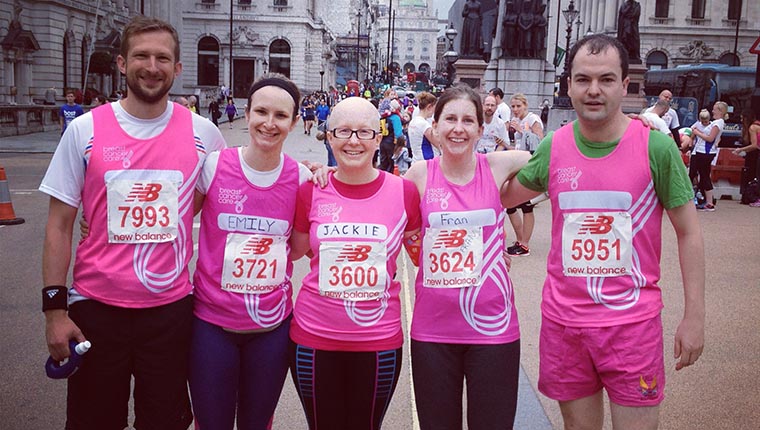 How important do you think it is for other people to see what you've achieved?
What makes me smile so much is thinking that by pursuing my own edges (and I haven't found them yet, yay), I have, in some small way, motivated other people to do the same – whether that's a couch to 5k or doing their first-ever running race. I have seen what exercise can do to change the course of a day and it feels amazing to think that I have helped other people carve out time and space for themselves. While gifting our wedding to charity was a wonderful experience, it was the hope we offered to those struggling with illness and mobility that meant the most. One woman, who heard the story and saw me running, decided to get out of a wheelchair and walk for the first time in a year. Her daughter wrote to me the day after the marathon and said that I'd given her a hope she couldn't find for herself. I'll never forget her words.

What's it like to be recognised by the industry for the person you are, alongside the work you do, for example receiving the PPA's Unsung Hero award and being named a Champion of Kindness?
It feels absolutely awesome. I am the same person whether I am at the top of a mountain, mentoring a young person in the industry or leading a meeting. Someone recently said to me that being in a meeting with me was like being hooked up to the mains electricity (I think that's a good thing). I put energy into everything and everyone and that's what keeps me going.
I have learned the hard way that if you rush through life just trying to take on the world of work – expecting others to want and do the same – you forget to live. It is only when you put effort into your life as well as your work (rather than simply being a workaholic) that you can taste genuine success.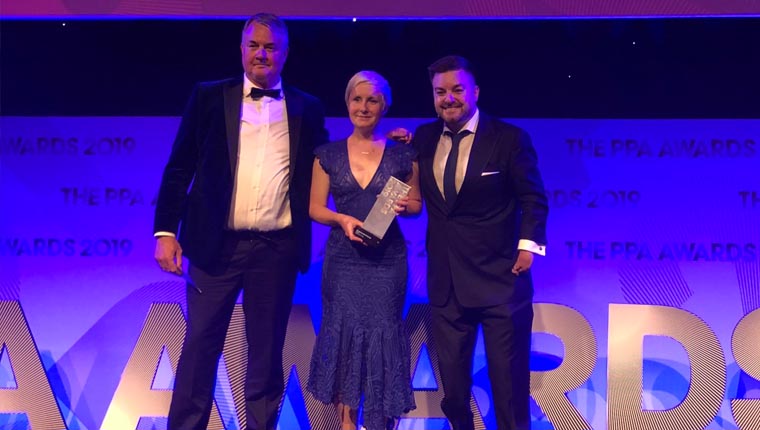 What messages do you give other people who look up to you?
My favourite mantra is 'say yes unless you really really really really should say no'. Do something that scares you (you will remember the brave decisions not the safe ones). Embrace change (life won't go according to plan and that's ok). Don't be afraid of searching for your edges (and helping others to do the same). Back yourself (believe you can and you will). Choose kindness (both for yourself and for others for when the currency is kindness we are all millionaires). And, when you are having a bad day, look up! It is only by turning your face to the sky that you can see a way through life's clouds.
If you could leave us with one message today, what would it be?
Write your own definition of success. Not the one society has written for you (big career, big house, family, etc). I am my imperfections, a product of the things in life I would never have chosen. I am grateful every day for that fact. And (if I am allowed two), make your life mean something. When I was in hospital after life-saving surgery, a nurse stopped me and said 'Jackie, are you doing something every day you'd be proud to put on your gravestone?' The answer, of course, was no. I am so grateful that I got the opportunity to change what will one day be written there. No longer the Jackie who just worked too hard. My wish is that when I do leave this world (my consultant thinks I'll make the age of 92 so I've got a fair way to go) I am remembered as the woman who gave people hope, made them believe anything was possible and gave them a reason to smile. I hope the same for you.
It's never too late to make what you do matter.
https://www.vuelio.com/uk/wp-content/uploads/2019/09/logo-mockup.jpg
74
210
Vuelio UK
https://www.vuelio.com/uk/wp-content/uploads/2019/09/vuelio-logo.png
Vuelio UK
2019-09-17 12:57:42
2019-09-17 12:57:42
Think's Jackie Scully on Influence, her marathon wedding and five inspirational challenges