Trends in UK health and medical journalism PRs need to know about
It is now around three years since the British public first heard about a new disease called 'COVID-19'. While most industries were massively impacted by this in a negative way, health journalism and reporting of the symptoms, cures and variants became the primary focus for most media outlets. In 2023, this focus continues, with news organisations covering diseases such as Monkeypox and Strep A in particular detail as the public seek information.
Health journalism, though, is a broad subject covering everything from disease and illness to dieting, exercise and mental health. Here is a look back over the last few months at topics and trends in this sector, based on what journalists have been requesting via the ResponseSource Journalist Enquiry Service.
Sign up to start receiving requests from the UK media direct to your inbox with the Journalist Enquiry Service.
The first thing to note is that since September 2022, 28% of all enquiries have been either for the Health category or the Medical & Pharmaceutical category, or both. The Health category performed especially well and was the third most selected category out of all 25 over the last three months, underlining the increased importance of health reporting in publishing. The Medical & Pharmaceutical category also saw a 5% increase in requests between September and October and a 13% rise between October and November.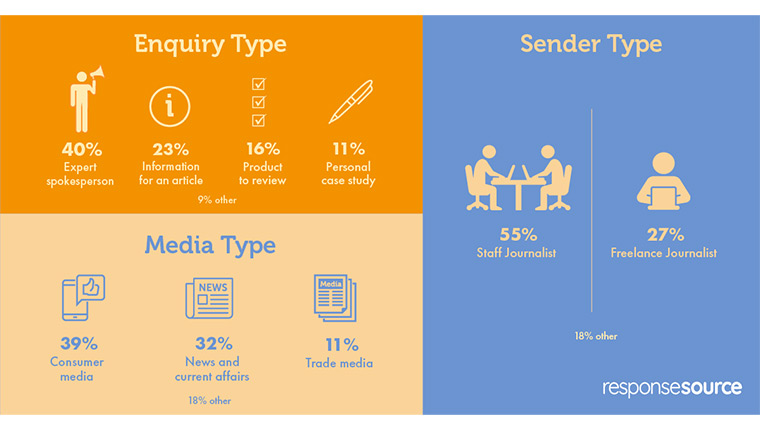 The journalists submitting enquiries for these categories are most often staff journalists (55%) with freelance journalists making up nearly a third (27%). They also tend to be looking more for the consumer angle with 39% of all enquiries coming from Consumer Media and the National Newspaper/Current Affairs media type in second, back on 32%. The national press requests will generally be more focused on consumer health but there is still a significant proportion of trade health journalists using the service, with 11% coming from that media type.
Publications often plan their content months in advance, especially when it comes to features, so content around healthy eating to start the new year and challenges like Veganuary are written up in November and December. 'Food' is the top keyword, appearing in 13% of all health and medical requests.
Requests have varied from 'Food or drink that raises/lowers blood pressure' to 'Looking to speak to an expert regarding sharing and displaying food hygiene info'. There have also been requests seeking nutritionists or dieticians for 'diet trends of 2023' from the consumer perspective. Meanwhile, on the trade side, we have seen requests for food scientists looking to speak about superfoods.
With food proving such a popular keyword within the health and medical categories, it is perhaps unsurprising that the words 'diet' and 'nutrition' have also performed well, appearing in 5% and 4% respectively.
Along a similar line, 'fitness' was in 9% of all requests between September and December. The UK media often publishes a lot of content in January around fitness goals, trends for the year or ways to lose weight as people make resolutions. The keyword 'weight' was also in 3% of enquiries while 'exercise' appeared in 4%.
These enquiries have tended to be more consumer-focused coming from magazines such as Cosmopolitan, OK! and Fabulous. The requests are often for a 'fitness expert' but we have also seen journalists looking for 'fitness challenges', 'fitness trends' and 'fitness fashion and accessories'. This gives plenty of scope to reach out with clients in this field.
The awareness around 'mental health' has increased significantly in the last few years and as a key phrase it appeared in 5% of all enquiries across health and medical. The period we are looking at (September to December) includes World Mental Health Day (10 October) so this might be a reason why it was the fourth most popular keyword/phrase.
The split between consumer and trade titles here is much more even with national press also regularly looking into issues around mental health. Newspapers such as The Independent, The Daily Telegraph, The Mirror and MailOnline all made requests with this key phrase.
'Mental health' requests were mainly focused on finding experts, which fits in with the general picture when it comes to enquiry types. 40% of all enquiries for health and medical were for a 'spokesperson' or 'expert'. In the three months we covered, journalists were often looking for experts on men's mental health, which may be due to Movember. However, general advice on how to improve mental health also did crop up regularly.
Finally, many of the common keywords we see in these categories are regarding specific illnesses or diseases. 'Cancer' and 'Covid' appeared in 3%, 'menopause' and 'cold' were in 2% and 'flu' in 1% of all enquiries. Journalists tend not to look for experts in these keywords but it is more common to see requests for both case studies and general information for an article.
There are also a much greater volume of trade health outlets here with The Carer, Pharmacy Magazine and livescience all covering these keywords. Information on symptoms and signs of various illnesses is also popular in several national press outlets including the Daily Express.
Features may have been filed for a lot of journalists now but the Journalist Enquiry Service will remain populated with Veganuary and Dry January requests throughout the remainder of the month. This means there is still the chance to help health journalists with products recommendations for their readers and the information they will need. Those with useful case studies or illness information also have plenty of scope for connecting with journalists reporting on these topics throughout the Winter months and beyond.
Find more information about the benefits of the Journalist Enquiry Service here and find more tips on connecting with health journalists in our white paper 'How to pitch to journalists'. 
Want more on trends for 2023? Check out these 15 PR and communications trends you need to plan for in 2023. 
https://www.vuelio.com/uk/wp-content/uploads/2023/01/Trends-in-health-journalism-PRs-need-to-know-about.jpg
430
760
Andrew Strutt
https://www.vuelio.com/uk/wp-content/uploads/2023/09/vuelio-logo-200px.png
Andrew Strutt
2023-01-10 10:09:21
2023-01-10 10:09:21
Trends in UK health and medical journalism PRs need to know about