Trump enters The Twilight Zone
It's not often that the work of a humble TV reviewer from a Sunday broadsheet hits the headlines and goes viral – but we are living in strange times.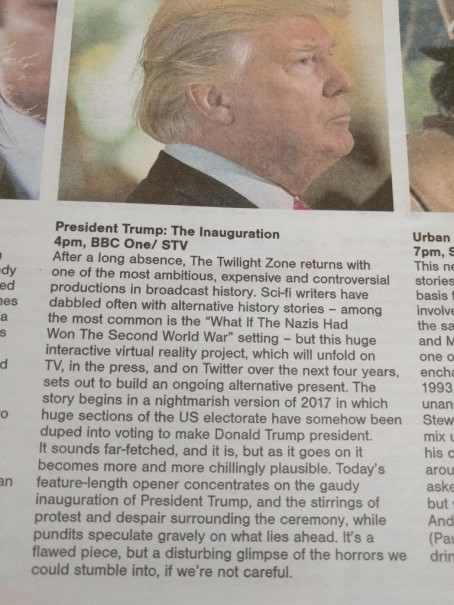 Damien Love, a TV reviewer for the Scottish-based Sunday Herald, created quite a social media stir over the weekend with his tongue-in-cheek preview of President-Elect Donald Trump's inauguration on Friday which he suggests is a new episode of sci-fi TV series The Twilight Zone.
Love plays with the fact that many sci-fi writers have toyed with alternative history stories such as the Nazi's winning World War II – but this new episode offers an alternative present in which Trump becomes US President.
Love describes Trumps forthcoming presidency as a "huge interactive realty reality project, which will unfold on TV, in the press, and on Twitter over the next four years."
Love concludes his short piece by saying: "It's a flawed piece, but a disturbing glimpse of the horrors we could stumble into, if we're not careful."
Neil Mackay, editor of The Herald wants to find out if The Donald has a sense of humour and has asked the "good people of the world" to make sure he sees Love's piece.
Mackay told journalists: "Damien is one of the best TV critics in the business. I've been saying for years Damien Love is a must read, and if you miss him you're missing one of the best writers in Britain.
"He's a very humble a modest guy so this had completely blindsided him, but I'm delighted he's got the credit he deserves.
"Being able to tweak Donald Trump's tail a couple of days before the inauguration is delightful."
While Donald Trump isn't a big fan of "fake" news (unless the "facts" suit him), I wonder if he's a fan of satire.
https://www.vuelio.com/uk/wp-content/uploads/2017/01/Donald_Trump_Scottish-based-Sunday-Herald-1.jpg
506
760
Jake O'Neill
https://www.vuelio.com/uk/wp-content/uploads/2019/09/vuelio-logo.png
Jake O'Neill
2017-01-19 14:10:35
2017-01-19 14:13:12
Trump enters The Twilight Zone