10 story leads for the Guardian's new media editor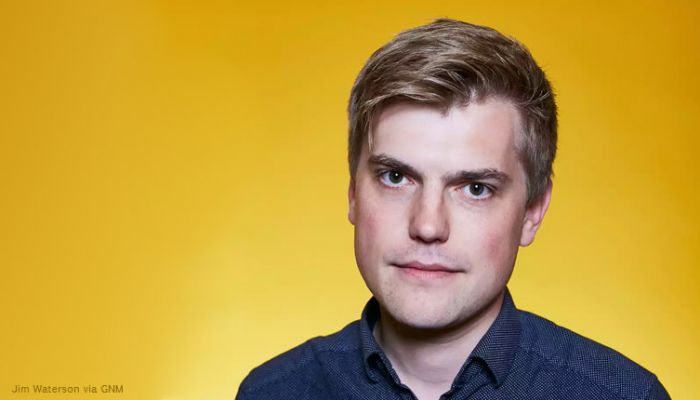 The Guardian has announced the appointment of its new media editor. Jim Waterson is joining the paper from his role of political editor at BuzzFeed UK. Jim has been with BuzzFeed since 2013, when he helped start the site's UK news coverage.
On his new role, Jim said: 'The media business is going through a period of enormous change, the public is waking up to the impact that major internet companies are having on society, and there's huge interest in the behind-the-scenes forces which shape the news agenda.
'I'm looking forward to reporting on these stories during an incredibly turbulent age for the industry.'
But where should Jim start? What stories should he be covering? And where will get inspiration for new stories?
Thankfully, Twitter exists. And when Jim announced his new role, the replies came flooding in. To honour the outlet Jim's leaving, we've curated the best and present 10 story leads for the Guardian's new media editor:
1. 'Start with the Liverpool Anderson Echo'
Not particularly media-related but a solid place to start, Jim!
2. 'Social media has replaced film as THE tool to influence and direct masses'
This may be a good point, though IS film the tool to influence and direct masses?
3. Please do something about the @mediaguardian online pages, which often appear stale and unloved
Especially important for corporate bloggers looking for media news…
4. Can't think of anyone better to cover GDPR implementation and how GDPR will disrupt social media
GDPR will dominate the news on 25 May, but obviously the smart move is to get out ahead of it and publish a white paper on what is changing and what actions you need to take
5. Could you begin your tenure by folllowing the Guardian style guide, in which the 'media' (being derived from 'medium') are plural?
This should be everyone's priority. The media ARE dying (don't worry, it's not)
6. 'Will you address the appalling Guardian reporting on @jordanbpeterson that @theknifemedia gave an integrity rating of below 20%?'
Retrospectively assessing other people's work is likely to be Jim's first job
7. 'I hope you will be presenting Jeremy Corbyn in a better light than he has been'
He's MEDIA editor people, MEDIA
8. 'There were still journos over the weekend claiming the US 'only found' 13 Russians at troll farm so that's proof of no collusion/didn't influence results. Shows a dire misunderstanding of digital marketing. Lots to do to educate your profession'
Yeah Jim, educate your profession
9. Please analyse the ideological migration in BBC news coverage over the last four decades
This could quite literally be complaining about the BBC being too left or too right, who can tell nowadays
10. We the people don't want partisan media we want a free press who will hold to account the ruling party rather than scapegoat the other parties for the ruling party. Stop trying to control everything with politics it's ruining free speech! Social media is breaking the propoganda
Stop ruining everything with politics, Jim.
We wish Jim the best of luck in his new role; the Guardian's media pages are must-read across the industry.
Jim's profile will be updated in the Vuelio Media Database.
https://www.vuelio.com/uk/wp-content/uploads/2018/02/Jim-Waterson-1.jpg
430
760
Jake O'Neill
https://www.vuelio.com/uk/wp-content/uploads/2023/09/vuelio-logo-200px.png
Jake O'Neill
2018-02-19 15:27:43
2018-02-19 15:27:43
10 story leads for the Guardian's new media editor