5 ways to make work and life better for women in PR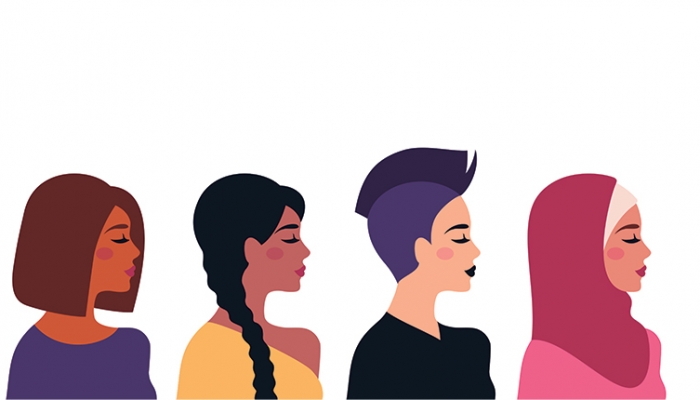 For 2021's International Women's Day, we've spoken to 12 women working across PR and comms to get their thoughts on what would make the PR industry a more welcoming, fair and inclusive place for all women, every day…
1) Inclusivity
'We need to strive for more inclusivity, mentoring and women in senior roles in the industry for young women coming into the profession to aspire to. PR and comms are significant to the success of any business today – and there is a huge female contingent driving that – and that needs to be taken seriously.' – Sian Gaskell, Cuban Eight
'It would be remiss of me not to state that as a Black woman in PR it sometimes feels like the industry actively overlooks Black women in the industry and that is alienating – not because I require validation because, to be fair, I have a great network and I've made myself visible to inspire other women to showcase their work, but because it shouldn't take individual efforts from women like Kamiqua Pearce (founder of UK Black Comms) or Elizabeth Bananuka (Founder of BME PR Pros) to make Black women feel seen.' – Ronke Lawal, Ariatu Public Relations
2) More time, resources and development
'More time, more automation and AI to truly take away the brunt of all the process-driven elements, freeing up time for what matters most, strategy, leadership, ethics and more creativity. And, importantly, time for continuing to learn, develop and have fun!' – Kerry Sheehan, CIPR
'I've been heartened to see the discussions about roles and responsibilities, flexible working and creating equality for career opportunities. There's still a long way to go. I'd love to see companies investing in closing the integrity gap between what they say and do and bringing values of fairness to life, so their employees can thrive.' – Rachel Miller, All Things IC
3) Diversity in leadership
'We need more female leaders representing the diversity of the PR industry. We are nowhere near as representative as we could be and we need to champion our diversity and be proud of it. This includes visibility across events, membership bodies and industry initiatives.' – Shayoni Lynn, Lynn PR
'Making it possible for women to progress in their careers is so important. Yes, we can be creative, hard-working, motivated, and driven, but there needs to be a shift in workplace culture and opportunities. Flexible working, mentoring schemes, as well as education around gender bias at the executive levels are all key to change, and that's long-term change, not just ticking an HR box on policies. Women have a huge amount of experience, skills, and potential, and this needs to be seen and acted upon from the very beginning of careers, right up to leadership level.' – Natalie Trice, coach and mentor for PR professionals
4) Flexible working
'I'd really like organisations to remember that women not only take on the bulk of childcare responsibilities but also caring responsibilities in general. We will all be working longer so it's highly likely that women working in their 40s, 50s and 60s will also be juggling care for parents. So, flexible approaches to work patterns, portfolio careers and judging on outcomes not hours all need to be part of the answer.' – Mandy Pearse, Seashell Communications and CIPR
'I imagine for my fellow women in PR with younger children, the work/life balance right now is a big struggle and this is something all businesses will need to think about and consult on, in preparation for coming out of lockdown. Hats off for surviving until now. I've loved seeing all your creative work with your kids!' – Laura Sutherland, PRFest and Aura PR
'There needs to be greater flexibility around working hours and just injecting a bit more humanity and empathy into the world of work – whenever you're talking to someone, there should be an understanding that they are more than their job title. Neither of those things need to mean accepting worse results for clients – in fact, they should improve them.
'The industry is often guilty of saying things like 'increased flexibility will help mothers'. It is of course true, but framing it in a gendered manner negates the fact that fathers can also take extended parental leave or work part-time around family commitments, and entrenches outdated stereotypes around careers, families and work-life balance.
'I know from personal experience that coming back to work after becoming a mother is a tough time, but it can also be very rewarding – I hope you'll excuse the plug [we do – go for it], but I'm delighted to be hosting a PRCA event on this topic on Friday 26 March, with the amazing campaign group Pregnant then Screwed. Non-members also welcome!' – Tas Bhanji, Blakeney
5) Transparency on those 'competitive' salaries
'I'm not looking for my work/life to be made easier as a woman working in the industry. I'm very capable and good at my job. What would be helpful is greater gender equality, starting with better efforts to close the gender pay gap!' – Melissa Lawrence, Taylor Bennett Foundation
'Back in 2015 I wrote this article on the gender gap in PR for the very first #FuturePRoof book. While the statistics might be outdated and we have since seen a surge of women appointed to top roles, the ten steps for achieving parity of pay are still as necessary now as they were back then. I feel I can speak on behalf of women generally when I say not having to perennially fight this battle would be a big win.' – Sarah Waddington, Astute.Work and #FuturePRoof
'I'm a member of the Women in PR and the UK Black Comms Network committees. These groups seek to increase the seniority of female and Black talent in the industry. I would love for the industry to be in a place where these groups were surplus to requirements. I would love for hiring organisations to publish their salary bands for roles.
'I mentor several female PR professionals and they are always concerned about asking for too much when they go for a new role. The use of 'competitive' in lieu of pay bands and asking for a person's current salary only serves to bake in any pay gap inequality. For a female heavy industry, it's not great that the best advice I was ever given about salaries, which I now give is to always ask a man if you want to get a sense of the true market rate for a role.' – Addy Frederick, Prudential, Women in PR and UK Black Comms Network
For more on the women PRs featured in this piece, check out our interviews with Sian Gaskell, Ronke Lawal, Tas Bhanji, Melissa Lawrence, Mandy Pearse, Rachel Miller and Natalie Trice as well as features on the work being done by Sarah Waddington, Laura Sutherland, Addy Frederick, Shayoni Lynn and Kerry Sheehan.
https://www.vuelio.com/uk/wp-content/uploads/2021/03/PR-Club-International-Womens-Day.jpg
430
760
Phoebe-Jane Boyd
https://www.vuelio.com/uk/wp-content/uploads/2023/09/vuelio-logo-200px.png
Phoebe-Jane Boyd
2021-03-08 11:41:05
2021-03-12 16:56:52
5 ways to make work and life better for women in PR