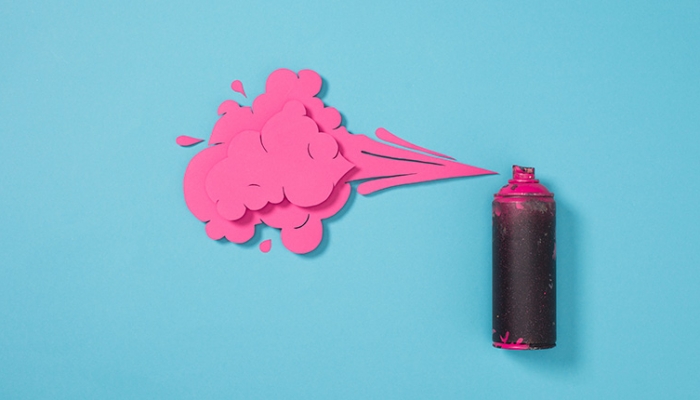 Last updated 06/04/2022.
Vuelio uses a proprietary algorithm to create these rankings, based on topic-related content in blogs on its system – you can read more about the process here. Our research team actively seeks out new blogs and bloggers for inclusion, but if you think we've missed someone, please get in touch to let us know. 
In the top spot for another year is StreetArtNews, celebrating supreme street art readily available for enjoyment across the world – no ticket required. Originally launched in 2009 by Rom Levy, this blog aims to cover the 'stories between the layers of paint'. That means news from the scene, reviews of new works and deep analysis. Check out the Lifestyle, Interviews, Retrospectives, Exhibitions, Videos and Lists sections to find quality art on a street near you.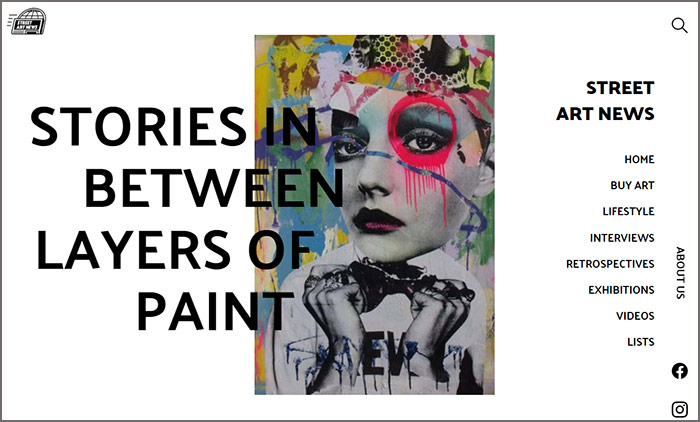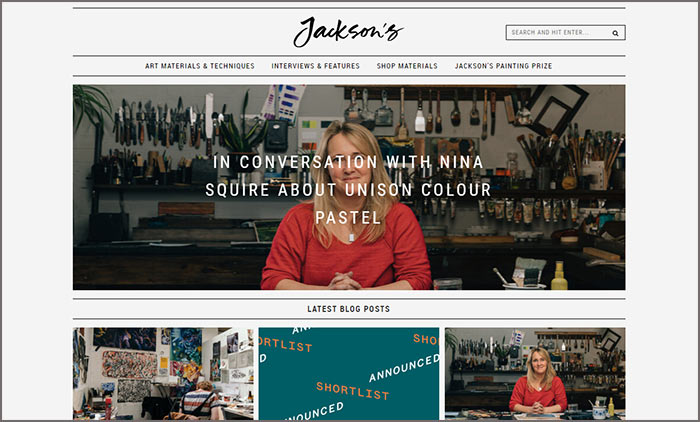 Also in the same spot as last year's line-up of top Art blogs in the UK is Jackson's Art Blog from Jackson's Art Supplies. Whatever your medium, shop for the materials you need and then get extra inspiration from the Interviews & Features and Art Materials & Techniques sections. For beginners, there's even a Glossary of Art Terms to help you sort out your Acrylic Gesso from your Whiting (calcium carbonate or calcium sulfate that can be used to make gouache opaque… what is 'gouache'? Check out the full Glossary to find out).
3. Art Plugged
Moving up a spot in our ranking is Art Plugged which aims to showcase great work and cover the 'broader arts communities' out there. To plug into the variety of art scenes happening across the world, read up on the blog's Art Interviews, Art News, Art Talk and Emerging Artists and Exhibitions channels for the hook-up. Recent talks with art talent – Steve Lazarides on Banksy, graffiti and even bespoke furniture (because art can be found anywhere if you look hard enough).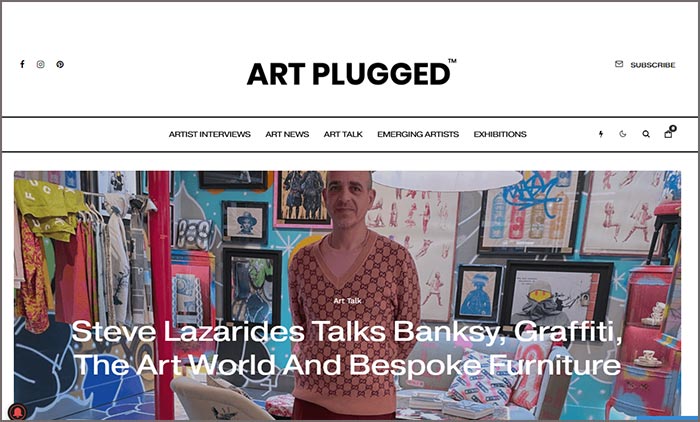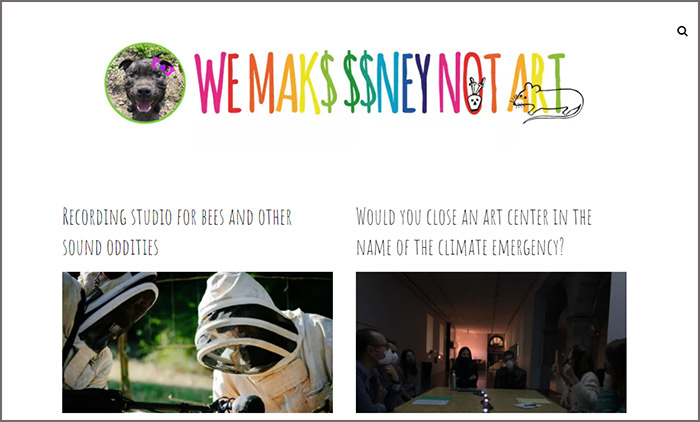 This blog from triple-threat writer, critic and curator of art Régine Debatty benefits from its founder's interest in far-ranging subjects including art, science, technology and social issues. As well as her work writing and lecturing on how artists, hackers and designers use tech as a medium for discussion, Régine keeps this blog updated with interesting content. Read up on recent posts focusing on sound oddities, gender-bending and time-travel, and the geopolitics of phonetics.
Making a big mark on our ranking of top UK art blogs by moving up two spaces is Katherine Tyrrell's Making a Mark. Launched back in 2006, this blog 'for artists and art lovers' covers news about big art competitions and exhibitions, interviews with artists as well as tips and techniques for art and business. Check out Katherine's takes on landscapes, the most expensive still life ever sold (so far) and new collections to go and see. If you fancy enjoying art from home instead and know your stuff, try the Who Painted This? Quiz backlog.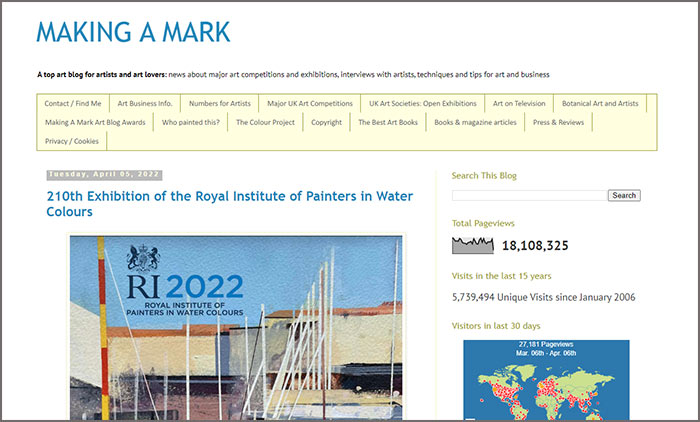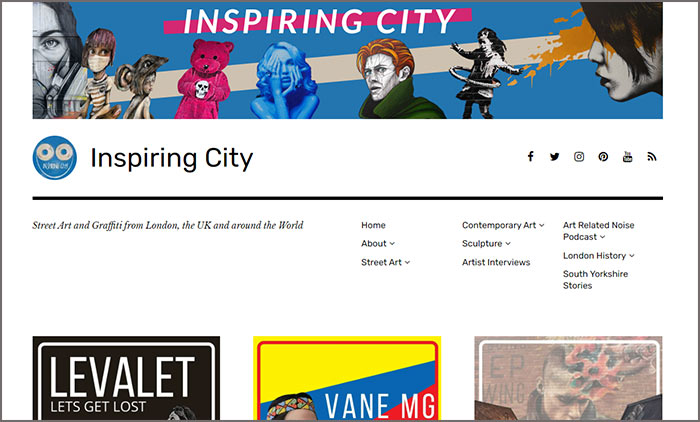 Inspiration is all around us, but if you have trouble finding it in your local area, Stuart Holdsworth is sharing great graffiti, murals and urban art from London, the UK and around the world at Inspiring City. The street art scene 'turned the East End of London into an exciting ourdoor canvas' for Stuart on moving to the area in 2012 – those looking for their own outdoor canvas can take notes from the blog's map of articles, showing the locations of places covered on the blog so far.
7. Scribblah
Also moving up the ranking is Rose 'artist, printmaker, scribbler, ageing headbanger, feminist, activist, mad-cat-woman, cake-maker, accidental-archaeologist, mud-wrangler, wild, Welsh and opinionated' Davies, who posts her artworks as they're created at Scribblah. If celebrating women artists is your thing, peruse Rose's series of silkscreen portraits and read up on their lives, and if you're taken with the process rather than the finished results, scroll through for her recent drawing of the view from Brynmelyn Park.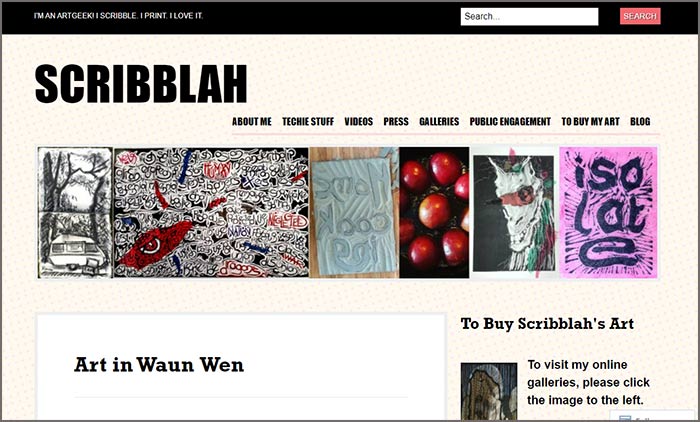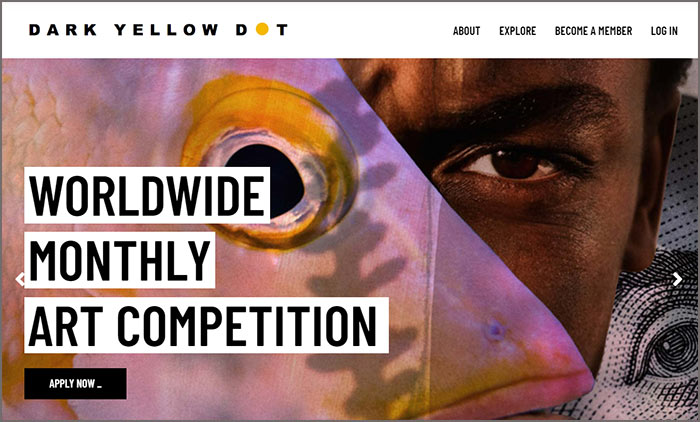 And here is a new edition to our ranking of top UK art blogs – Dark Yellow Dot. All about 'supporting and making space for new artists and creative beginners', this blog works to provide opps for artists by partnering with organisations to make art accessible to real people, in real spaces. Aiming to provide entry points into the arts community with events, creative workshops and exhibitions, this blog holds a monthly art competition, and welcomes creators to take part in upcoming initiatives – go check it out.
Another new entry this year is People of Print, which was launched in 2008 by Marcroy Smith as a directory of designers, illustrators and printers with the purpose of 'educating and inspiring'. The current team, based in the London office and across the globe, continue to highlight artists worth knowing about and cover news from the arts scene, both commercial and creative. Read up on IKEA X Katie Eary, the launch of Anthony Burrill's online archive and the 12 Kinds of Kindness initiative.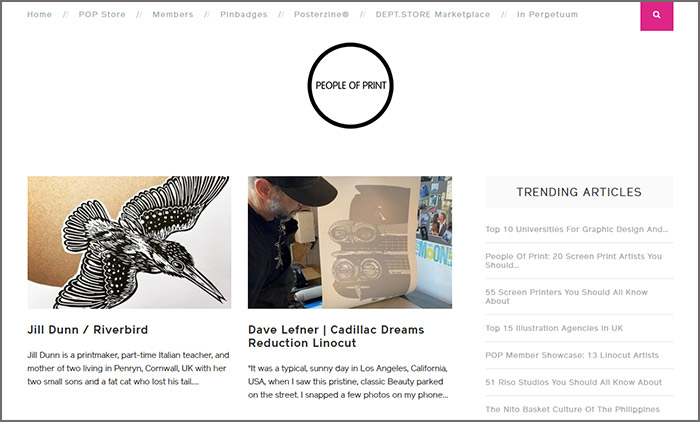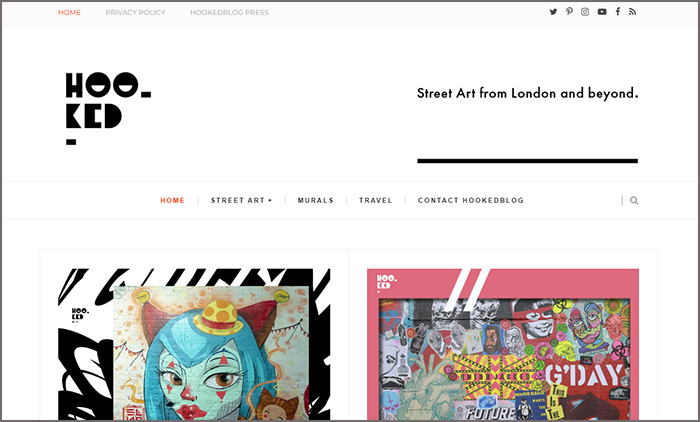 10. Hookedblog
And finally, for those hooked on street art, we have the Hookedblog, which takes aim at cities across the UK and beyond,  including Europe, Africa and America. Launched in 2005 by Mark Rigney, the team's worldwide network of contributors cover travel, murals and, of course, street art. For London-based readers, the blog has an overview of the top five hotspots for paper paste-ups (one featuring Mary Poppins, who might not have approved of the practice, but looks pretty good on the walls of the capital city, we must admit).
Collaborating with bloggers requires mutual respect and understanding: respect their schedules; take time to read their content to learn their interests; and only contact them if/when they want to be contacted. You can see more advice in our blogger spotlights. 
Profiles of these  blogs and their authors can be found in the Vuelio  Media Database.
Other Blog Rankings
https://www.vuelio.com/uk/wp-content/uploads/2022/04/Top-10-Art-Blogs.jpg
430
760
Christina Pirilla
https://www.vuelio.com/uk/wp-content/uploads/2023/09/vuelio-logo-200px.png
Christina Pirilla
2022-04-06 10:30:52
2022-04-06 10:38:15
Art Blogs UK Top 10