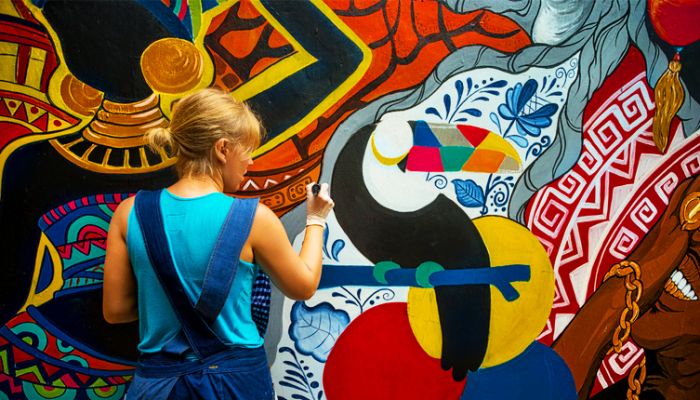 Last Updated 14/02/2018
Founded in 2009 by editor-in-chief Rom Levy, StreetArtNews started as an urban art publication for art geeks. Now a trusted source of art news, exhibition coverage and art lifestyle, StreetArtNews has retained its position as the number one UK art blog.  StreetArtNews takes its readers beyond the superficial beauty of street art into the conceptual meanings behind each work, and also features interviews with the artists and exclusive artwork for sale. Featuring images of street art from around the world, this blog perfectly illustrates the relevance of art in society and the social messages it conveys.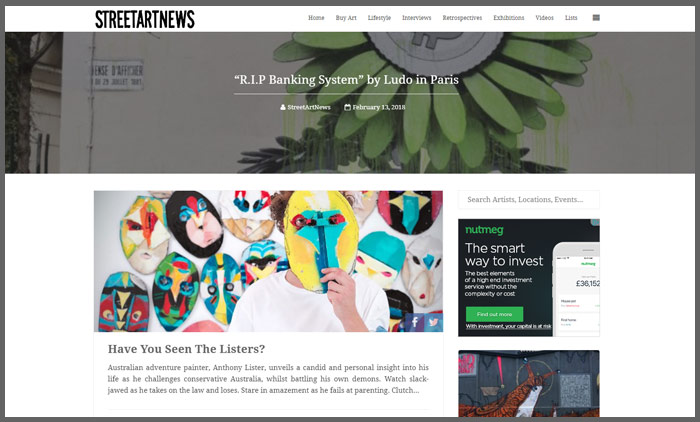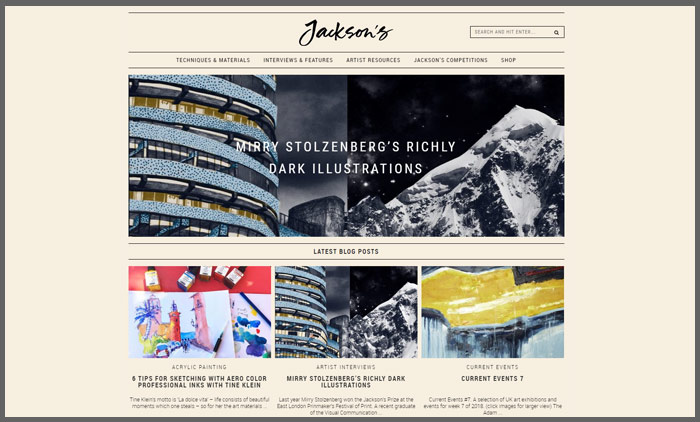 Jackson's is a maker and supplier of art materials, and its blog is a natural extension of the business. With the aim of making art accessible, the blog includes both product posts about the latest materials available to artists, and discussion posts about individual artworks. The blog's main areas of focus are techniques, materials, interviews with artists and thought pieces on the latest trends in the art world. The company has also launched its own art price – the Jackson's Open Painting Prize – which has generated huge interest in the Jackson's blog.
3. Scribblah
Rosie Scribblah (artist Rose Davies) creates art directly from life and can always be found with a sketchbook, looking for an opportunity to scribble. Rosie works both from her studio in Swansea, as well as on the streets – bringing art to people who may never have visited a gallery or seen art being created before. Rosie's blog is a unique insight into the artist's process, with both her finished artworks and the practice behind their creation available to her audience. Experimenting with form, style and even collaborators, Rosie's blog as a treasure of the art blogging world.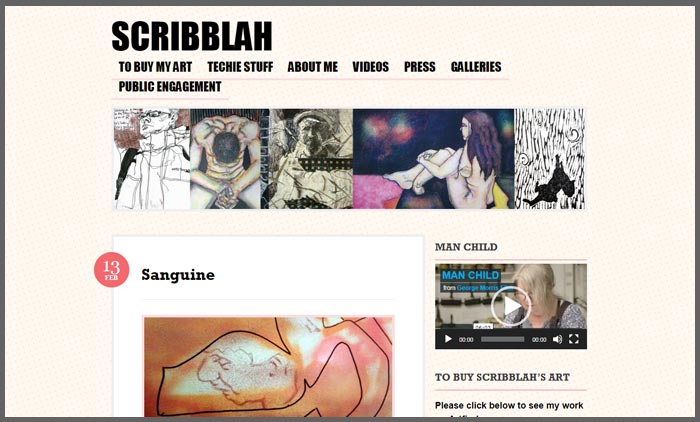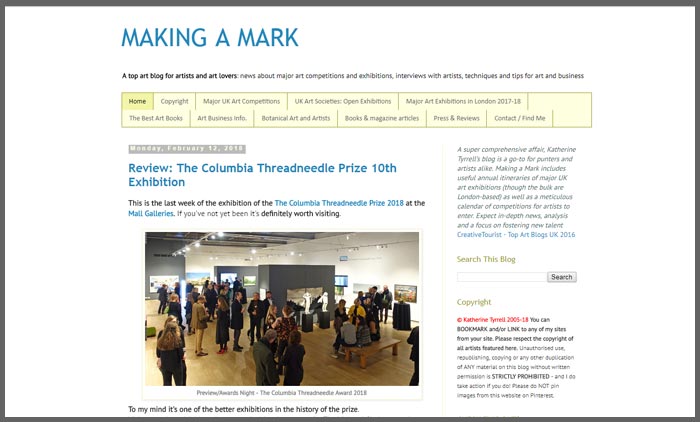 Katherine Tyrrell is the artist behind Making a Mark, the art blog for both artists and art lovers. Covering major art competitions, exhibitions, interviews with artists, and techniques and tips for both art and business – Katherine's blog is a one-stop-shop for all things art online. With her own background in 'dry media' art, Katherine provides a unique and authoritative perspective for her informed audience.
Created, curated and written by Régine Debatty, We Make Money Not Art explores the connections between art, science, technology and social issues. Régine writes and lectures internationally about the way in which artists, hackers and designers use technology as a medium for critical discussion. The blog features exhibitions that often focus on cerebral artwork and performance pieces – and has a particular affinity with art in technology whether that's digital artwork or mining cryptocurrencies.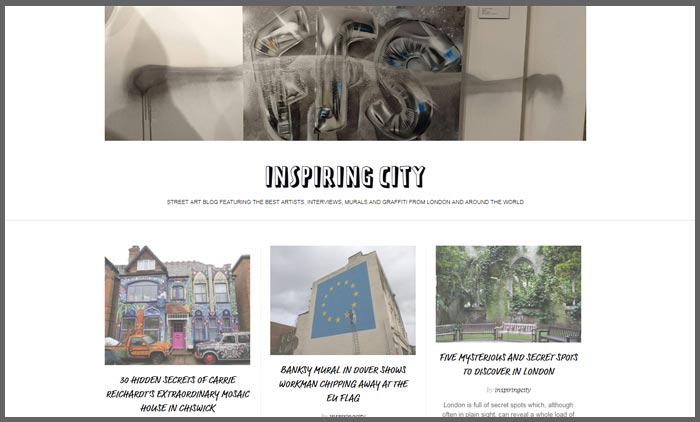 Inspiring City is a street art blog that features the best murals, graffiti art and street artists from London, the UK and around the world. Stuart Holdsworth created Inspiring City after moving from the Yorkshire countryside to the East End of London – where he was captivated by the street art scene. With a strong passion for the urban arts scene, this blog features interviews with street artists, as well as cultural street walks around London and stand out artworks from the contemporary arts scene.
Launched in 2011, Art History News was created by Dr Bendor Grosvenor, an art historian, writer and broadcaster. With a regular supply of posts covering art history news, views and opinions, Bendor specialises in Old Masters and British pictures – especially portraits. Bendor has made a number of notable historical art discoveries, including lost portraits and mis-catalogued pictures. The blog serves as a vital resource for those interested in art history-related news stories, such as new exhibitions, research and recently discovered paintings.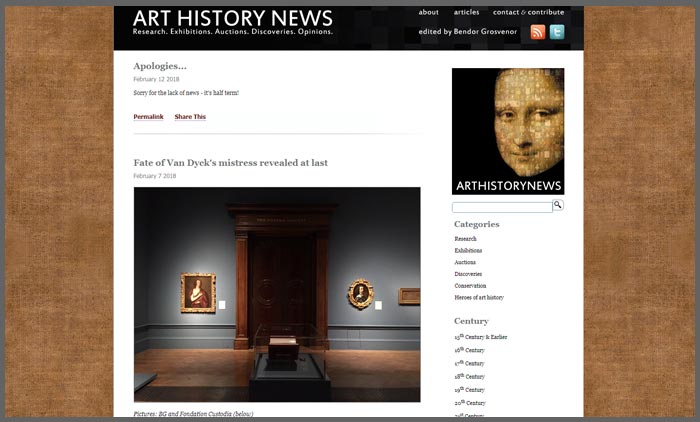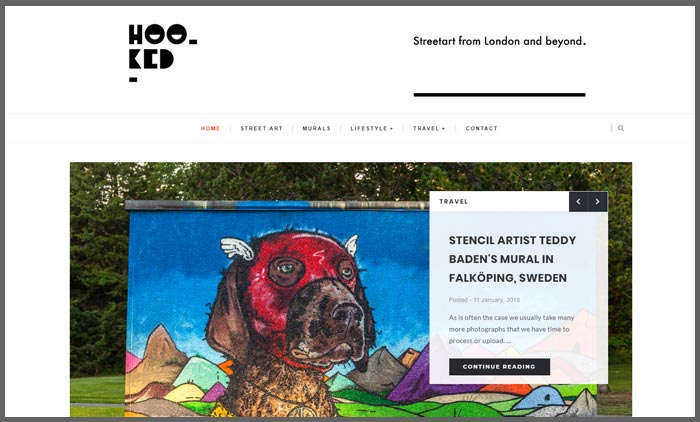 8. Hooked
Launched in 2005, Hooked is a street art blog that features all the latest works from London and includes posts from across the world. For the editorial team at Hooked, the blog is a space to share their love of contemporary street art. For readers, Hooked is an essential place to find out about exhibitions, new books, and cool art spaces across London.
9. StreetArt360
StreetArt360 is dedicated to street art, urban art, graffiti and urban culture around the world. Founded in 2015 by Laurent Jacquet, the blog now has a team of contributors, primarily based in the UK and France, but also taking in Serbia and the US. StreetArt360 includes artist biographies, interviews, photographic reports, street art city guides, book reviews, upcoming exhibitions, art fest information and other related news.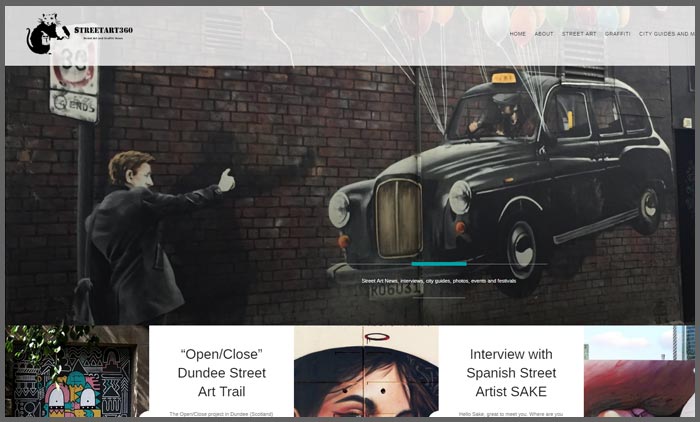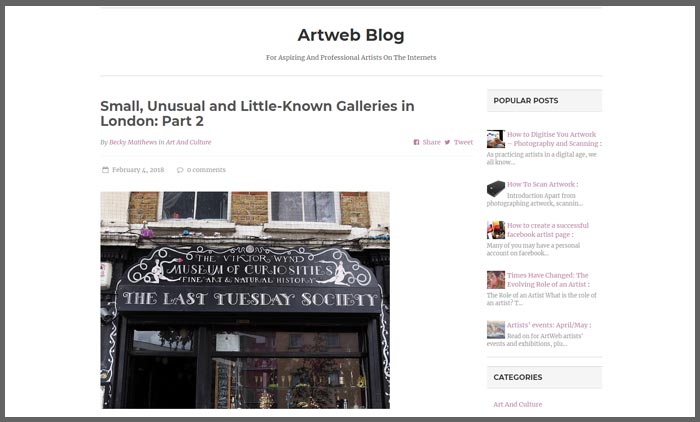 10. ArtWeb Blog
ArtWeb helps promotes independent artists online. Providing templates for artists to create their own website, ArtWeb also has a blog that covers exhibitions, events, techniques, tips and thought pieces. A traditional 'blog', the posts are varied and resourceful, with images, text and links giving readers a well rounded mix of all things art content.
The fundamentals of working with bloggers are the same as with traditional journalists at traditional media outlets: respect their schedules; take time to read their material to learn their interests; and only contact them if/when they want to be contacted.
Vuelio's blog ranking methodology takes into consideration social sharing, topic-related content and post frequency. Profiles of these art blogs and their authors can be found in the Vuelio Media Database.
Other Blog Rankings
https://www.vuelio.com/uk/wp-content/uploads/2017/01/Top-10-art-blogs.jpg
430
760
Holly Hodges
https://www.vuelio.com/uk/wp-content/uploads/2015/10/vuelio-logo-transparent.png
Holly Hodges
2018-02-14 10:00:52
2018-02-14 11:44:27
Art Blogs UK Top 10