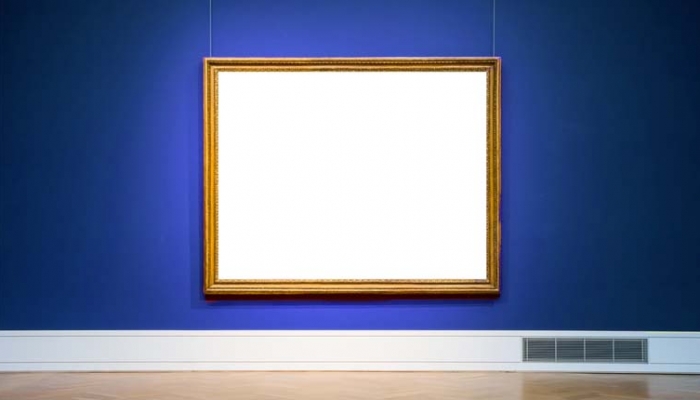 Last Updated 04/11/2020.
Vuelio uses a proprietary algorithm to create these rankings, based on topic-related content in blogs on its system – you can read more about the process here. Our research team actively seeks out new blogs and bloggers for inclusion, but if you think we've missed someone, please get in touch to let us know. 
Still in the top spot at number one is Rom Levy's StreetArtNews, which has been catering to art geeks since it was first created in 2009. The 'definitive guide' to the street art world, the blog's unique editorial team covers art news, analyses and reviews exhibitions and writes about 'nearly everything else found in between layers of paint'. Whether you're a street art fan that is in to framed prints or full building coverage, StreetArtsNews has something for you, including a shop so you can buy your favourites.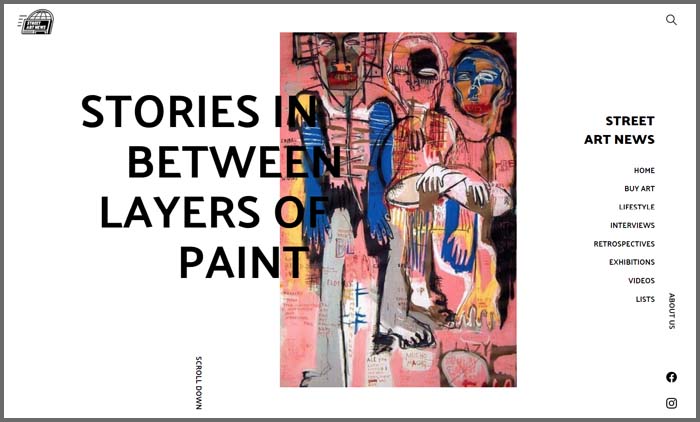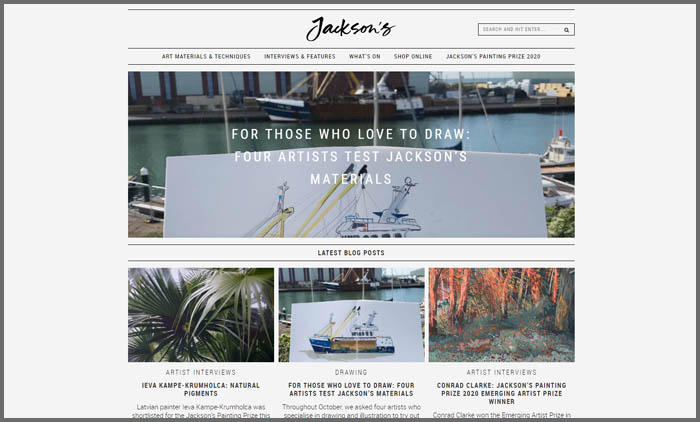 Moving up the ranking is the official blog of Jackson's Art Supplies. The blog is broken down into sections to appeal to artists of all mediums and skill levels, with Art Materials & Techniques covering everything from oils, pastels and acrylic to printmaking and handcrafting brushes. Supporting the industry, there are also interviews with both established and up and coming artists and a calendar of events and competitions in the art world. The blog also highlights the artists that are recipients of Jackson's Painting Prize in a dedicated section.
Another climber in the ranking is Régine Debatty's award-winning We Make Money Not Art. Writer, curator and critic, Régine is known for her work that explores the connections between art, science, technology and social issues. The blog has the full eclectic mix and more, including book reviews, cultural discussions and interviews with artists, scientists and researchers.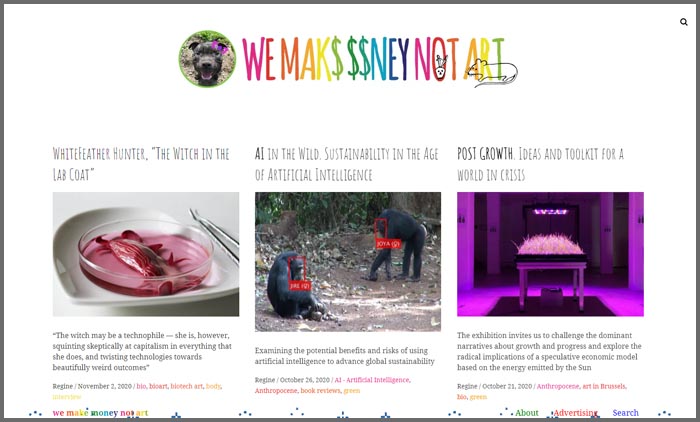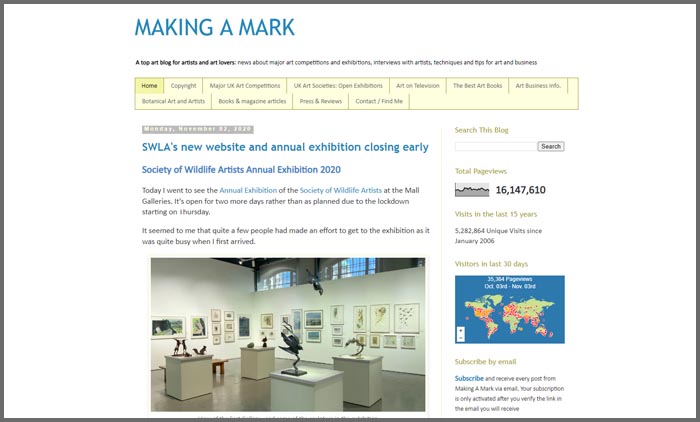 A big mover, up five places, MAKING A MARK is for artists and art lovers, and contains news about major art competitions and exhibitions, interviews with artists, techniques and tips for art and business. With a live pageview and visitor count, you know you're in good company alongside the millions of other readers who have visited the blog since it was created by Katherine Tyrrell back in 2006.
5. Art Plugged
A new entry, Art Plugged is a contemporary platform 'inspired by our relationship with the broader arts communities, and our passion for showcasing great work'. With artwork on display from all over the world, you can find originals, limited edition prints, sculpture and art in pretty much every format. Art Plugged's team covers artists interviews, news, 'talk', curator interviews, emerging artists and exhibitions.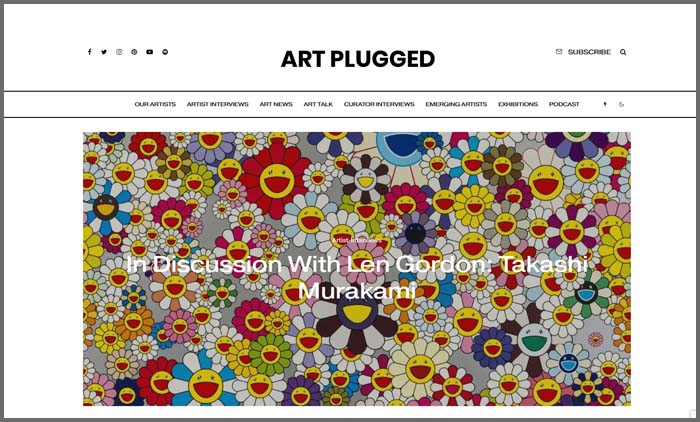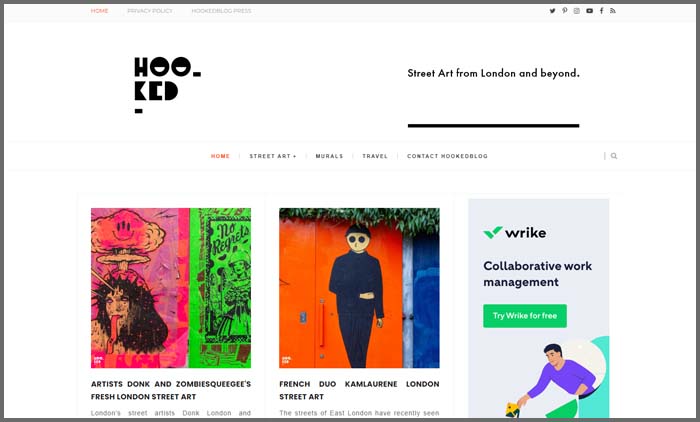 6. Hookedblog
Another blog on the rise in the ranking, Hookedblog is our second entry focused on street art, from London and beyond. Created by Mark Rigney in 2005, the blog now has a team of contributors covering the street art scene in the UK, Europe, America and Africa, and covers major street art festivals across the globe. With a dedicated section for murals, too, street art fans of all types will be hooked.
7. ArtWeb Blog
For aspiring and professional artists, ArtWeb Blog is the posting arm of ArtWeb, which features and sells artwork from artists across a huge range of mediums and disciplines including ceramics, mixed media and embroidery. Artists can register to sell their artwork through the site and even set up their own websites. The blog covers the latest art stories and the business of art, supporting artists to make money from their creativity.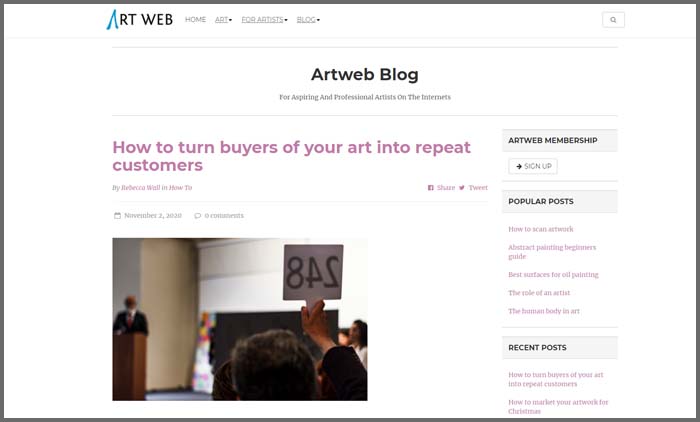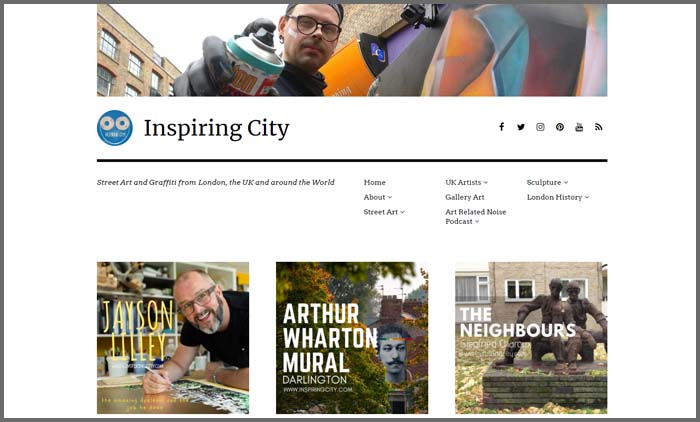 Another lover of street art that blossoms in the UK's urban spaces is Stuart Holdsworth, who set up Inspiring City back in 2012. Capturing the urban art scene, Stuart covers more than just the street, featuring shows and exhibitions, interviews with artists and a special focus on new and emerging talent. While the blog started in London, it now takes in multiple cities across the world from the west coast of the States to Eastern Australia, and everything in between.
Emily Gopaul set up The Primary Art Class to have the 'biggest and most positive impact' on the art education landscape, which she believes can still be greatly improved. An artist, art teacher, author, primary art consultant and advocate for art in education, Emily's passion for her subject and cause is clear in every post. The blog features news and information about the primary art world, as well as events, artists and artworks to inspire the next generation (we look forward to seeing them in this ranking soon!).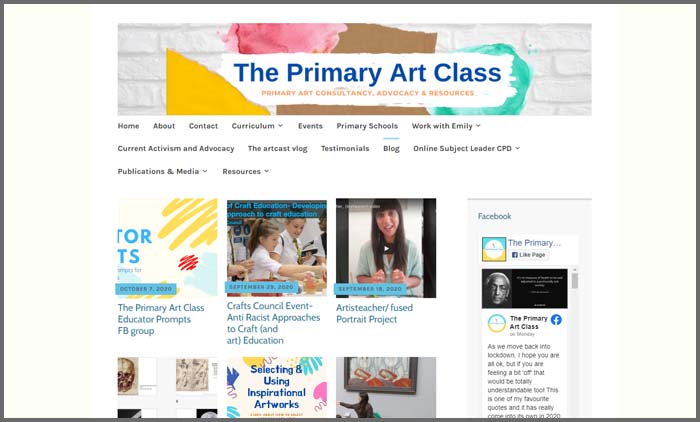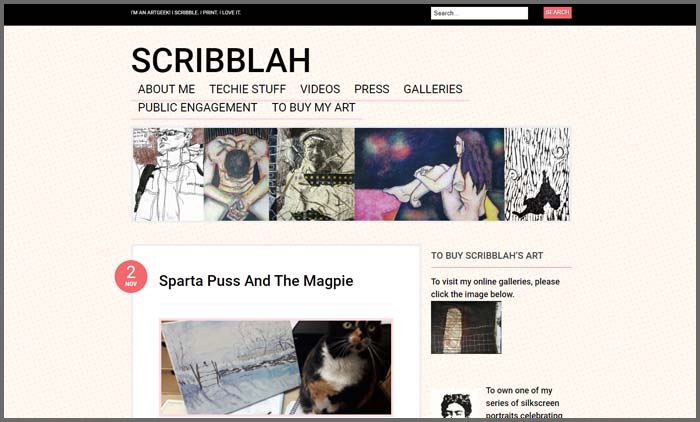 10. Scribblah
Scribblah was created by Rose Davies, who describes herself as: 'artist, printmaker, scribbler, ageing headbanger, feminist, activist, mad-cat-woman, cake-maker, accidental-archaeologist, mud-wrangler, wild, Welsh and opinionated'. Posting artwork every day, the blog gives Rose's audiences a behind-the-scenes look at her drawings, which are otherwise kept in her many, many sketchbooks.
Collaborating with bloggers requires mutual respect and understanding: respect their schedules; take time to read their content to learn their interests; and only contact them if/when they want to be contacted. You can see more advice in our blogger spotlights. 
Profiles of these  blogs and their authors can be found in the Vuelio  Media Database.
Other Blog Rankings
https://www.vuelio.com/uk/wp-content/uploads/2019/06/Art-blogs.jpg
430
760
Holly Hodges
https://www.vuelio.com/uk/wp-content/uploads/2019/09/vuelio-logo.png
Holly Hodges
2020-11-04 08:00:52
2020-11-04 11:30:11
Art Blogs UK Top 10