Bernie Sanders is surging, and not just in the opinion polls. Audience interest in the Vermont Senator has exploded in the last few weeks, amid controversies involving fellow candidate Senator Elizabeth Warren and former Presidential candidate Hillary Clinton.
An endorsement by internet personality Joe Rogan has further boosted Sanders according to a new index developed by Vuelio's sister brand, audience intelligence company Pulsar.
As the Iowa Caucus approaches on 3 February, Sanders has been driving not only the largest volume of conversations on social media over the past few weeks (13 – 26 January, 2.6m posts mentioned Sanders; more than those of the next two candidates combined – Warren and Joe Biden, both at 1.2m) but the conversation relating to Sanders is also displaying the highest velocity (a measure of how much conversation each candidate is able to create within a given hour).
'Our index shows Sanders riding a big wave of buzz, which is consistent with movements in the polls and prediction markets', said Marc Geffen, VP of Research and US Strategy at Pulsar. 'In the last two weeks, the endorsement from Joe Rogan and provocative comments from Hillary Clinton have clearly activated the Sanders audience, driving both high velocity and relatively low volatility compared to the other candidates. These factors signal that the buzz around Sanders can grow at an extremely fast clip and sustain'.
Hillary Clinton failed to confirm if she would endorse Sanders if he went on to win the Democratic nomination and added: 'Nobody likes him, nobody wants to work with him, he got nothing done. He was a career politician'.
She has been criticised for reopening a divide within the Democratic party that arguably led to her being defeated as the party's first female Presidential candidate, which paved the way for the election of President Trump.
Pulsar's virality model – traditionally used by Pulsar to measure consumer trends, as well as film and gaming releases – takes into account five different factors, including: how much buzz has a candidate generated in the most recent period; how much momentum has this candidate recently acquired; how much buzz can this candidate drive in a given hour; whether the conversation about this candidate is stable and consistent, or highly variable; and to what extent is the buzz about this candidate maintaining high volumes over time.
In terms of total volumes, both Warren and Sanders saw a huge growth on the eve of the 14 January CNN Debate and the ensuing controversy about Sanders' alleged remarks.
'We observe an interesting pattern in that, over the full period we've been measuring, the buzz around Sanders and Warren seem to move in tandem. More than any other pair of candidates, these two seem tethered to one another in the public's eye', said Geffen.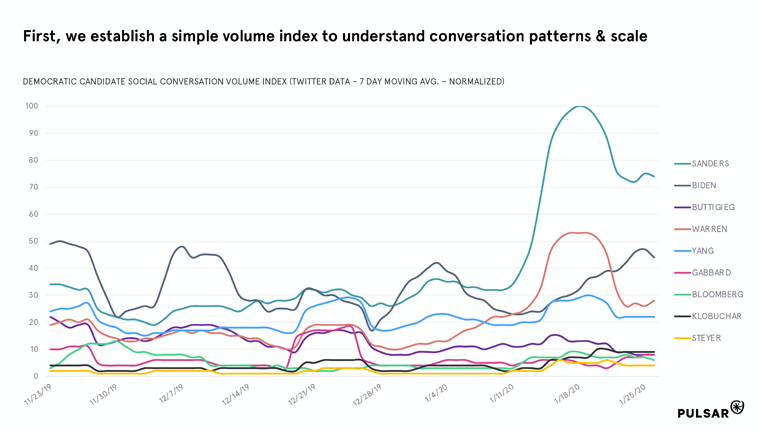 Sanders however, has managed to sustain those volumes further during the second half of January both in terms of virality and interest in search data, thanks also in part to the 'endorsement' from Internet personality Joe Rogan, and his strong performance in polls that have put him ahead of former Vice President Joe Biden in Iowa.
While Elizabeth Warren has also had her fair share of attention, receiving endorsements from both the New York Times and the Des Moines Register (a leading Iowa daily), it has not translated into a comparable social buzz, with Biden overtaking her in terms of raw volumes over the last week.
Audience interest in other candidates has also shifted. Amy Klobuchar, boosted by a New York Times endorsement (jointly with Warren), has overtaken Buttigieg in terms of virality. However, interest in her appears less consistent or 'streaky', dependent on big buzz moments that do not necessarily sustain interest. 'Steadier' candidates such as Andrew Yang on the other hand, have been able to drive very consistent virality week on week, remaining in the top five by volume of social buzz.
Pulsar is the leading AI-powered audience intelligence platform. Combining conversational and behavioural signals from the world's leading digital destinations, Pulsar helps brands understand their audiences better and create messages that matter to them. 
https://www.vuelio.com/uk/wp-content/uploads/2020/01/Pulsar-Dem-trends.png
430
760
Sam Webber
https://www.vuelio.com/uk/wp-content/uploads/2019/09/vuelio-logo.png
Sam Webber
2020-01-31 14:56:45
2020-02-03 14:08:38
Pulsar Social Primary Index shows Sanders pulling ahead of rivals