Top 10 Blogger Spotlights of 2014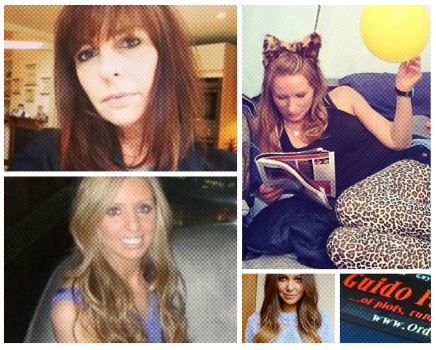 As the year comes to a close, here is a look at the top 10 most popular interviews with bloggers on the CisionUK blog in 2014 .
The top 10 has been measured in terms of unique visitors to each interview.
In reverse order:
10. Gabriella Simonian, Thyme & Honey
An interview with Gabriella Simonian, content and website manager at BarChick Ltd and author of the food blog, Thyme & Honey. Gabriella spoke to us about what inspires her to blog about food, how she works with SEO and PR professionals and why she prefers building friendly (rather than formal) relationships with them.

9. Jaime Oliver, The Oliver's Madhouse
An interview with Jaime Oliver, author of  The Oliver's Madhouse, a blog that discusses a bit of everything, from parenting and family life to lifestyle and product reviews. Jaime spoke to us about working with "super brands," best practices that all bloggers (new and established) should follow, and cake…lots of it.
8.  Amber McNaught, Forever Amber
An interview with Amber McNaught, author of fashion blog Forever Amber. Amber spoke to us about being original when you blog, the problem with PRs running 'competitions' and doubling her traffic.
7. Ross Morrison McGill, @TeacherToolkit
An interview with assistant headteacher Ross Morrison McGill, author of the new paperback 100 Ideas: Outstanding Lessons, the education blog @TeacherToolkit, and @SLTchat – a forum for senior teachers recently recognised by The Department for Education for shaping school-leadership dialogue across the UK.
6. Thuy, The Payday Cocktail Club
An interview with Thuy, author of  The Payday Cocktail Club, a blog that reviews cocktail bars in London. Thuy spoke to us about why she blogs, how she works with PRs and what new bloggers need to keep in mind before they get started.
5. Jo Harris-Cooksley, SheLovesLondon
An interview with Jo Harris-Cooksley a Londoner who loves the city and blogs about it on SheLovesLondon. Jo spoke to us about the content that sets her site apart from other London-centric blogs, how she works with marketers and more interestingly, what PR and brands can do differently in better working with her and fellow bloggers.
4.  Jane Cunningham, British Beauty Blogger
In an interview with Jane Cunningham, author of 2014′s number one beauty blog, British Beauty Blogger, we learn what sets her blog apart, the need (and space) for content on hair care that is waiting to be filled in the beauty blog spot and how blogs are 'the gift the beauty industry was waiting for'.
3. Angie Silver, SilverSpoon London
An interview with Angie Silver, author of the lifestyle, food and travel blog SilverSpoon London. Angie spoke to us about the exciting mix of content that makes up her blog, working with PRs and why Twitter has over-taken Facebook as her social media love.
2.  Alice, Tea Party with Alice
Alice the author of a new beauty blog, Tea Party with Alice, spoke to Cision about how she doesn't conform to the latest trends, why she dislikes template emails from PR and reaching an exciting new milestone on Bloglovin'.
Paul Staines, editor of the leading political blogsite Guido Fawkes and UK's number one ranked journalism blog Media Guido is one of the most successful and controversial bloggers of our time. As the Guido Fawkes' Blog turned 10 years old this year, Paul spoke to us about the 'startling impact' it has had on politics, how he measures the blog's success and the one story he would cover differently, if he could.
Thanks for reading this year's interviews, we're looking forward to 2015 when there'll be more interviews with excellent bloggers and hopefully more vloggers. Contact details for these bloggers, as well as thousands of others, are available in the CisionPoint Media Database.
https://www.vuelio.com/uk/wp-content/uploads/2014/12/top-bloggers-pic.png
350
436
Priyanka Dayal
https://www.vuelio.com/uk/wp-content/uploads/2019/09/vuelio-logo.png
Priyanka Dayal
2014-12-29 11:00:59
2014-12-29 11:00:59
Top 10 Blogger Spotlights of 2014