Much of the Sunday political shows was focused on Amber Rudd's future, which we now know was severely limited.
Brandon Lewis was sent out on the Marr show to defend Rudd. The interview had the potential to be quite interesting as Lewis was the immigration minister last year so he may have been sent out to defend himself. Beyond the standard defence of 'tackling immigration is the right thing to do', what the Chair of the Conservative party did manage to do was say Rudd knew of the ambition to increase deportations but it was not a target. When asked whether he and Amber Rudd had ever directly discussed deportation targets, Lewis replied by saying he has been in a room talking about increasing the number of returns.
Defenders of Rudd were also on Peston. Jo Johnson said he is a 'big big fan' of Rudd and she's a great Home Secretary. Johnson also went on to say that it is unrealistic to expect a Secretary of State to see every single memo, which may be true but it is still that Secretary of State's responsibility if things go wrong. Thankfully Robert Peston pointed out that this is not a trivial matter and is a central element of the department's work. Ed Vaizey was also on Peston and he said Rudd is fantastic but the last week had not been great and she will have questions to answer (which she now won't as she has resigned).
Various other matters were discussed throughout the shows. Leader of the Lib Dems, Vince Cable, talked about immigration, saying that several governments have decided the public are bigoted and they need policies to feed their desires. Cable said, 'race has been a key factor in British politics'. Cable also took a more considered approach when speaking about Rudd's future saying he wanted to hear what she had to say for herself. Marr did point out that this considered approach may be due to the Lib Dems perhaps being somewhat responsible for the hostile environment policy as they were in government at the time. Cable defended his approach and party by saying for much of his time in power he and his party were fighting against these policies.
Andrew Gwynne also appeared on Marr and he was asked about anti-Semitism. He said it has been made clear by Jeremy Corbyn that Labour party members should not be sharing a platform with anybody found guilty of anti-Semitism or expelled from the party. When asked why this was not put into the party rule book, he repeated his previous point saying it is clear what should and should not be done. He also said the Labour party wants to work with Jewish community groups to change the rules of the party to provide a wider definition of anti-Semitism. Marr provided an example of Jewish people being held responsible for the actions of Israel, Gwynne responded by saying people can criticise any government in a democracy but criticising Jewish people should not be happening. Gwynne is also managing Labour's local election campaign and he attempted to cool expectations saying it would be difficult to get as good a result in 2014.
Mayor of London, Saqid Khan, also appeared on Peston. He said he thinks there will be protests when Donald Trump visits the UK but said it would probably be inappropriate for him to join in with the protests. He also spoke about how both Theresa May and Trump have created hostile environments in their own countries. Khan would back the Prime Minister if she was to give preferential immigration rights to EU citizens after Brexit. He also spoke about former Mayor of London, Ken Livingstone, saying that he feels he should be removed from the Labour party and he cannot understand why it is taking so long for a decision to be made.
The leader of UKIP, Gerard Batten, appeared on Robert Peston and when speaking about anti-Semitism he accused the religion of Islam as being inherently anti-Semitic. Robert Peston later sent out a tweet saying Batten's slur on Muslims is appalling and are the views of the UKIP leader. Batten was then questioned on a statement he has made saying that being called a racist is now worse than being called a murderer or a paedophile; Batten answered by saying he meant you are guilty until you can prove your innocence. Batten also spoke about Sadiq Khan's statement that he wants an immigration system where EU migrants are given preferential treatment, Batten questioned whether this is racist as most EU citizens are white.
Other guests included: Kate Hoey, who said the one good thing that may come out of the Windrush scandal is that the Home Office may be properly reformed so we no longer see such ridiculous things happen like letters and passports being lost; Jo Swinson said she will be protesting Donald Trump when he visits in the Summer due to the values that he stands for; Ed Vaizey feels the Conservative will have to work doubly or triply hard to win back voters from a BAME background; and John McDonnell spoke about the local elections and said too many factors come into play for any prediction to be made now.
Check out our Canvas of all the best coverage from the Sunday Political shows here and find out how to make your own Canvas here.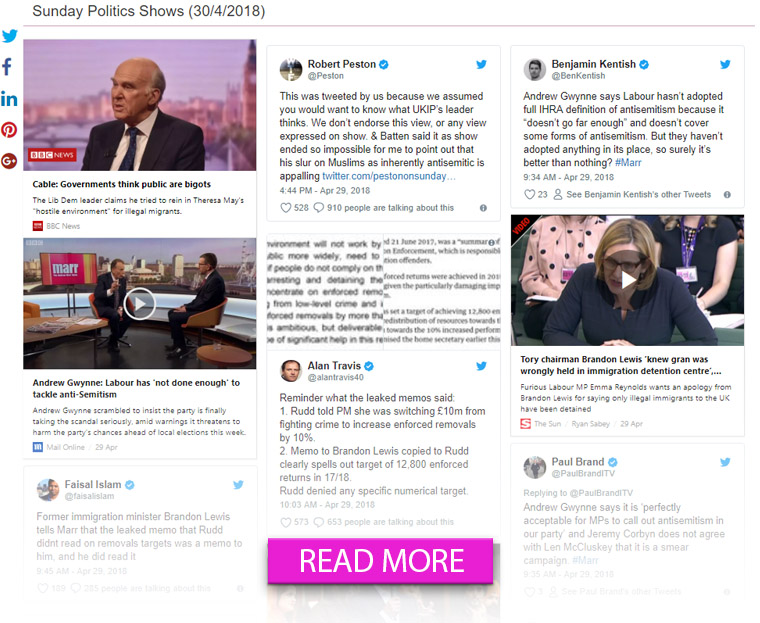 https://www.vuelio.com/uk/wp-content/uploads/2017/11/Politics-on-Sunday.png
430
760
Daniel Loman
https://www.vuelio.com/uk/wp-content/uploads/2023/09/vuelio-logo-200px.png
Daniel Loman
2018-04-30 11:24:54
2018-04-30 11:24:54
Politics on Sunday: What came before the resignation?