Laura Sutherland is the chief and founder of Aura, a Glasgow PR and digital marketing consultancy. With over fifteen years of experience in public relations, Laura is now a Chartered PR practitioner and a fellow of the Chartered Institute of Public Relations (CIPR). Laura is also the founder of #PRFest, the UK's first festival for public relations and has co-written a best practice guide for the CIPR, which discusses ethical paid and earned media. In this spotlight, Laura, who appears on our top ten UK PR blogs by women, chats to us about how the industry has changed, why writing a press release and placing media stories does not guarantee success, the growing importance of analytics, demonstrating ROI, and how social media is opening up new opportunities for PRs.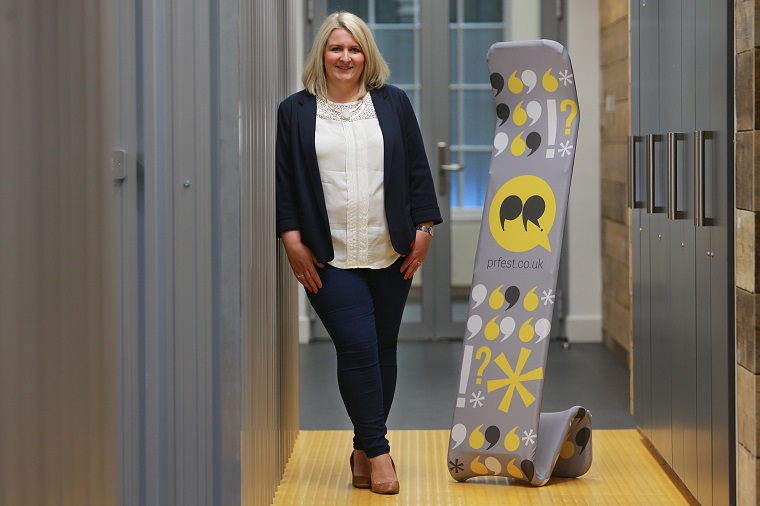 What do you most like about being the chief at Aura? And what are some of the challenges? Well, I work for myself. I can be flexible with everything! My time, where I work, how I work, what I charge and I am fortunate enough to be able to pick and choose the best clients to work with; brands which I can relate to and where I can make a real difference.
What I have found is a challenge is managing my time with Aura business and client work. I've found that segmenting my week and dedicating time to everything at the most appropriate time is essential. The accounts get done once a month so I'm always on top of them. I do my own invoicing and chasing for late payments. I have a new business funnel which I try to keep on top of and often involves a lot of chasing, for briefs to be completed, for dates to be set etc. Some people may say working on your own is hard to keep motivated, but because I work with such great clients, I don't find that an issue. In fact, I could work from home, but if I did, I'd work longer hours!! I've fallen into that trap before!
I'm also involved with independent practitioners communities and lead one in Scotland and I have built a great network of practitioners far and wide, so there's always someone to talk to.
As someone with over 15 years' of experience in public relations, events and communications, how in your opinion has the industry changed? The industry has changed massively. It's very exciting!
When I first started in PR I didn't have a PC. I had a desk and paper. We used faxes to send out press releases (and resent them many times due to the amount of faxes news desks received), we used the post and couriers to send out images in 35mm format and design work.
I suppose I was lucky in my first PR job. It was an integrated agency so I got to work across media relations, design, advertising, events and all the client relations side. I worked with big brands such as L.K. Bennett, Patek Phillipe, Bvlgari and also did what we'd now call influencer relations, back then. It was a baptism of fire with little guidance and no training.
In terms of the industry now, there are different elements I can break things down to:
People – some practitioners are riding the wave and really enjoying developing themselves to be more relevant. To up-skill and learn new things all the time. I see this as essential. However, there are other practitioners who think they can just keep on doing the same thing as 10 years ago, writing press releases and placing media stories. The latter will soon find they don't fit within the industry as they can't offer the right skills or knowledge.
Business – businesses are slowly grasping the value which public relations has to offer, crudely speaking, the bottom line. We're a long way off yet, but we're making improvements. Partly because modern practitioners are leading clients and are offering the best advice. Partly because they recognise that public relations goes way beyond churning out stories and in fact, if it's properly integrated into the business strategy, there are many more opportunities to help business growth. Everything from using analytics to understand more to using public relations to understand the impact their business is having.
Industry bodies and organisations – as the industry modernises, so must the industry bodies and organisations which interact and represent with practitioners. The bodies need to lead the way on behalf of the industry and crack the engagement with business for there to be better understanding of the value of public relations. The bodies have started to offer more modern courses and training which is essential to practitioner development. I see an opportunity for better collaboration as an industry and I think there is also an opportunity for practitioners to speak out and tell the bodies what they think they need. It's a two-way conversation.
Business development – despite that fact we went through a recession, arguably we're back in a bad place due to Brexit, clever practitioners and agencies placed themselves accordingly, continuing to bring in new business and retain clients. Yes, I did see an effect in Scotland but Aura was launched in a recession (November 2008) and is still going strong, eight years later. That's partly to do with the changes I made in 2012 and 2014, recognising the need to modernise, for a better approach to developing business and defining exactly what it was I offered.
Media – yes, media of course still plays a part in what we do. Traditional print is not a major focus anymore. For me, it never really worked having a blanket approach to media relations. I've always worked in a more strategic and targeted way. However, media is slow to modernise too, which means public relations is slow to use some forms of media as there are more effective ways. Social media has developed in a big way with the introduction of live and stories. This has presented public relations with a huge opportunity.
Technology – with AR and VR making headlines at all the big shows and conferences, AR is more accessible to smaller brands. VR can be costly and I'm not sure yet that everyone is ready for the tech. I know the music industry is doing a lot of testing with VR for gigs and not getting such a great response. We need to look to tech to create experiences for brands which underline the brand in an authentic way but we also need to remember that evolving tech can only be used in PR as long as the end-user it using it!
Industry issues – there will always be issues in every industry, but we're starting to make headway with gender equality, professional standards and more. What we need is for the industry itself to understand the issues and help each other do something about it.
What trends do you think we will see this year in regards to the PR industry?
Consumer loyalty, post-Brexit, is a major thing and brands need to start reinforcing their true values, to ensure the consumer is still loyal.
AI – Chatbots and automation are already here but I think we'll see artificial intelligence. Driverless cars are already making huge advancements and I see one brand has already started developing a flying car! PR has an opportunity to use AI to make user experiences better across the board. Humans can deal with everything emotionally, bots can't. Practitioners will need to upskill, understand and start developing new ways of using AI.
PR will call out fake news and make an example of it. It's our duty as ethical public relations practitioners to ensure the businesses and organisations were work in and represent conduct any communication in an ethical way.
Forums were big in the early 2000's and I suppose some examples like Facebook Groups are a forum. People like to have conversations as a group in a safe place. Slack has become an everyday tool for me. Perhaps we'll see more and better use of private spaces for conversation, brainstorming and discussion.
I've been working with a retailer and I've started to get to know a lot more about retail tech which engages and interacts with consumers, but everything is personalised to the specific person. Using data and tech we can really drive home personal messages, offers and experiences to the consumer
Content will be considered a much more strategic element to a PR strategy with longer term benefits and across different elements of the business. It's not as simple as writing a blog post and creating a pretty image! Machine learning will have an impact too, so the content PR has to provide needs to be clever, create, engaging and personal.
I'm a member of a Facebook group for PR practitioners which occasionally I love and occasionally I can't believe some of the people on there even practice public relations! However, in the last six months I've seen a shift of conversation, from everyone talking about AVEs and bad reporting to people now asking for tools and advice. This group has helped some practitioners come out of the dark ages and use modern and more effective approaches to improve their work. For examples, AVEs is a common one. Now the group is discussing Barcelona Principles and AMEC's new integrated framework. Now it may be down to a few of us being involved in best practice and actually leading in these types of areas of public relations, but it does show there is a want from practitioners to come away from fluffy metrics to sound measurement and evaluation proving ROI and impact.
In the world of social media – who knows! It was reported recently that Snapchat is seeing people moving to Insta stories. Instagram has now introduced live, which Facebook and Twitter (via Periscope) already do. Instagram has also announced a beta of sharing image folders, for more than one image. It's coming away from the USP that platform built itself on. I'm not sure that's what users want? There's also Facebook's Workplace which could transform businesses and how they work.
Influencer relations will only get bigger and influencers and practitioners will have to have better ways measuring and evaluating the success of campaigns.
Why is an informed strategy, linked to business objectives the best way for public relations to grow businesses? There are two elements. Being informed, means you've done your research and you've used all the data available to you, to help inform a strategy. It's not finger in the wind. Everything relates back to a rationale. For example, if I find data that says 100,000 people visit a website in a day, but there is 85% bounce rate on the homepage, I know the website needs to be changed. If the website is changed accordingly, people will stay on the site longer and possibly buy more products which, improves the business.
Why does PR need to be linked to business objectives? It's a necessity. If a business wants to grow in a new market and to have £1million turnover from that market in year 1, then the PR strategy has to focus on the new market, the new audience and devise a strategy, with relevant activity/tactics, which will see that £1million turnover reached.
Public relations is not a 'nice to have'. It needs to demonstrate ROI and it needs to show how the PR strategy and activity has contributed to the £1million turnover.
What is your definition of strategic public relations? I use the phrase 'strategic public relations' so that from the outset, businesses will know that I am strategic and will devise a strategy. I am not in the business of developing a tactical plan to execute, without having a strategy and relating it back to business objectives.
You are also the founder of #PRFest, the world's first festival for public relations. Why was it important to you to set this up and why do you think it is important for the industry? I was frustrated with the lack of quality top-level events in Scotland for public relations – specifically ones that everyone would want to go to, not just members of an industry body. I like the diversity different disciplines and areas of expertise can bring.
There are many of these 'big' events for digital and marketing, but none specifically for public relations. I saw this as an opportunity to a) use my event skills to organise a great event and b) help practitioners modernise by giving them real actionable advice and learning.
I brought back the CIPR Scotland conference in 2012 and 2013, the first one since the 80's I've been told, and there was a real appetite for a quality, learning event.
#PRFest was launched with an international line-up and I expected it to be well received, because I had worked with a group of practitioners to develop the topics. I didn't think it would be a sell-out, which it was and I didn't think people would travel from across the UK to attend, but they did.
It's refreshing to have the festival in Scotland, not in London as per the normal big PR events, and it's curated and run by me, not an organisation with a political or sales agenda. It also allows me to be a bit more controversial in my approach, with the aim of getting practitioners to react and think.
I think people like the fact it's a festival and there is a bit of personality behind it. It's also on my home turf, so it was easier for me to put together and engage the Scottish PR community initially. Start small and build from there.
There is a strong focus on learning, so every speaker has something worthwhile to teach and practitioners can literally go away and start implementing. It's not about preaching and listening to 'nice to know' things.
It was great to have CIPR and PRCA on the same platform last year, demonstrating their support to a worthwhile event, which by the way, also counts for up to 20 CPD points! The PRCA is supporting the festival again this year.
You are the co-writer of best practice skills guide for the CIPR, which discusses ethical paid and earned media? Why was it important to you to write about this topic? Relating back to the Facebook group I am involved in, a few conversations had come up in recent times about having to pay for advertising to get editorial. At the same, the Competitions and Market Authority was coming down on ad agencies for not disclosing paid activity and influencers weren't disclosing they were being paid to promote a product.
So, a skills guide was suggested by co-author Gavin Harris and he asked me to do it with him. It was done and dusted in no time but we waited to launch it at CIPR Ethics month.
It's so important for practitioners to know the difference between paid and earned. If you don't, here's the skills guide, worth 5 CPD points.
Aura is a PR & digital comms consultancy based in Glasgow? How would you describe the PR industry in Scotland?
The industry in Scotland is doing well. There was a period in 2015/16 of mergers and acquisitions but it seems to have settled…for the time being.
There are more independent practitioners in Scotland than ever, some of whom have turned to it when they have had a baby, some who have taken redundancy from public sector work and some who are doing it in early retirement years.
There's a big opportunity for greater collaboration and connectivity.
I recently came across a large public sector organisation asking for AVEs as part of their funding grant reporting – I think this needs addressed pronto! For a large organisation like that to still be asking for irrelevant information is beyond me. Who's to say more aren't like that?
What has been the best campaign you worked on and why?
It has to be the launch of "Hello, My Name is Paul Smith" at The Lighthouse in Glasgow. The exhibition is owned by the Design Museum, London and it's a travelling exhibition. It came to Glasgow before it went to Japan.
Paul Smith and his team were fabulous to work with and there was so much scope to drive a really creative campaign. There was massive awareness across Scotland and we covered every print, online and social channel you can think of, with the support of Paul Smith and Design Museum. That was a whole year ago!
What's next for you? Are you working on any exciting new projects?
I've developed and am leading on an exciting project for the CIPR, which will see its 400+ volunteer community armed and better connected.
I've still to complete my 30 day challenge and when I do, I expect there will be further tweaks to Aura's own strategy and development from there.
Of course, I've got #PRFest to continue with for the next six months, too!
At Aura, I've got some really great clients in retail, community engagement, health and wellbeing and the last week or two has been really busy for new business briefs coming in.
Everything I do, I do with passion, so I'm excited about everything I'm working on!
https://www.vuelio.com/uk/wp-content/uploads/2017/03/Laura-Sutherland_Vuelio.jpg
448
756
Jake O'Neill
https://www.vuelio.com/uk/wp-content/uploads/2019/09/vuelio-logo.png
Jake O'Neill
2017-03-08 14:19:21
2017-03-09 10:12:24
PR Spotlight: Laura Sutherland, chief of Aura & founder of #PRFest